5 Unique Living Room Designs That Will Bring You Into Another Realm
Living room is easily the heart and soul of the home. That's because the living room is the social hub of the home where you spend most time together with your family. When you have friends over, the living room is also where you will entertain your friends.
Besides that, it is also the first room that you step into when you enter your home. It is the room that will set the first impression for anyone entering your home. Thus, it is important to have a great design for your living room so that you can elevate the status of your home.
If you want to make someone feel like they are entering a different realm when they enter your living room, here are some unique living room designs to consider.
1. Scandinavian: Popular Style With A Bit Of Twist
Ever felt like living overseas but never had the chance to? Why not turn your home into a popular Scandinavian design style and experience how it is like living in Northern Europe?
Design 4 Space Pte Ltd managed to turn this 5-room BTO in Punggol Field from concrete slabs into a dream Scandinavian living room with the right design touches. They laid the ground with wooden vinyl flooring and added multiple wood elements to the living room. They also kept the furniture and fittings simple to bring out the minimalist essence of Scandinavian design.
Stepping into the living room designed by Design 4 Space Pte Ltd is like walking into a Scandinavian home but with better view from the high rise HDB.
2. Modern: Perfect Space To Live In
The modern design is an interior design style that never goes wrong. Characterized by an earthy colour palette, clean lines and natural light, the modern design takes root from the aesthetic movement in the mid 20th century. If you wish to relive the mid 20th century, the modern design is the furnishing style that you should go for.
9 Creation Pte Ltd has the perfect example of how a modern living room design should look like. Its design at 273A Punggol Place (4-room resale HDB) brings out all the great elements of the modern design.
The interior designer made good use of blinds to bring in natural lighting in the day. The bold use of the blue colour for the wall helps to evoke a relax mood. It also brings natural elements such as wooden furniture to complement the colour palette to create a nice ambient to chill and spend family time together.
The wooden elements also extend to the open dining area to create a nice balance of clean lines, simplicity and textured materials throughout the living room.
3. Japanese: Clean, Simple and Pleasing To The Eye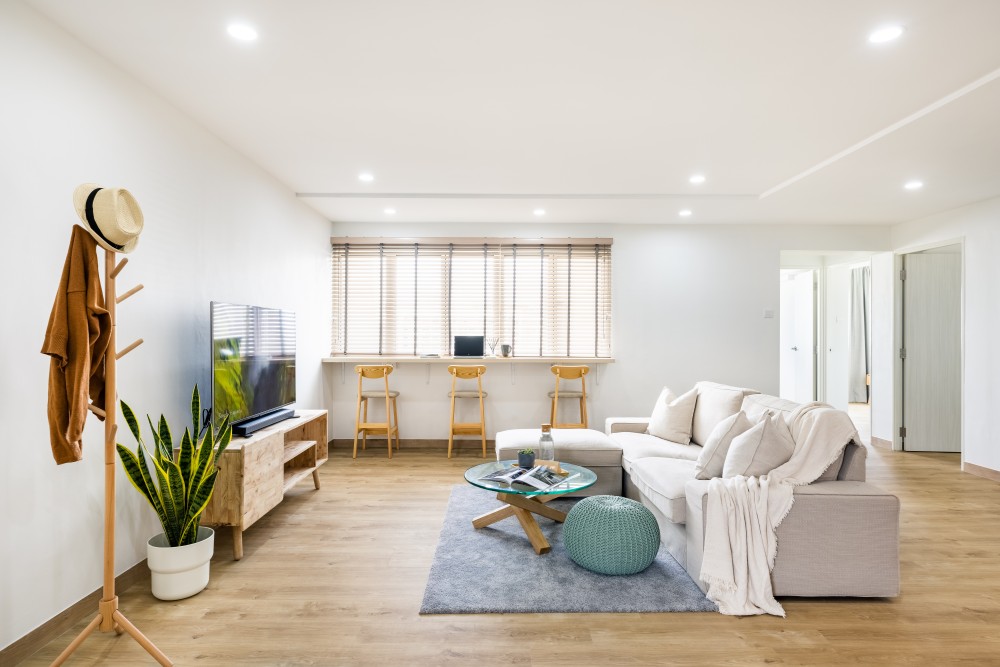 If you think that you need to be fancy and have complex designs to create a unique living room design, then you are wrong. When it comes to designing your living room, the adage "less is more" is a reminder that opting for simplistic, Japanese/Minimalist design can also create a great visual effect for your living room.
This is exemplified by the living room of this 5-room resale HDB at Compassvale Crescent.
The interior design firm (U-Home Interior Design Pte Ltd) kept the living room simple with sparse furniture like the TV console, coffee table and soft. It is complemented with the perfect choice of wooden elements (flooring, high chair) and the great use of natural lighting to make the living room bright, vibrant and spacious. The colour palette of white and grey also adds a tinge of soothing simplicity that adds the finishing touches to this Japanese/Minimalist design.
It almost feels as though the design is a sample photo taken from an apartment in Japan. As you enter the living room, you almost feel as though you just went on a quick trip to Japan.
4. Industrial: Rustic With Lots Of Personality
If you are looking for a cool, unique design for your living room, consider going for the industrial look. The industrial look is one of those design styles that gives the living room lots of personality that makes it a one-of-a-kind. It can even bring you back in time to the 18th century when the warehouse look was the go-to look.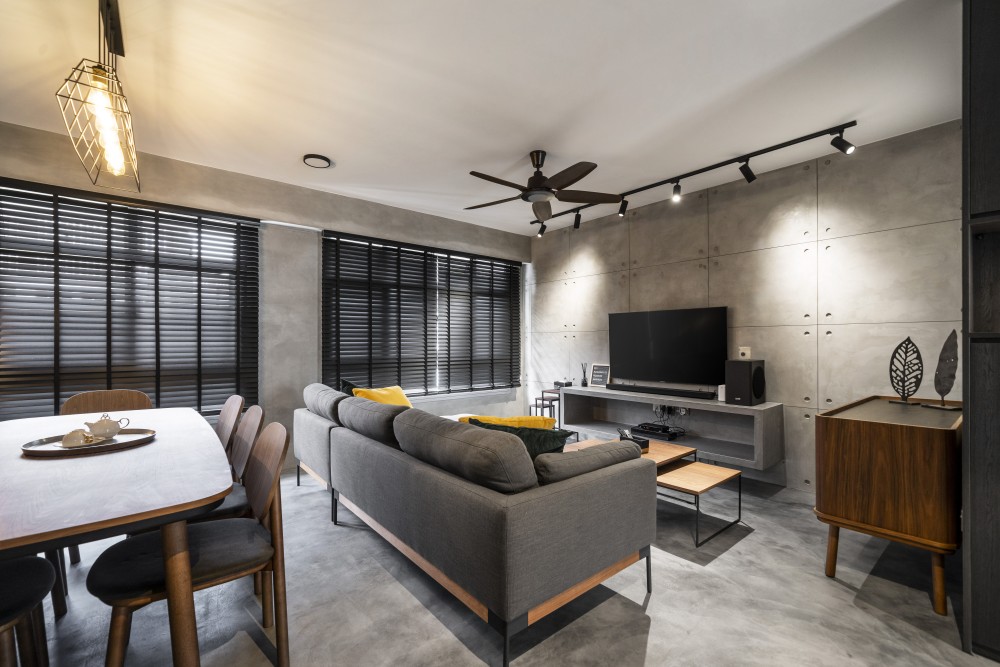 This industrial design living room by Livspace will surely make an impression on your family and friends. Imagine walking down the HDB corridor then entering the home to this industrial design living room.
The living room design stresses a lot on the unfinished, rustic elements. Yet, at the same time, it still maintains a modern look for the living room.
But it is never an easy task to pull off an industrial look for an HDB. If you go overboard on the unfinished touches, you end up making the home look like a factory. If you make too little industrial touches, it doesn't give the home the industrial personality that the homeowner is looking for.
However, with the right interior design firm like Livspace, you can be rest assured that they will pull off a tough industrial design for you.
5. Contemporary: Futuristic Space That Never Grows Old
While most interior design style that you come across are from the past, contemporary style is one that is forward looking. The contemporary design style features lots of functional yet low on maintenance designs that is suitable for futuristic living, especially as living space gets smaller. Thus, if you are thinking of creating a futuristic space, contemporary design is the way to go.
The contemporary style living room of the 4-room BTO at Jalan Ayer by Mr Designer Studio is one to crave for. It comes with sleek, thoughtful, hidden details that emphasize the aesthetics of the living room. The choice of light colours also greatly complements the open dining area. It is hard to imagine that this design belongs to an HDB in Jalan Ayer.
Browse For More Interior Design Styles On Hometrust
Looking for more interior inspirations for your new home? Feel free to check out all the different design style examples on Hometrust for more ideas.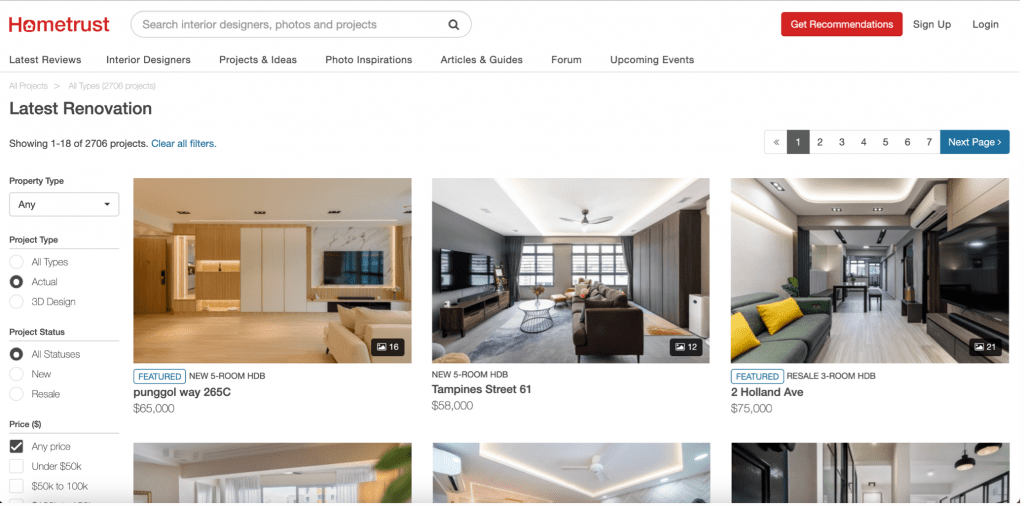 At Hometrust, we curate interior design portfolios from our interior design partners. You can browse through various renovation projects on Hometrust to find one that fits your liking. We even added the function for you to filter by budget, floor area, and style.
For homeowners who already know what you want, the next step is to shortlist a trusted and experienced interior design firm for your renovation project. You can use Hometrust to shortlist the right interior design firm for your home renovation today.