How A Couple Transformed Their Spacious 5-Room Flat Into A Space Perfect For Hosting
When Arif and Zee were looking for a home, they knew they wanted something convenient, and in a neighbourhood with plenty of amenities.
After viewing several places, they fell in love with a 1,357 sq ft 5-room HDB resale flat in Tampines. This was a corner unit with a spacious corridor and plenty of privacy, and the previous owners had reconfigured it to house 4 bedrooms instead of 3.
One of the best things about living in this apartment (apart from its size!) is the fact that Arif and Zee are near their friends and family. They're also within walking distance of Our Tampines Hub, where there's plenty of food options.
In total, the couple spent 4 months renovating their apartment, with their renovations costing $67,000 in total.
Arif And Zee's Design Aesthetic
After browsing Pinterest, Arif and Zee decided to go for a modern farmhouse look. They liked the look of light, neutral tones that would make their apartment look spacious and cozy at the same time.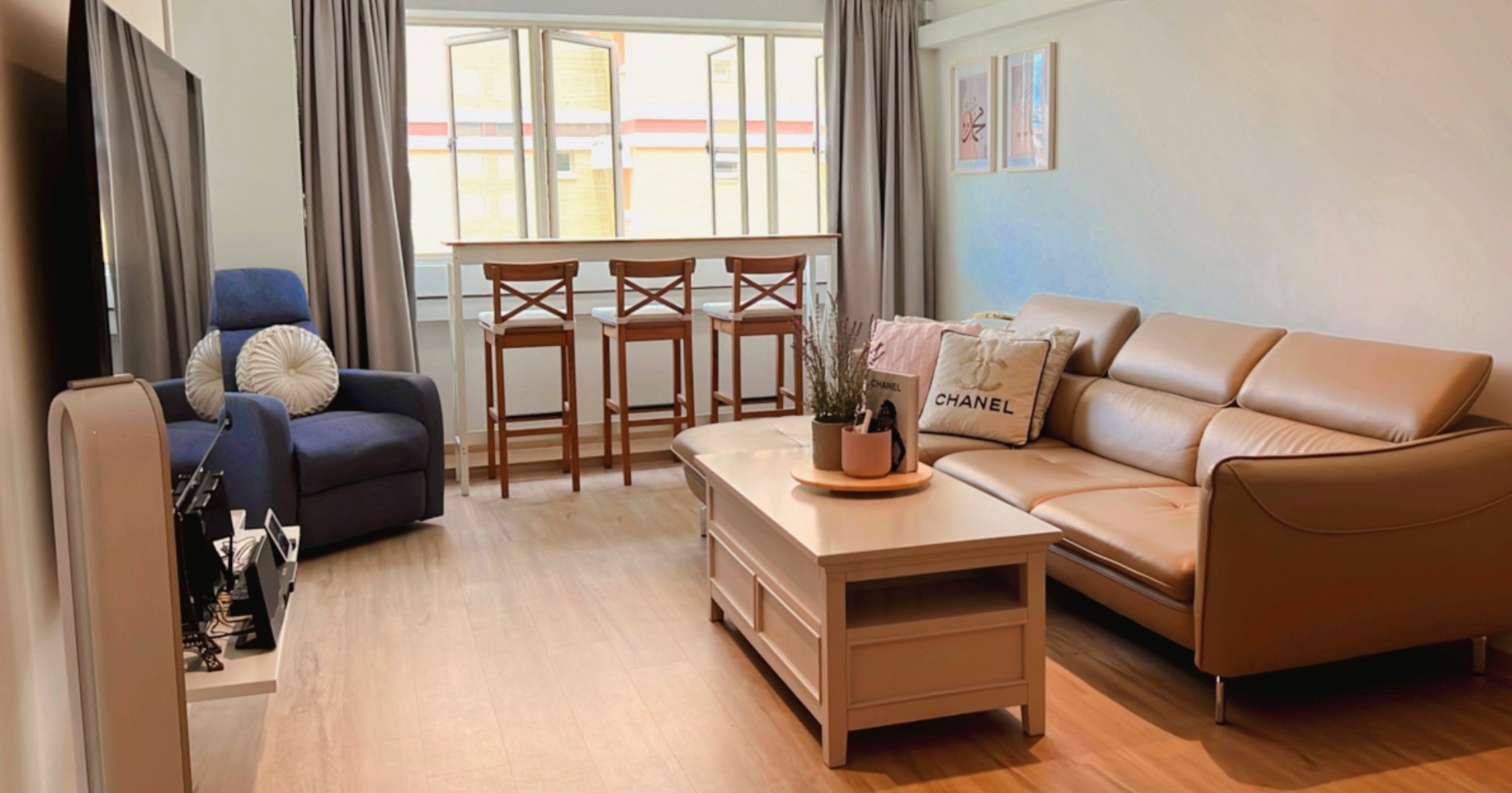 Because they love hosting guests, they prioritised the kitchen and the living room in their renovations.
In the living room, you'll find a tall bar table and matching chairs positioned against the windows, where you can sip on coffee and look out at the view. Arif and Zee also replaced the old windows with new noise-reducing window panels, and customised the colour of the window frames to match with the rest of the house.
At night, one of their favourite activities to do as a family is to watch movies at home. They use their blackout curtains to create a movie theatre ambience, and also take advantage of their smart home system to control their lighting and other electronics.
To create a cozy dining nook, Arif and Zee customized a huge arch dining settee with storage. To add a pop of colour into their home, they chose a peony wallpaper to utilize inside the arch.
Aside from the dining nook, they have a separate, more formal dining space with a huge table – this can house 8-10 people at once, and is perfect for entertaining.
As for the kitchen, Arif and Zee built in arched french doors, which definitely became a focal point in their home. Their kitchen cabinets are shaker-style, with inset panels in each cabinet door. They utilised open floating shelves instead of closed cabinets up top, to give the kitchen a sense of airiness.
In keeping with the farmhouse aesthetic, Arif and Zee chose a farmhouse sink for their kitchen. They also have a pullout sink tap with two modes – this makes washing up easier.
Arif And Zee's Renovation Experience
If Arif and Zee had to sum up their renovation experience in one word, it would be "amazing". Zee says that they weren't sure how the final product would turn out, but they're wowed by how their contractor managed to meet all their expectations, and deliver their dream home to them.
Of course, it wasn't an easy journey – things got hectic at times, especially as Arif and Zee were down with Covid during their renovation period.
Their advice to new homeowners looking to renovate? Plan, plan, and plan somemore! The more research and legwork you do, the more satisfied you'll be with your final outcome. Don't forget to check in with your ID or contractors regularly, and be involved throughout the process.
Want to check out home renovation projects for more inspiration? Browse home design ideas on Hometrust, or click the button below to get connected with expert designers.
Renovating soon? Let Hometrust recommend the best interior designers.
If you are reading this, you are probably wondering how you can create your dream home.
Here's the thing, everyone's needs and requirements for their home renovation is different. A designer that may work for someone else, may not quite work for you.
At Hometrust, we're here to help match top rated designers, recommended by past homeowners to you through our data-driven and matching algorithm.
Whether you are looking for partial renovation or a full fledge overhaul, we'll be able to recommend you top designers to match your renovation requirements and lifestyle.
Recommendations and free and you can simply start by helping us understand your needs below!
Get Recommendations
Renovate safe!
The Hometrust Team