How To Find The Most Suitable Interior Designer For You
So it's your first time renovating, and you're trying to decide which interior designer you want to hire.
What should you look out for when evaluating an ID? How do you know if an ID is reliable?
In our article, we answer all that, and more.
How Do You Look For IDs In Singapore?
Before we jump into evaluating IDs and narrowing down your options, let's first talk about sourcing for IDs.
There are several ways in which you can kick-start the initial process of searching for an ID.
What most folks do is to use an ID platform, such as Hometrust. You can browse IDs by the type of projects that they specialize in, and if you already know your budget and preferred style, feel free to use those filters to narrow down your options.
Alternatively, you can also get recommendations from your friends, or simply do a Google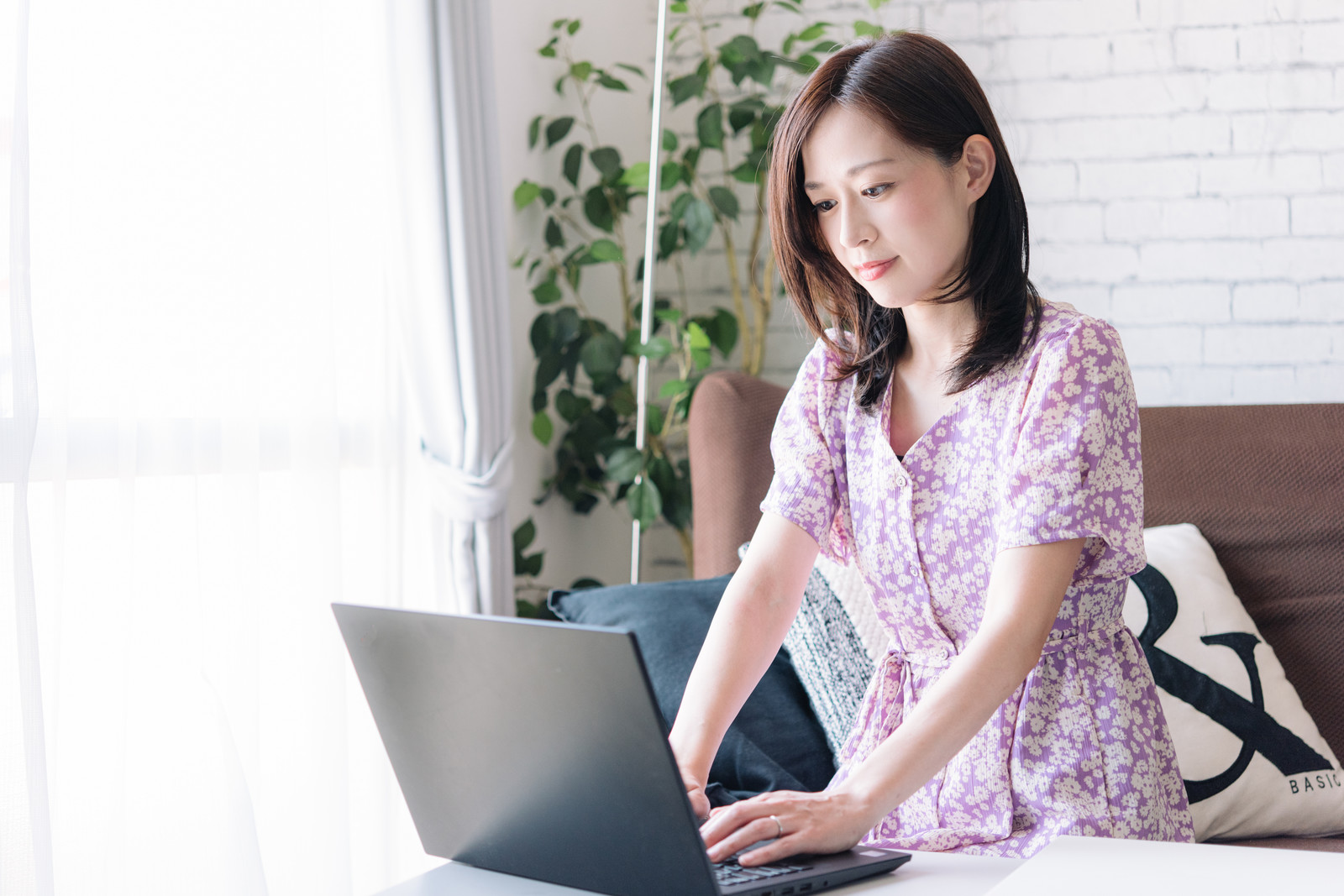 How To Evaluate And Review IDs On Hometrust
Now that you've got a bunch of IDs whom you could potentially work with, the goal is to whittle down the list, before you meet each ID to chat.
First, filter the list of IDs by ratings. Obviously, there's no hard and fast rule to this, and it depends on how "picky" you are. If you want to err on the side of caution, and only pick IDs with the best reviews, then go for IDs with the highest ratings (9.0 and above).
On top of that, you can also filter your list by awards (Best Design, Best Workmanship, Best Customer Service, Best Value).
Here, have a think about what's most important to you. If you're looking to do basic renovations and you don't need anything fancy, for example, you'll probably want to filter for Best Value instead of Best Design.
Also, look at the types of projects each ID has done in the past. You'll want to pick an ID with expertise in the type of property you own. For instance, if you want to renovate a BTO flat and you see that a particular ID has mostly condos in their portfolio, it's probably not the right fit.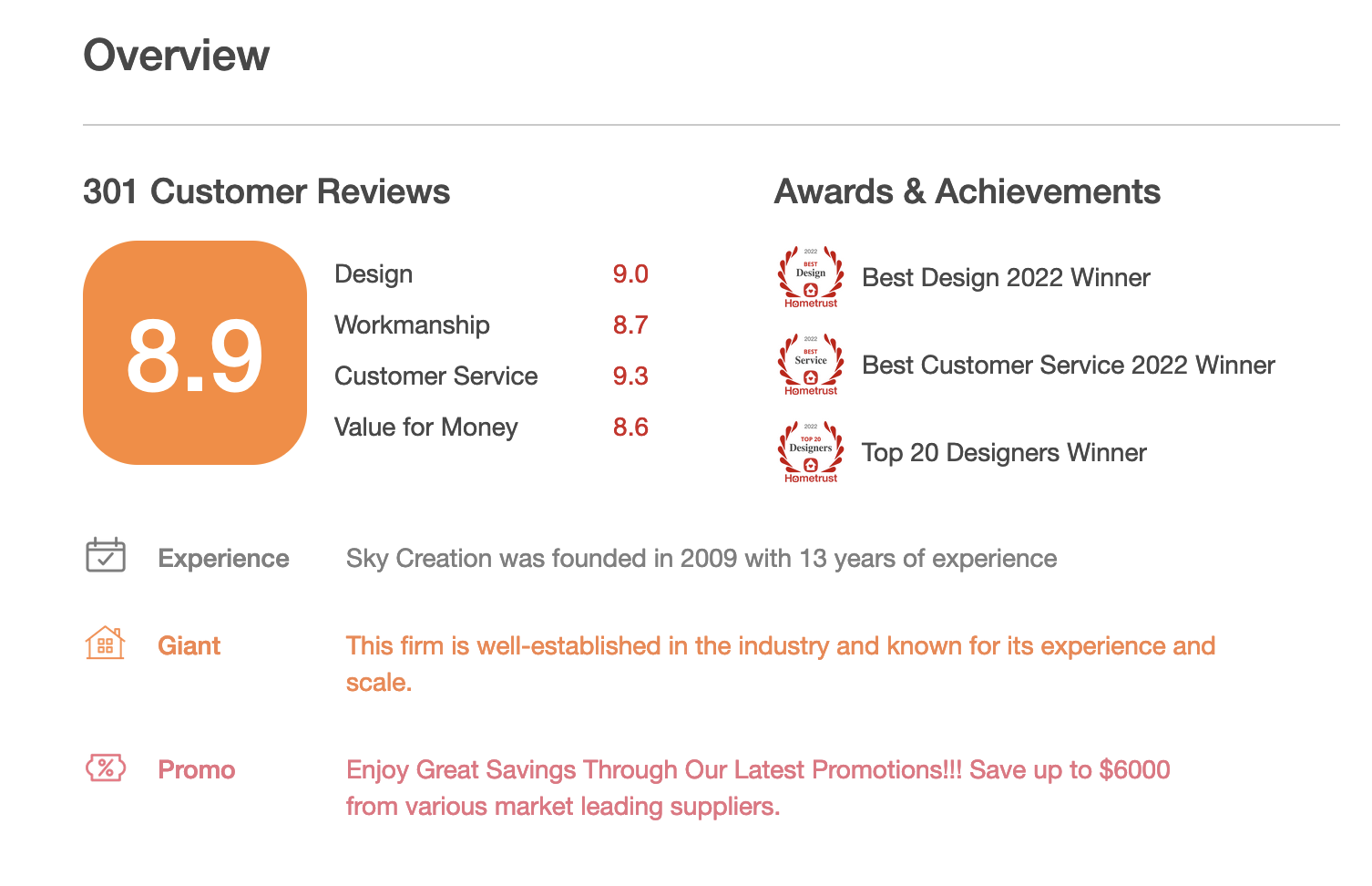 Evaluating Reviews On Hometrust
On each ID's page on Hometrust, you'll be able to access ratings and reviews from their actual customers. The ratings are split up into several categories (Design, Workmanship, Customer Service and Value for money), so you can get a better sense of what to expect with each ID.
Here are a few tips to keep in mind when evaluating reviews:
When reading reviews, be as thorough as possible. Read both positive and negative reviews, and also take note of whether IDs reply to reviews (if they do, that's a good sign – it means that they're responsive to customers and also receptive to feedback).
For positive reviews, see whether the reviews state the name of the ID they worked with. Each ID firm has multiple IDs under them, so if you're impressed by a particular ID, it's a good idea to request to work with them.
Look for deleted reviews. In some instances, you'll see reviews that state: This review has been removed by user on XX date. Unfortunately, ID firms sometimes resort to threatening users with legal action upon receiving bad reviews, giving users no choice but to remove their reviews.
If you're wondering if there are fake or fraudulent reviews on Hometrust, the answer is – nope, there isn't!
Hometrust uses an algorithmic system to automatically detect spam and plagiarised or fraudulent reviews. On top of the algorithm, the platform has other processes in place to filter out fake reviews.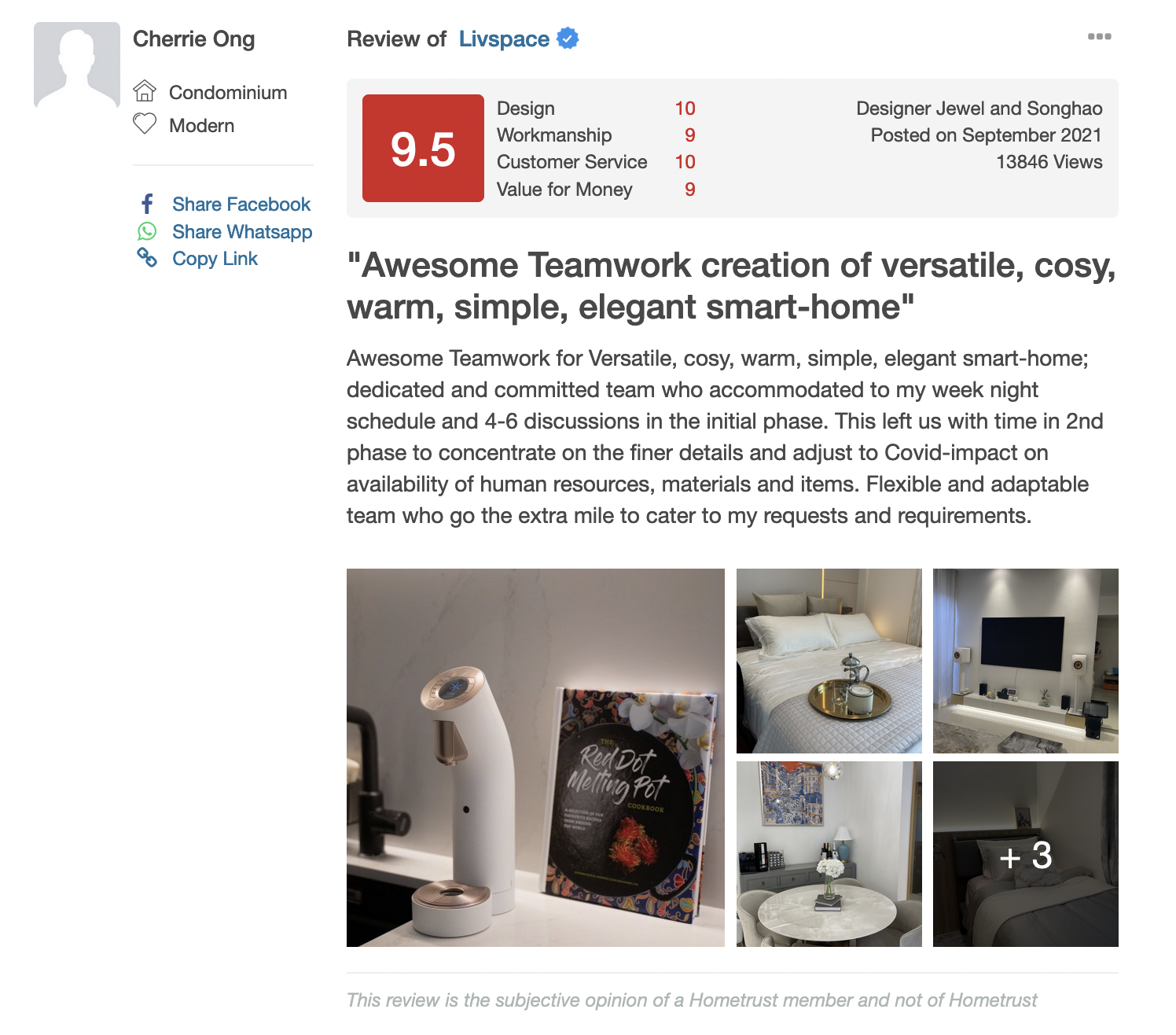 Evaluating Reviews On Google
Once you've read the reviews of the ID firms you've shortlisted on Hometrust, you'll also want to Google these same firms, and look through any reviews that they might have on Google.
Now, because Google is such a huge platform, and one that's accessible to pretty much everyone, the reviews that you see on Google may not be as accurate as what you'll see on Hometrust. Go in skeptical, and take things with a pinch of salt.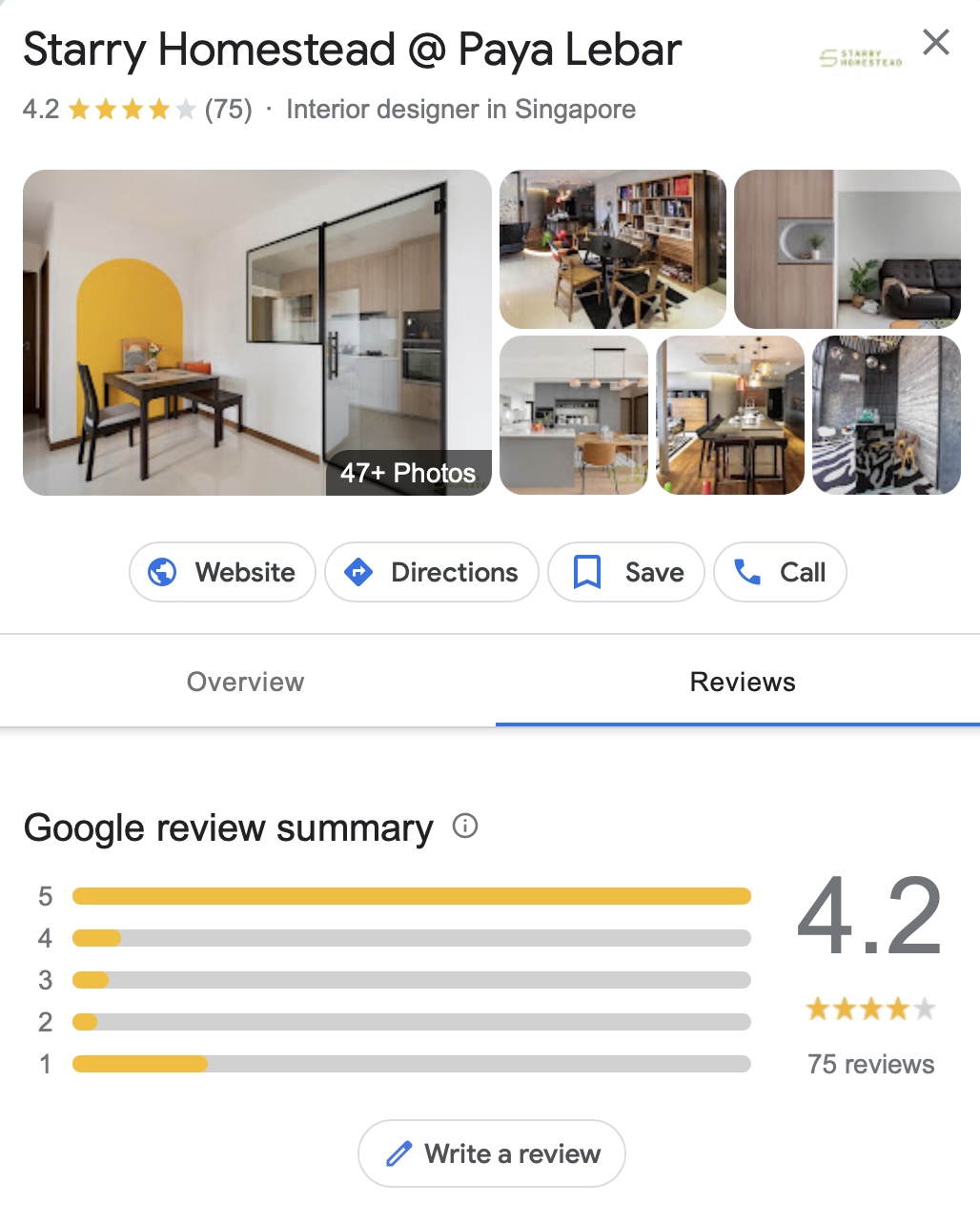 Here's the thing: even if an ID firm has an awesome rating (say, 4.9/5), that doesn't mean that you should shortlist them as one of your top choices, and rush to contact them immediately. First, take a closer look at the reviews, to see if there's any suspicious activity.
Here are a few examples:
Check the spread of reviews. If the ID's overall rating is 4.9, 99% of their reviews should be either 4 star or 5 star reviews. If they have a few 1 star reviews and a ton of 5 star reviews, that's not a good sign – it's possible that the company received a bunch of 1 star reviews, then bought more 5 star reviews in order to pull their average rating up.
Check if there are many ratings without reviews. If many people are rating the ID firm 5 stars without leaving an actual review, that's a sign of bought ratings as well.
Check the profiles of the reviewers. If the reviewers have strange, non-local sounding names, they're probably fake reviews. You can also see the total number of reviews that each reviewer has left – if majority of the reviewers only have 1-2 reviews to their name, again, these are probably fake reviews. On the other hand, if the reviewers have a prolific profile and have reviewed other businesses in Singapore, they're more likely to be genuine.
Check the terminology and wording used in the reviews. One easy way to spot fake reviews is if the same terminology (typically some sort of marketing term that's relevant to the company's Unique Selling Proposition) is used across multiple reviews. For example, if many reviewers say that a certain ID firm has "unrivaled customer service", this is pretty suspicious. (If the reviews are genuine, each person would probably express this in their own way, instead of using the same stock phrase).
Check the date of the reviews. Genuine reviews are typically amassed gradually, over a period of time. If you see that a certain ID firm received 50 reviews in a single day, that's a sure sign that the reviews were bought.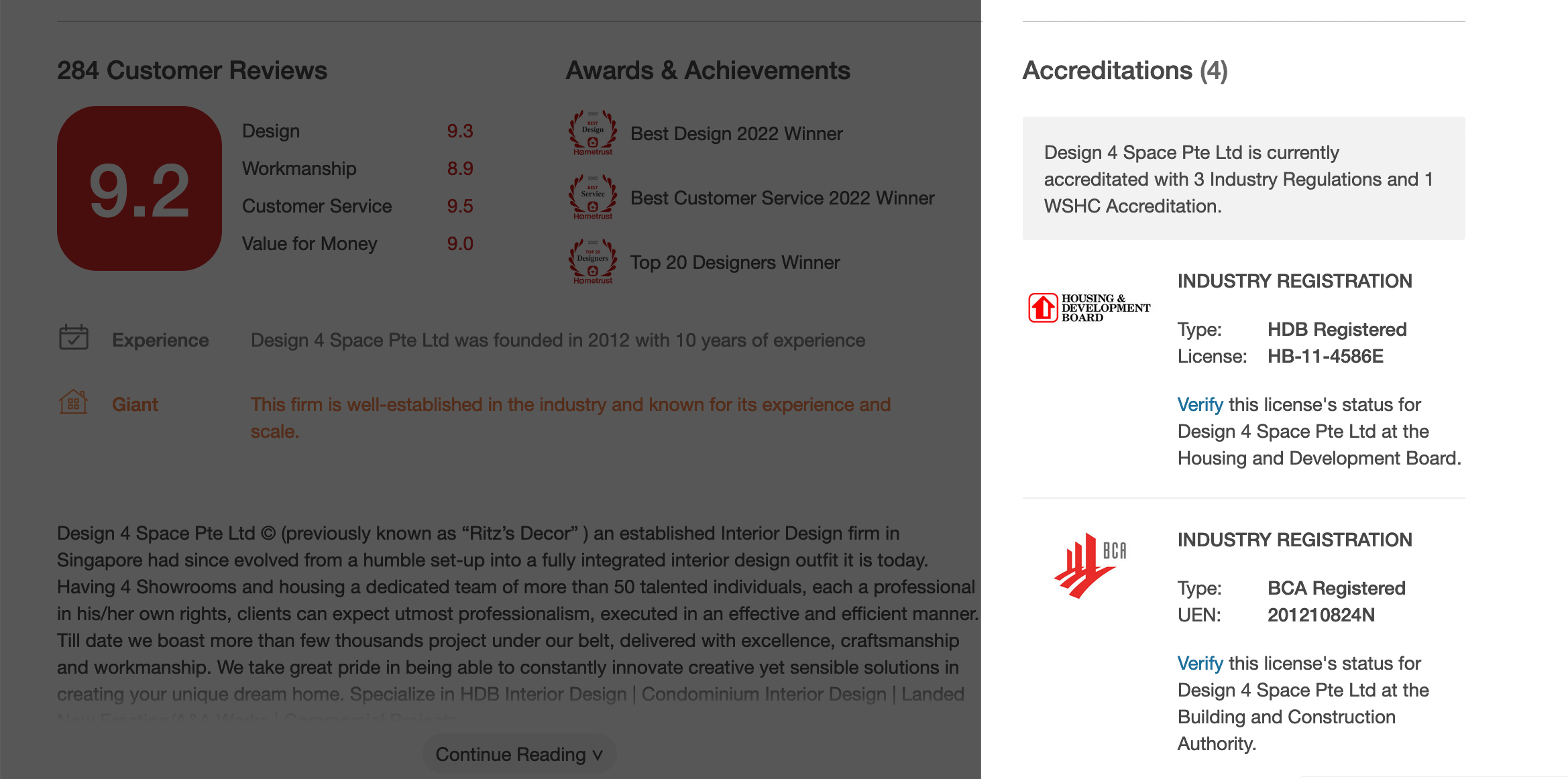 Checking Accreditations Of Your ID
After reading through reviews on both Hometrust and Google, the last step in your shortlisting process is to make sure the ID you've chosen is CaseTrust accredited.
Why is this important? If a company is CaseTrust accredited, this means that they'll protect their customer's deposit payment by purchasing a deposit performance bond.
In the event that the ID closes down before your works are complete (touch wood!), you'll be able to get your deposit back.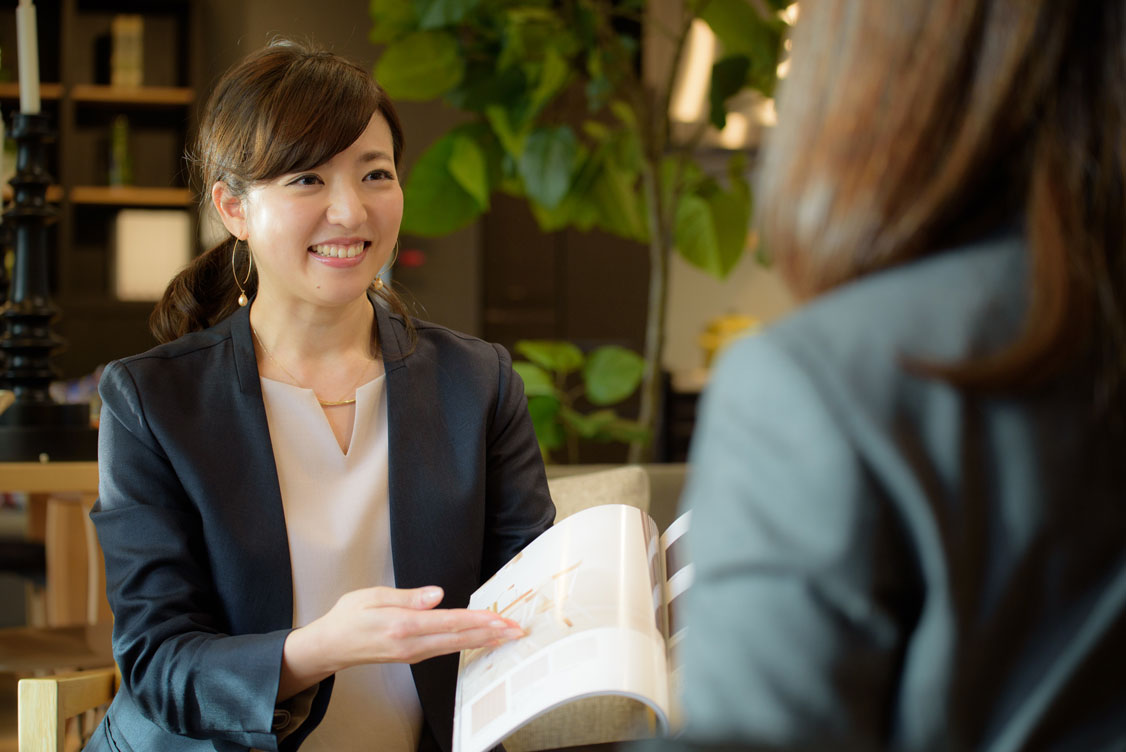 Meeting Potential IDs
The last step in the process is to meet your shortlisted IDs, and discuss your renovation plans with them!
We recommend going into this step as prepared as possible. At this point, you should have already thought about:
Your budget
What kind of renovations you want to do
The theme/style you're going for
You may also want to ask your ID some questions to gauge their expertise and working style, such as:
Is my budget reasonable for what I want to achieve?
Are there any areas in which I can save cost?
How will the project schedule look like? Roughly how long will it take to complete?
How long is the warranty period? What's covered under the warranty?
Take your time to speak to your ID, so that you can get a sense of whether they're a good fit.
Generally speaking, you'll want to look for someone who is patient with you and receptive to your needs and requirements.
Good IDs will also take the initiative to point out certain things to you – for instance, if you're keen on building a platform bed, they might ask you if you intend to have kids within the next few years, because it'll be difficult for pregnant women to get in and out of a low platform bed.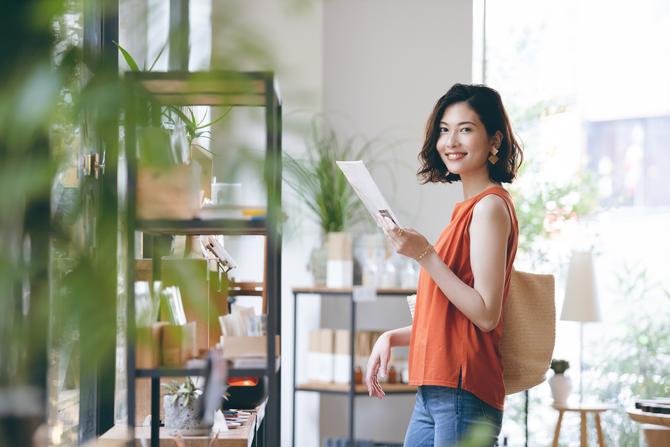 A Final Word On Finding A Suitable ID For You
When it comes to finding the right ID, you need to do your due diligence!
We get it – it's time-consuming and tedious trawling through all these online reviews, plus scheduling so many meetings with IDs.
But at the end of the day, you're spending tens of thousands of dollars, and you want to end up with a space that you love – one that you can call home.
A good ID is worth the time and energy – all the best in your hunt!
Want to check out home renovation projects for more inspiration? Browse home design ideas on Hometrust, or click the button below to get connected with expert designers.
Renovating soon? Let Hometrust recommend the best interior designers.
If you are reading this, you are probably wondering how you can create your dream home.
Here's the thing, everyone's needs and requirements for their home renovation is different. A designer that may work for someone else, may not quite work for you.
At Hometrust, we're here to help match top rated designers, recommended by past homeowners to you through our data-driven and matching algorithm.
Whether you are looking for partial renovation or a full fledge overhaul, we'll be able to recommend you top designers to match your renovation requirements and lifestyle.
Recommendations and free and you can simply start by helping us understand your needs below!
Get Recommendations
Renovate safe!
The Hometrust Team