5 Accreditations You Will Find In ID Firms And What They Mean For Homeowners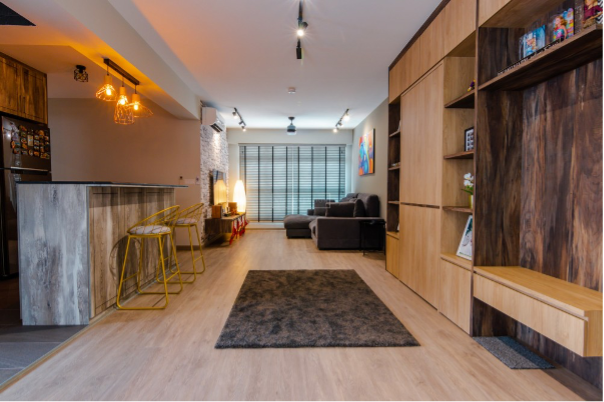 Renovation is one of the things that new homeowners look forward to when getting the keys to your home. But sometimes the excitement can turn into disappointment when you engage the wrong interior design (ID) firm or contractor to handle your renovation for you. And it is not uncommon to hear of renovation horror stories such as poor service, shabby workmanship or even ID firm absconding with your money before renovation is complete.
Luckily, there are ways to mitigate such horrific renovation experience. Instead of engaging just any ID firm, why not engage one that is well accredited? In this guide, we will shed more light on the 5 different types of accreditations that you can find in the ID industry and what they actually mean for homeowners.
In the world of interior design, HDB-licensed refers to ID firms or contractors that are registered under HDB's Registered Renovation Contractors' Scheme (RRCS).
The programme is part of HDB's efforts to regulate ID firms and contractors working on HDB flats to not only avoid unnecessary annoyance to other residents, but also to avoid damaging the integrity of the HDB building.
Under the RRCS, HDB-licensed contractors have to abide by strict rules and are put to task by a transparent demerit system and fines. Any infringement will not only result in fine, but also in the de-registration of the contractor or firm.
To get HDB-licensed, the contractor or ID firm needs to:
Complete training programme by HDB
Have at least 3 years of renovation experience
Be ACRA-registered for at least a year
No complaints made against them
In short, HDB-licensed is an assurance that the contractor or ID firm has fulfilled all four criteria and should provide a smooth sailing renovation experience for homeowners.
To find whether the ID firm or contractor is HDB-licensed, you can search for the company name on HDB website.
There is another registry of contractors administered by the Building and Construction Authority (BCA) which is very similar to the HDB-licensed registry.
The key difference between HDB-licensed and BCA-registered is that the BCA registry mainly serves the procurement needs of government departments, statutory bodies and other public sector organizations.
That said, even if an ID firm or contractor is not BCA-registered, it can still accept business outside of the public sector. Then why bother about BCA registry then for your personal renovation?
To allow them to undertake projects from the public sector, BCA-registered ID firms or contractors have to meet more stringent criteria:
Show credible financial capability like valid audited accounts, paid-up capital, net worth, etc;
Have relevant technical personnel with recognised professional, technical qualification, valid licenses, etc;
Possess management certifications like ISO9001, ISO14001, ISO45001, etc; and
Valid and strong track record with documentation proof, endorsed and assessed by clients.
In short, being BCA-registered puts an ID firm or contractor to test at a higher standard. Homeowners can be more reassured about the quality of work delivered by the ID firm or contractor.
The list of current BCA-registered ID firms and contractors can be found on BCA website.
3. CaseTrust / CaseTrust-RCMA
A concern that homeowners have when engaging an ID firm is that the actual quality of work rendered by the firm is not as good as it claims. In other words, homeowners get oversold on the quality of work. Sometimes, there is also an added problem of cost opacity where the cost of the project is not transparent.
Avoiding these issues is as easy as looking out for the CaseTrust accreditation. That's because ID firms and/or contractors that are CaseTrust/CaseTrust-RCMA accredited:
Guarantees a clear fee policy that is transparent and clearly documented. You won't have to worry about hidden costs;
Has a proper and clearly defined resolution channel. This means that whenever consumer have any complaints, there is a proper avenue for them to raise their problem;
Assures homeowners that the ID firm or contractor's sales staff do not practice unethical sales tactics. They will provide accurate information about the renovation; and
Are mandated to purchase a deposit performance bond that will safeguard homeowners' deposits against any business closure before the renovation is completed.
The list of CaseTrust/CaseTrust-RCMA accredited ID firms and contractors can be found on the CASE website.
4. BizSAFE / BizSAFE STAR
BizSAFE is a nation-wide capability building programme that is designed to help companies build up the workplace safety and health capabilities and culture. It helps companies to adopt sound workplace safety and health (WSH) systems and practices so that employees are able to work in a safe environment.
For BizSAFE, there are 5 levels of accreditation all the way from level 1 to level 5 (i.e. BizSAFE STAR). Each level of accreditation requires the ID firm or contractor to understand about the different risk levels and how to manage them. At level 5 (BizSAFE STAR) accreditation, a company is deemed to have the full suite of proper WSH practices and systems in place to deliver excellent and safe work.
With BizSAFE accreditation, homeowners can be rest assured that work will be carried out smoothly and in a safe manner. There is a low chance of renovation-delaying accidents happening. And even if it does happen, the right measures have been put in place to ensure it gets handled properly and promptly.
If you want to find a company that has the right risk management capabilities, you can check the list on the BizSAFE marketplace.
5. ISO 9001, ISO 14001, ISO 45001
You have probably seen some of these ISO logos on businesses that you visit but you are probably unfamiliar with them. ISO, or International Organization for Standardization, is an international, independent and non-governmental organization which develops standards that ensure quality, safety, and efficiency of products, services, and systems.
Each ISO accreditation refers to a different set of quality that the ID firm or contractor adheres to.
ISO 9001 is a Quality Management System (QMS) that ensures the company has a systematic approach for meeting customer objectives, which is strikes some resemblance with the HDB-licensed and CaseTrust accreditation.
ISO 14001 is an Environmental Management System (EMS) that provides a system to measure and improve an organization's environmental impact
ISO 45001 is an Occupational Health and Safety Management System (OHMS) that provides a system for measuring and improving an organization's health and safety impact. This is very similar to the BizSAFE accreditation.
The objective of ISO is to promote the adoption of an international quality system standards among ID firms and contractors operating in Singapore.
Finding Accredited ID Firm On Hometrust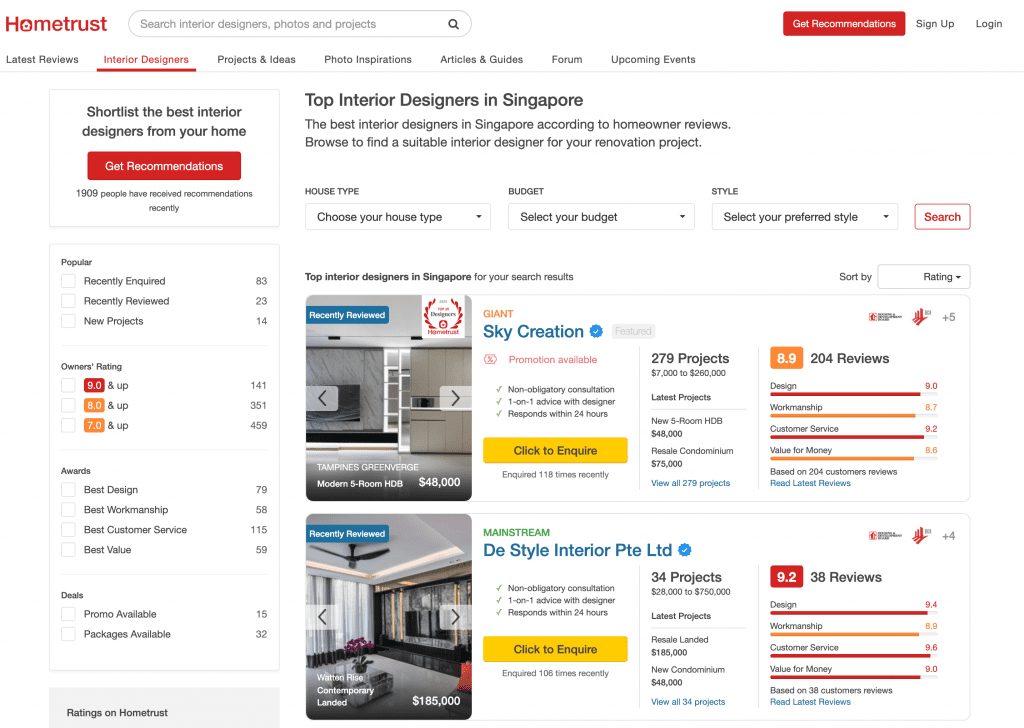 To find accredited ID firms, you can also use Hometrust's ID search engine. Not only does our search engine list down the top ID firms based on reviews received, all the accreditations are also nicely indicated on the top right of each ID firm.
Renovating soon? Let Hometrust recommend the best interior designers.
If you are reading this, you are probably wondering how you can create your dream home.
Here's the thing, everyone's needs and requirements for their home renovation is different. A designer that may work for someone else, may not quite work for you.
At Hometrust, we're here to help match top rated designers, recommended by past homeowners to you through our data-driven and matching algorithm.
Whether you are looking for partial renovation or a full fledge overhaul, we'll be able to recommend you top designers to match your renovation requirements and lifestyle.
Recommendations and free and you can simply start by helping us understand your needs below!
Get Recommendations
Renovate safe!
The Hometrust Team