5 Design Ideas That Give You Condo Living Experience In A 5-Room HDB
The dream of living in a condo one day is a dream that many Singaporeans chase. But did you know that you can enjoy the experience of living in a condo even within your HDB flat? Well, all you need to do is to grab some design ideas from condos and use them wisely when renovating your 5-room HDB flat. In that way, you can fulfil your dream of living in a condo without the price tag of owning a condo.
Can't wait to try? Here are 5 design ideas that will elevate your living experience from an HDB and make you feel as though you are living in a condo.
1. Modern Bathroom Design For Resort Living Experience
One common difference between HDBs and condo is the way the bathrooms are designed. It is not common to find HDB bathrooms that are fancy-schmancy. Instead, what you often find that HDB bathrooms come with simple, pragmatic designs.
Contrast this with bathrooms at condos, which are usually accompanied by fancy designs. Part of the reason is because condo bathrooms come as a package together with the whole condo interior. Unlike HDBs, condos are shipped with complete basic interiors such as flooring tiles, built-in wardrobe and bathrooms.
One reason for this is because condo bathrooms are designed to match the interior design for the condo. The style becomes inconsistent if you have an HDB-style tiled bathroom in a marble-tiled condo.
But increasingly, homeowners are realising that it is important to have a consistent interior style throughout the home, including the bathroom. Every part of the whole should feel like a sanctuary where you can rest, relax and recharge.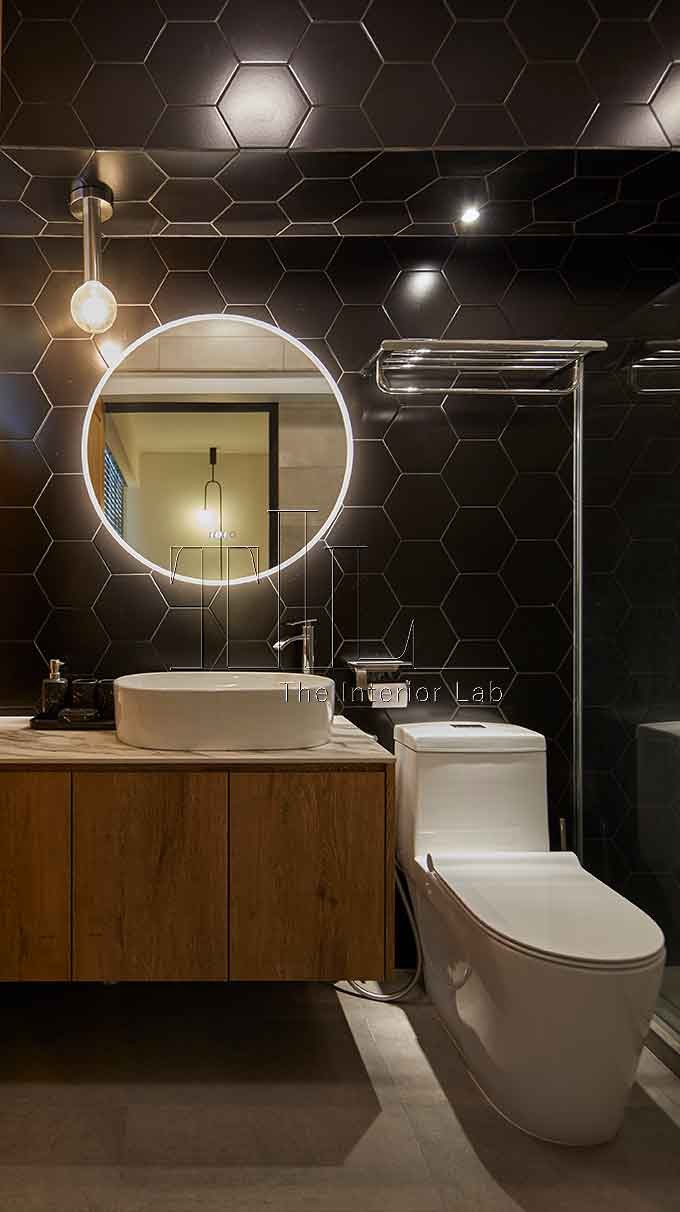 There's no better model for a modern bathroom design than this 5-room HDB at Punggol Sapphire. This home designed by The Interior Lab comes with a classic industrial design bathroom. As you enter the bathroom, it feels like entering into a different realm.
The bathroom is also laid with nice parquet flooring and unique honeycomb-shaped tiles.
The master bedroom bathroom also comes with a similar design that accentuates the whole bathroom experience in the home. From the photos, you can hardly tell that it is not a resort but one from an HDB flat in the heartland.
2. Flooring That Is Not Boring
Another common sight in HDBs is the use of simple, ubiquitous tiles that are used across the whole estate. It is almost as though the HDB developers all get their tiles from the same supplier.
Unlike typical HDBs, condos aim to differentiate themselves with the use of interesting flooring materials. From granite to marble to parquet flooring, condo developers put a lot of thought into which flooring material to use for each home.
If you want a condo living experience, you can consider how you can use different materials to give prominence to the flooring.
This well-lit space is a design concept from Livspace for a 5-room resale flat in Sembawang. The interior designer added a nice reflective granite flooring that not only complements the light-coloured theme, but it also adds an added level of sophistication. It is pretty hard to imagine how it would look if you were to put in the old school 1m x 1m square tiles into the living room.
If marble or granite is not your style, how about decking your cement floor with a nice wooden layer instead? After all, parquet is also a commonly used material in condos, especially in the bedroom. This parquet style flooring for a 5-room flat in Bukit Batok West is also able to add that modern looking touch to your modern home.
3. Get Creative With Your Window Grills
Every HDB flat in Singapore comes with the default and traditional window grill that looks like it is from the 90s. While such window grills do have its own share of lovers, most homeowners nowadays prefer a more contemporary style that is not only pragmatic, but also aesthetically pleasing, just like their condo counterparts.
For instance, the owner of this 5-room resale flat in Telok Blangah opted for a grill-less window design to match the Scandinavian theme they were going for. Besides complementing the interior design, this grill-less window is also very functional.
During the day, you can have your windows wide open and let the natural sunlight shine into your home. Allowing the window to be fully opened also encourages good wind ventilation, which is sometimes disrupted by the window grill in typical HDB flats.
4. Clever Built-In Storage That Also Adds To The Home's Aesthetics
We all know that condos come with built-in furniture. If you want to elevate your living experience in an HDB to a condo one, going for clever built-in storage is the way to do it.
Lots of the built-in furniture that are shipped by the developer are not only pleasing on the eye, but they are also really practical with lots of clever storage. At the same time, built-in furniture also helps you to fully utilize the ceiling height and avoid any space wastage.
In this design from Mr Designer Studio, the interior designer used a feature wall with flushed built-in storage. It feels totally part of the feature wall without any ounce of awkwardness. Because it is a built-in storage, it can be customized and built to the full ceiling height to make it look nice and also avoid any wasted space.
Another thing to love about this Scandinavian design is that the design makes the home looks really spacious. Who would have thought that this home was a 4-room flat?
You can also take a leaf out of this 5-room HDB in Anchorvale where D&D Design Reno designed a built-in wardrobe that nicely flushed to the wall and the ceiling. It provides lots of storage space without making it feel like an awkward addition in the room. You can feel as though the built-in wardrobe is meant to be there.
5. Semi-Enclosed Space With Movable Glass Panels
The reality of living in a condo in Singapore is that it is undoubtedly small if you are looking for one that is affordable. To create more living space, some developers use movable glass panels to create an illusion of space by allowing the same space to be used for multiple purpose. One of the most prominent example is the use of movable glass panels in kitchens.
The use of movable glass panels in kitchens allow the kitchen to be open concept when guests are around. When you need to do any heavy cooking, you can close up the kitchen and keep the oil and grease away from your living space.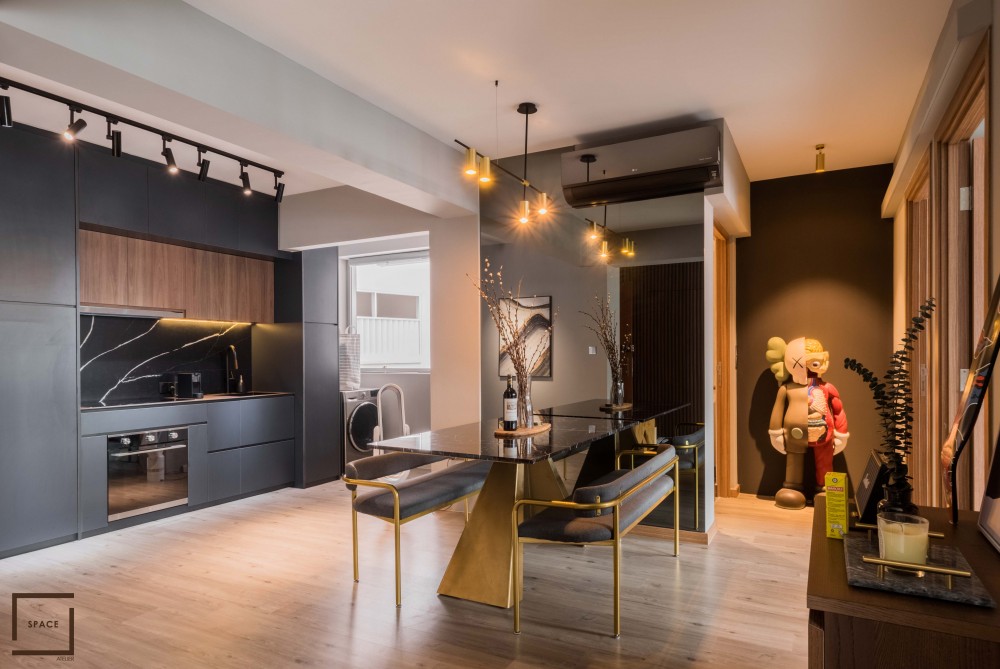 But the use of movable glass panels to create more space in the home isn't exclusive to just the kitchen. You can bring that design concept to any part of your 5-room home and turn it into the condo living experience.
One of the ideas we like is this design from Starry Homestead Pte Ltd. This design brings a new perspective into how you can split your living room into a personal workspace while still keeping it an open space when guests come over. The smart use of movable glass panels ensures that the space doesn't look small at all. It is the exact same design idea that condos use to maximize their space.
Browse For More Interior Design For 5-Room HDBs On Hometrust
Wondering what other interior inspirations you can find for your new 5-room HDB flat? Make sure to check out all the 5-room HDB projects on Hometrust for more ideas.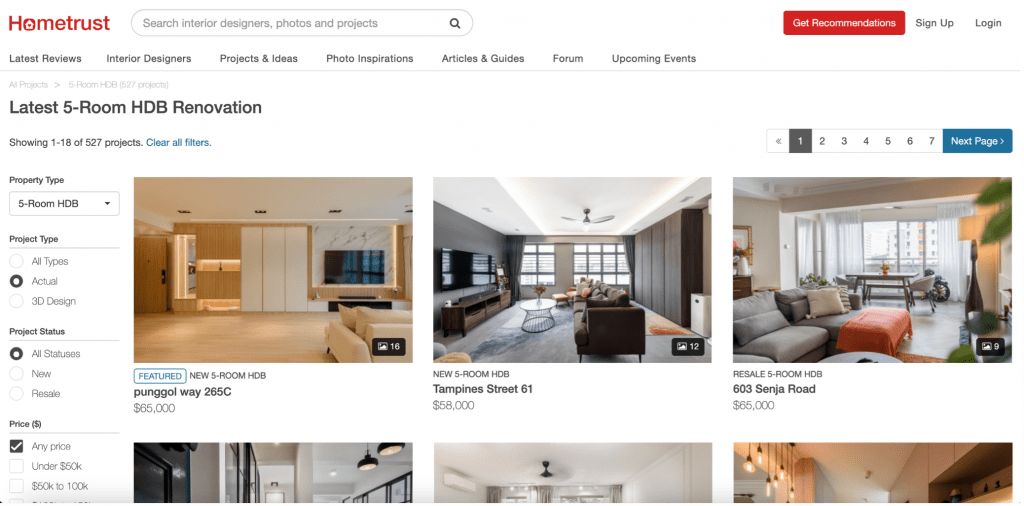 At Hometrust, we curate interior design portfolios from our interior design partners. You can browse through various renovation projects on Hometrust to find one that fits your liking. We even added the function for you to filter by budget, floor area, and style.
For homeowners who already know what you want, the next step is to shortlist a trusted and experienced interior design firm for your renovation project. You can use Hometrust to shortlist the right interior design firm for your home renovation today.