5 HDB Apartments To Drool Over, All Below 50k!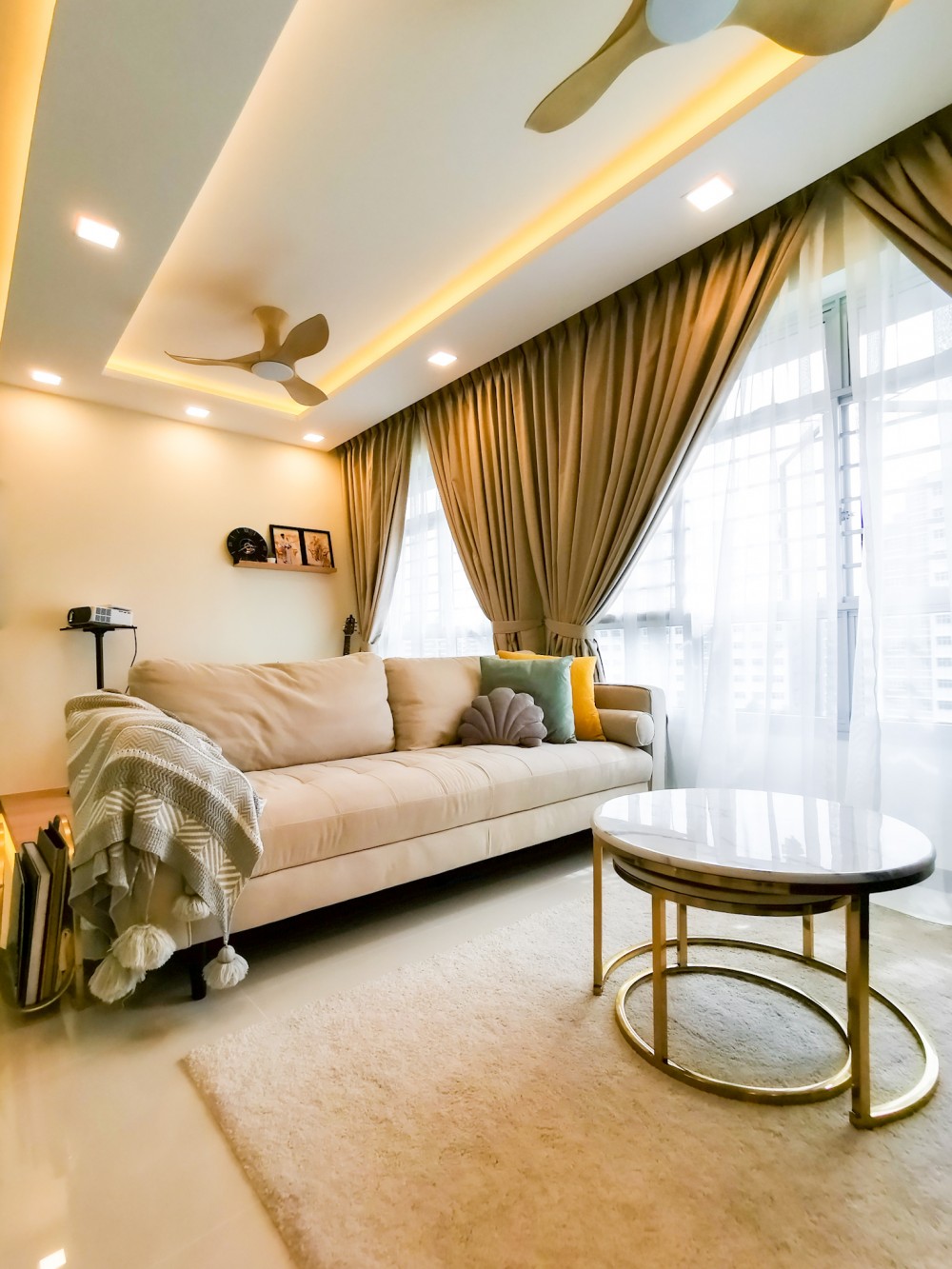 We all need a little home inspiration from time to time. Nowadays, with so many talented designers in the scene helming the ship for top tier interior designs for even the most humble of HDB apartments, we believe that it's incredibly affordable and doable to have a drool-worthy home.
In this article, we've curated 5 of the most gorgeous HDB apartments where their renovations cost below 50k — we've included a good mixture of both brand new BTO flats where you can start on a blank slate; as well as unique resale flats where some of the renovation cost would definitely go to the tearing down of old walls to make way for the new. Whatever it is, we can take a hefty amount of inspiration from good design, and it begins here!
1. A fun-filled and eclectic spin on a 4-room modern HDB home in Punggol
Project Title: 306 Punggol Drive
Type of home: 4-room HDB
Cost of renovation: $38,000
When we think of a typical Scandinavian styled home, we definitely picture a backdrop of warm, muted tones — dark or light stained wood, minimalistic touches, and only the essentials. Personally, we're huge fans of this aesthetic, but we can't deny that there's something fun about stepping out of this prescribed comfort zone to explore bright, vibrant colours for a change. However, this vibrancy is balanced with the clean open space with light-coloured walls, and lots of natural light.
We love the eye-catching teal of the kitchen carpentry, and how it contrasts with the warm yellow lights. While the kitchen is the highlight, the pops of colour in the living area ties the Scandinavian theme together throughout the home in a unique and tasteful way.
2. A tasteful vintage styled 5-room resale home in Bukit Panjang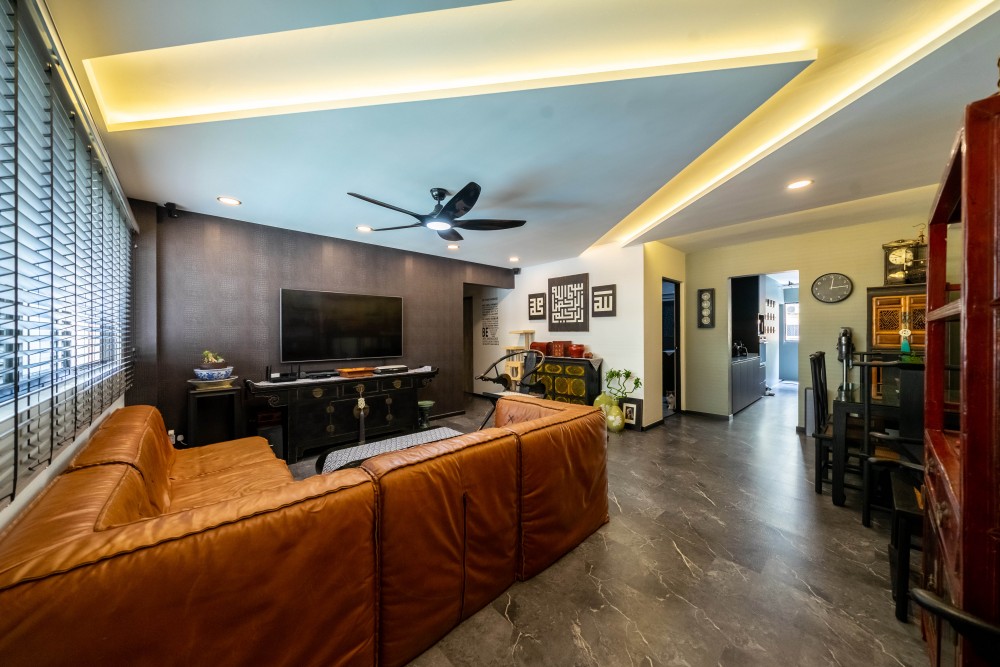 Project Title: Bukit Panjang | 250 Bangkit Road
Type of home: 4-room HDB
Cost of renovation: $48,000
A vintage interior style is not often the most sought after in Singapore, and if you take a look at this beautiful 5-room resale home in Bukit Panjang, one does wonder why! A dark muted aesthetic is definitely a refreshing and not an unwelcome change, and exudes a certain nuanced tastefulness reminiscent of a throwback time. It's a style very much for the old soul, and we appreciate the recollection of the old into the new.
We're huge fans of the stained dark wood finishings paired with the gorgeous lighter brown leather sofa — not quite a completely identical match, but nevertheless completes the look perfectly. Vintage is all about a strategic mix and match, and we especially love the dark blue vintage chest that has been converted into the TV console — a nifty way to keep treasured mementos from the past functional and close to the family.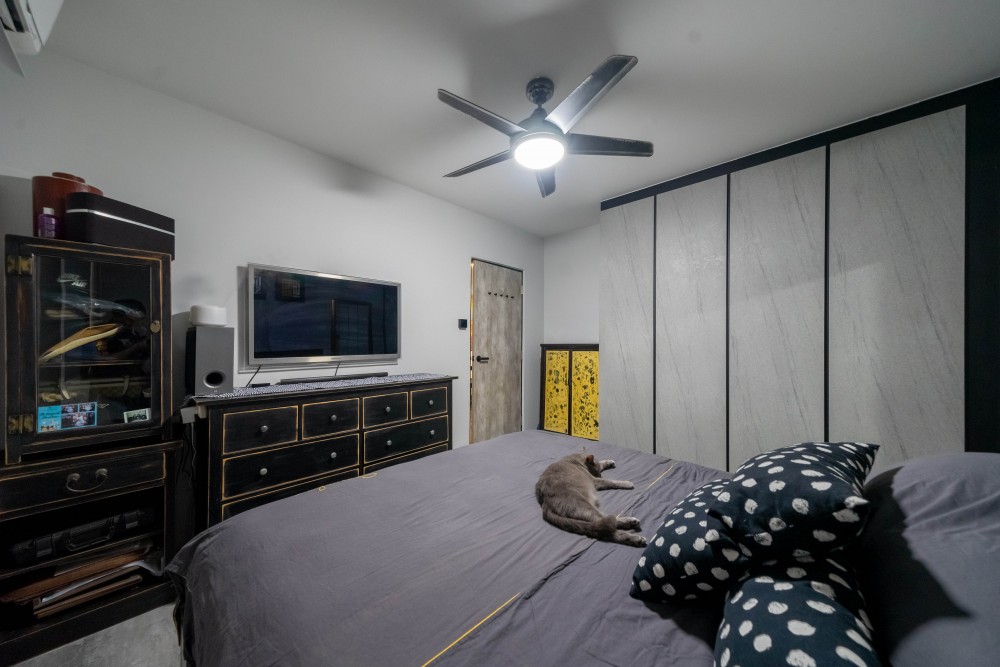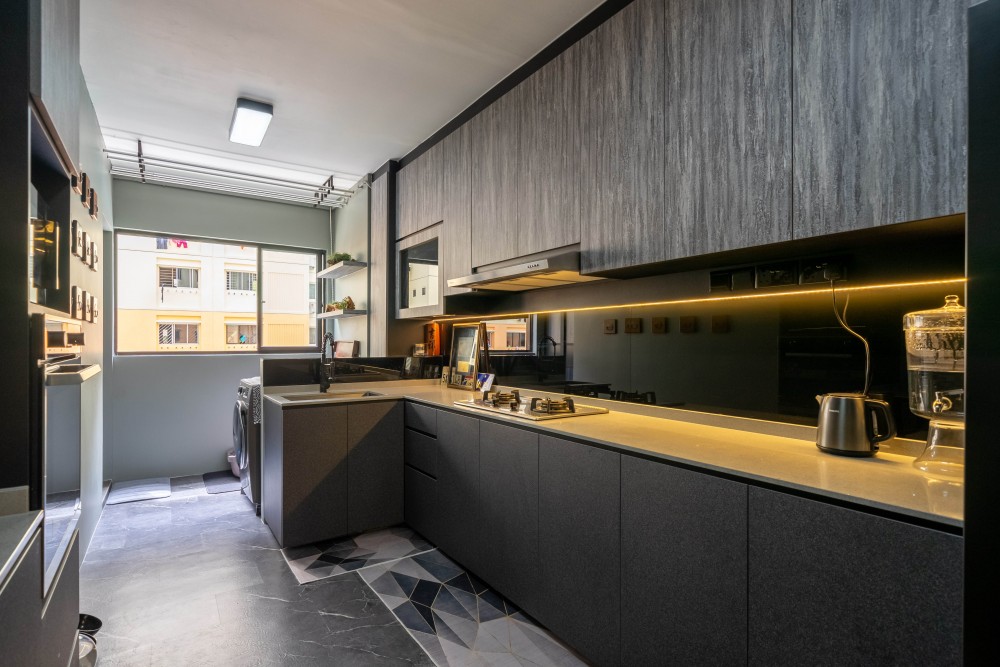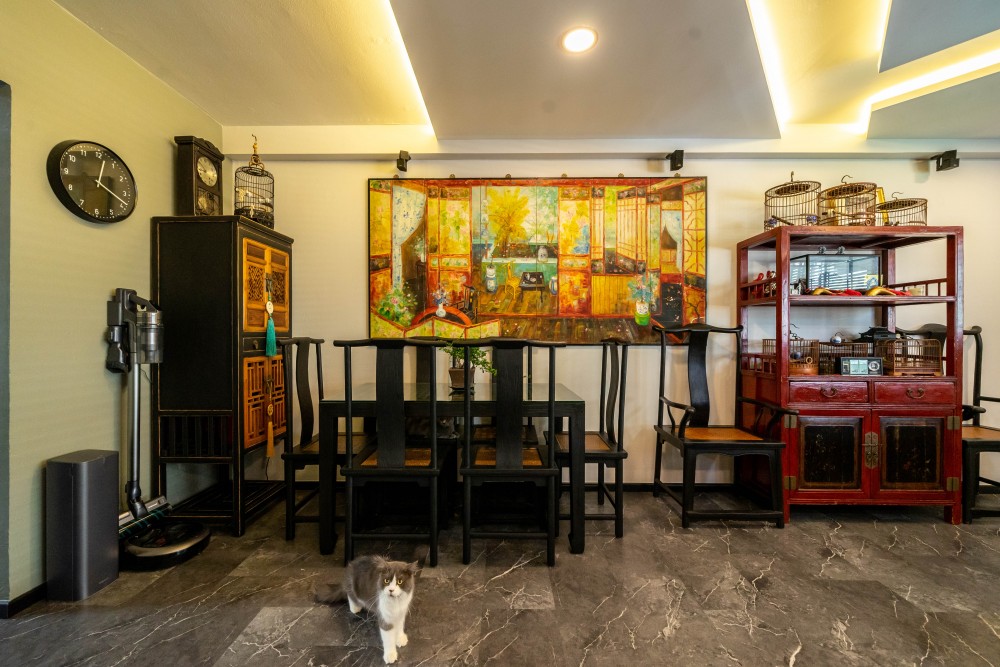 3. A cozy and comforting with muted hues 4-room HDB in Sengkang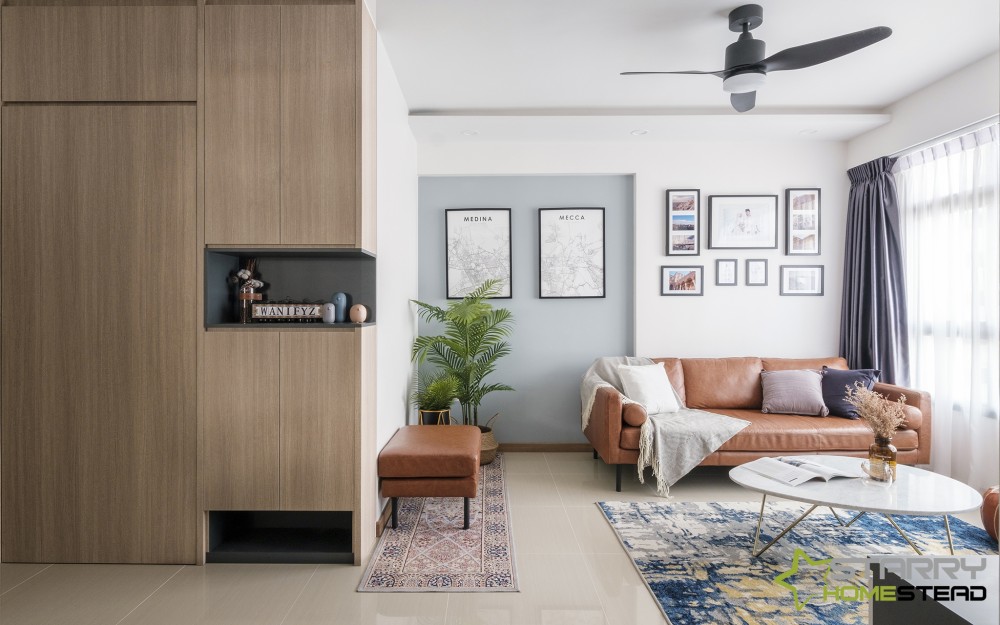 Project Title: 458B Sengkang West Road
Type of home: 4-room HDB
Cost of renovation: $38,000
This modern home can be said to be rather commonly seen in most millennial-designed HDBs in Singapore, and there's definitely a solid reason behind that. However, we believe that this home is anything but ordinary — we love the subtle notes to the family's heritage and treasured heirlooms placed around the home — enhancing, rather than interrupting its overall modern style, which differentiates it from the usual minimalistic style that most people love.
The clean, neutral lines and gorgeous muted colours of the walls and light brown carpentry of the TV console and cabinets lining the corridor towards the living room. Our favourite part of this home would be the nuanced, soothing colours — cozy blues in various different hues in differing parts of the home. Coupled with a careful selection of quirky items — the eye-catching rugs Middle Eastern rugs laid splendidly over the living area, the array of cushions, and choice framed photos over the wall — it's clear that this is a well-loved and well-lived home.
This is the ultimate dream home for your modern millennial that defines 'drool-worthy', and we are all for it!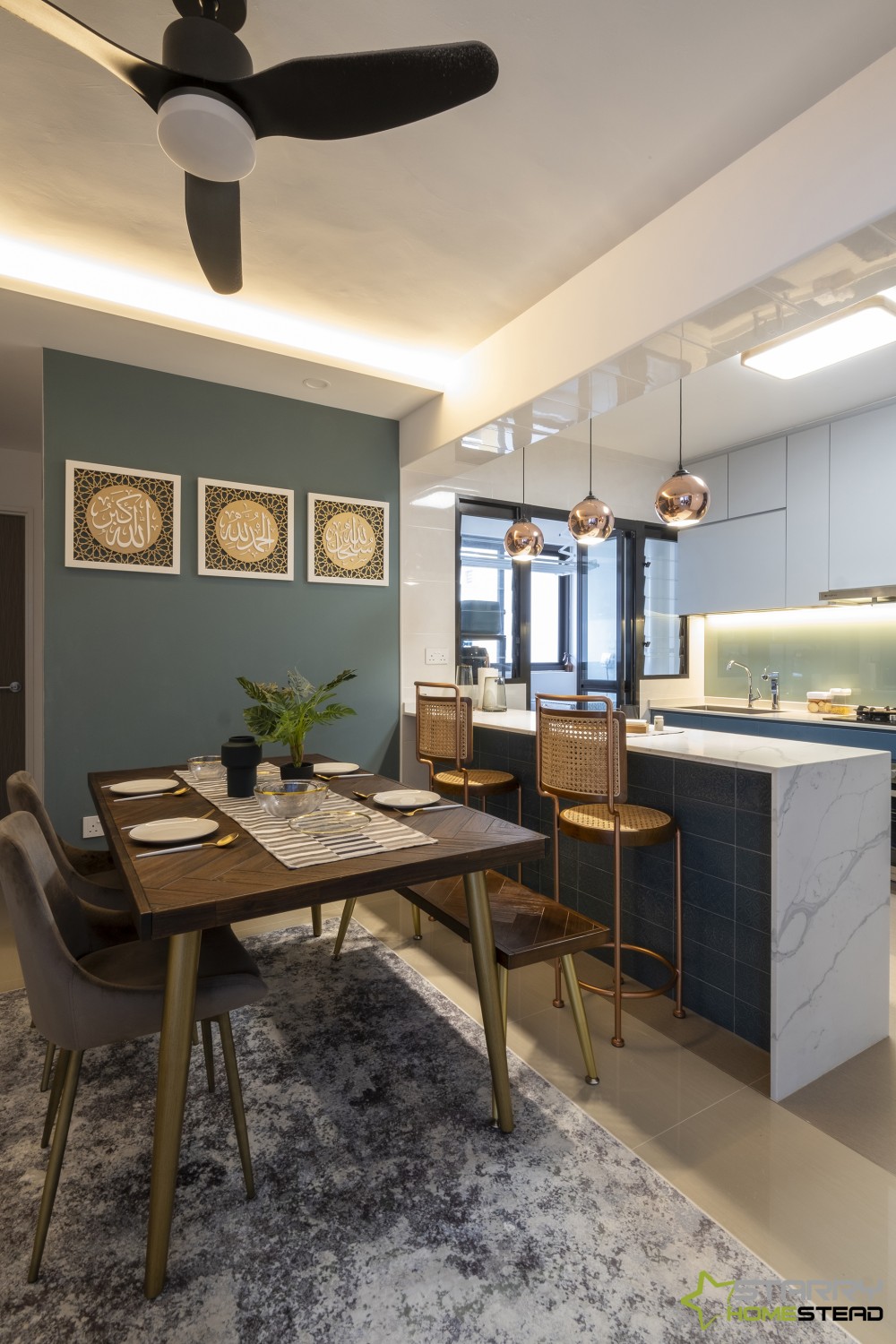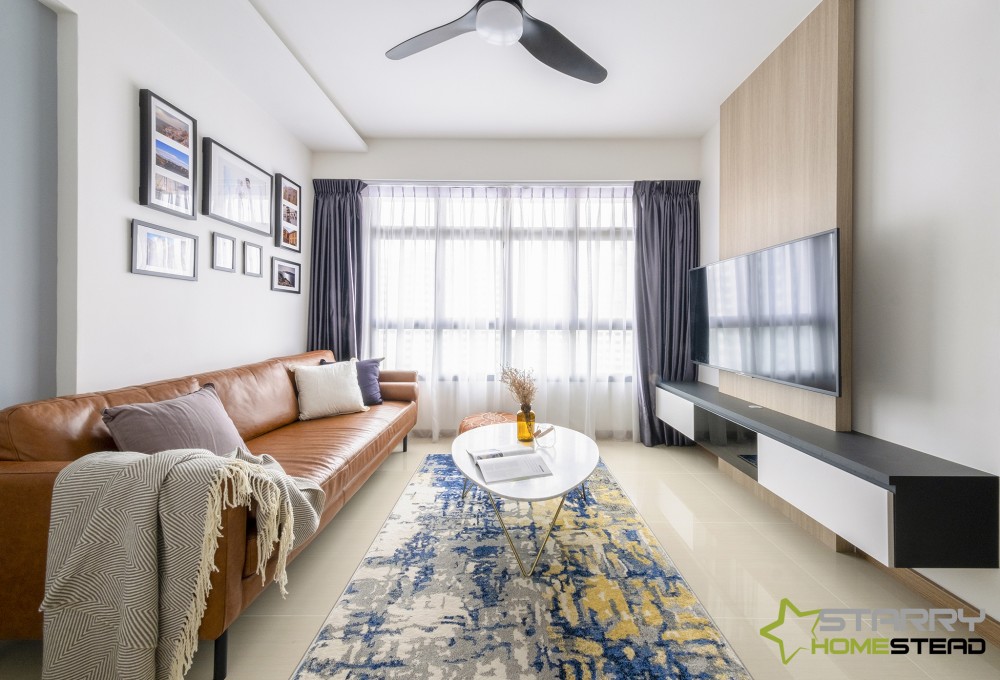 4. A delicate, monochromatic amalgamation of marble and wood in this 5-room HDB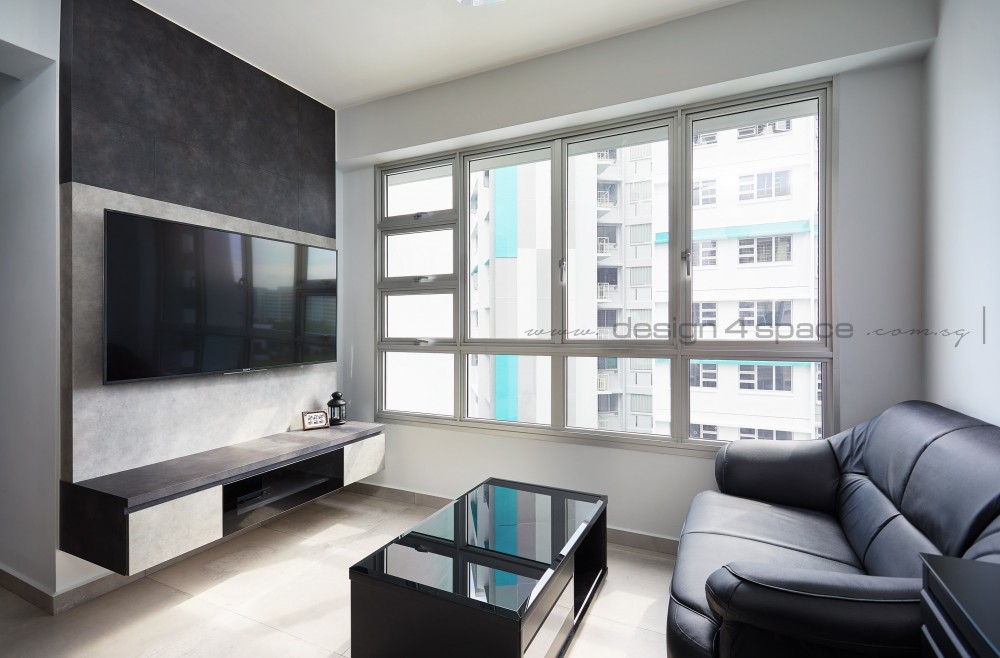 Project Title: Woodlands | Woodlands Pasture II
Type of home: 3-room HDB
Cost of renovation: $22,000
This sophisticated monochromatic home seems fresh out of the most high-end interior magazine with the tastefully marbled floors, combined with the understated marbled and paneled walls provides an awe inspiring ambiance when you first step into the home. We most admire the varying shades of grey — not typically the most exciting colour palette — and how the combination of hues make for a classy, nuanced feel in the home. The softness of the colours, in conjunction with the smoothness of light and dark marble, enable the varying textures of the home — the throw cushions, the feature wall on the back of the bed, and gorgeously finished carpentry of the walk-in wardrobe.
We absolutely love the ultra smooth, ultra cool, and ultra modern vibe of the home. Rather than it coming across as cold and unwelcoming however, we appreciate the streamlined sleekness of the carpentry and colours and how it co-exists with the carefully chosen furniture softens the overall look of the home. Furthermore, we find that none of these modern elements take center stage, but serves to encapsulate a broad, clean-cut look that is a staple for most modern homes.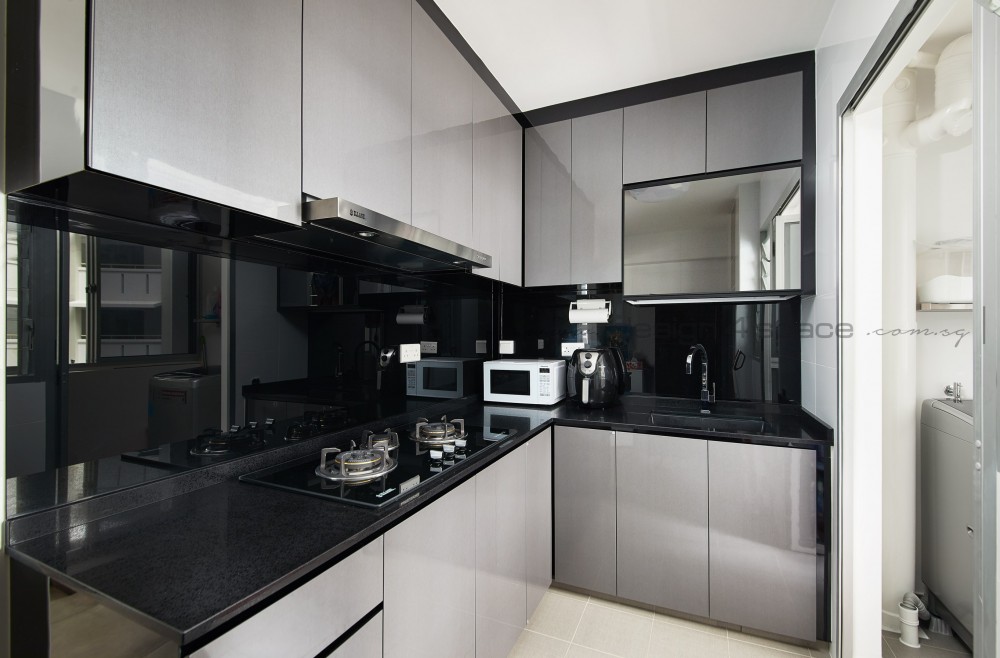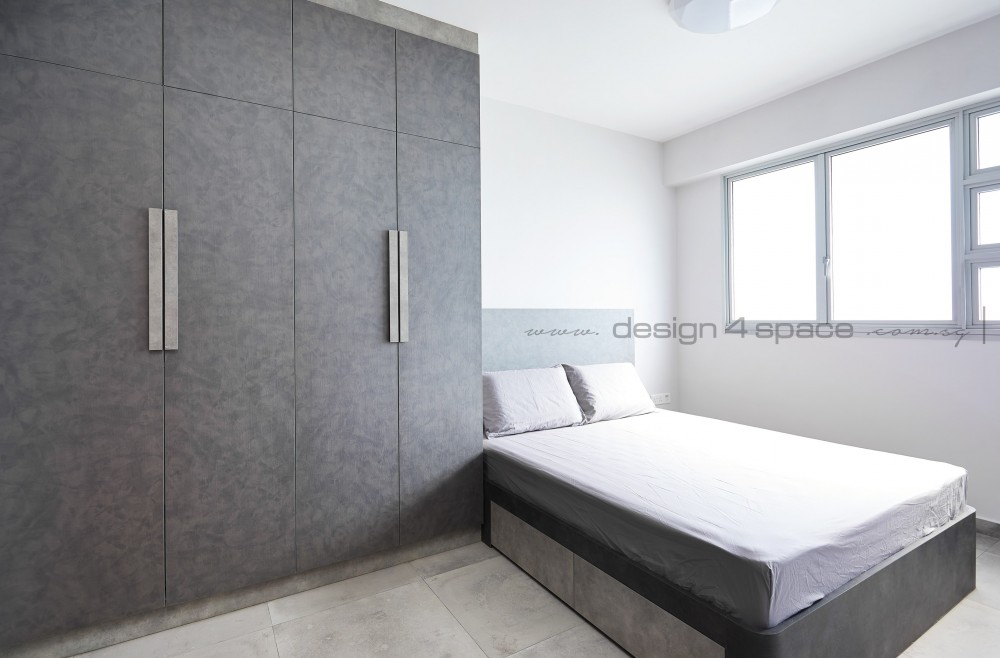 5. A contemporary, gorgeous 3-room HDB that looks right out of a fairytale wood cabin
Project Title: 75B Redhill Road
Type of home: 4-room HDB
Cost of renovation: $36,000
This apartment, we believe, despite its apparent minimalistic style and simplicity, is a surprising wild card. The blend of various woods, muted colours, and the occasional pop of vibrancy is a right sight to behold. We especially love the wooden feature ceiling panels that give the space a certain industrial edginess — and when matched with the light fixtures with the lighter wood, the industrial touch is complemented with the coziness reminiscent of a treehouse, bringing to mind the comforting notions of gentle burning fireplaces, mom's cooking, and old cottages!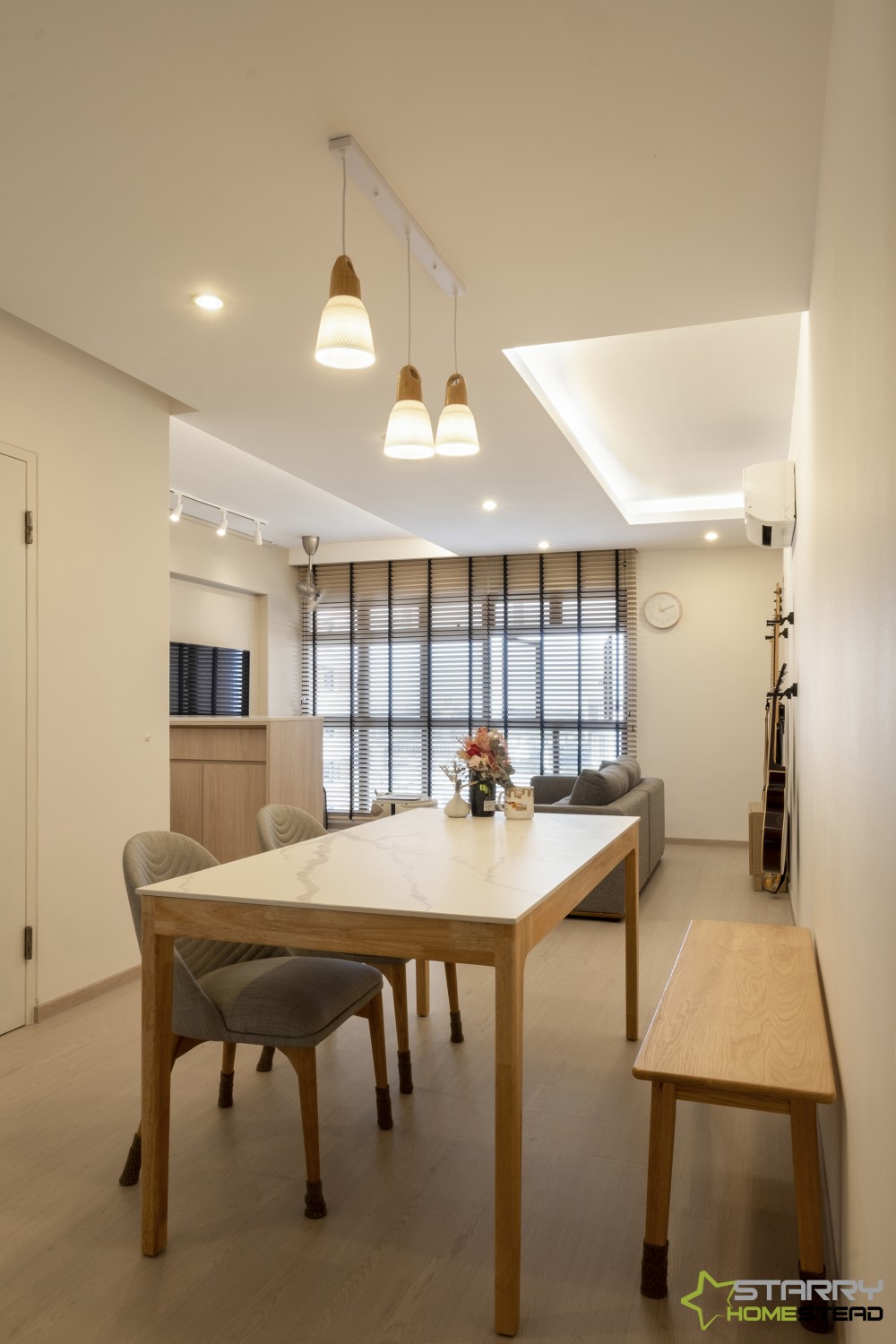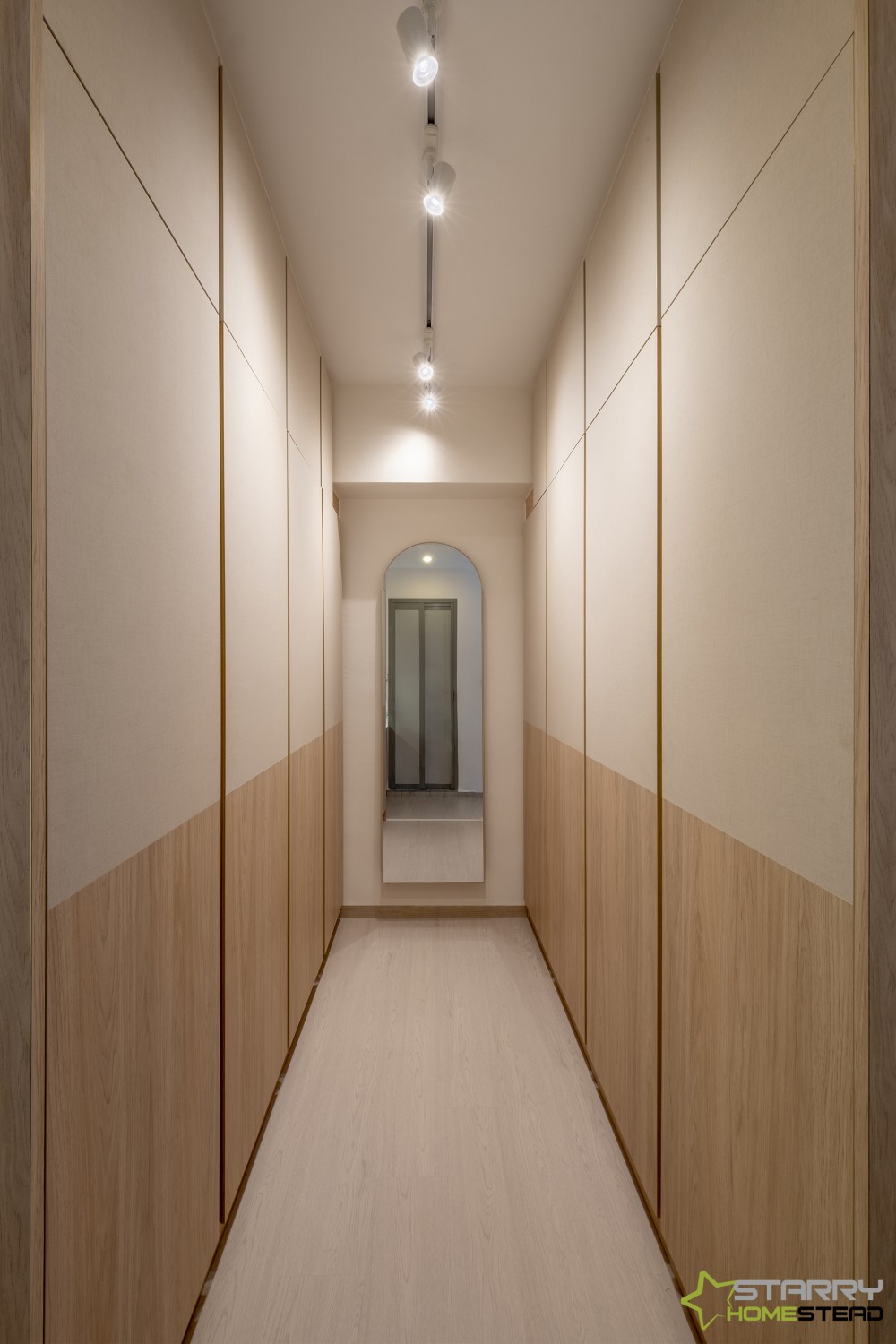 Conclusion
These five HDB apartments, while definitely drool-worthy, should serve as an inspiration for your current and future home. Ultimately, your perfect home is the one that suits you, and the one that you love. We hope that with this guide, you'll navigate the often choppy waters of interior design and find a style that resonates with you. Good luck!
Renovating soon? Speak to top rated interior designers.
Discuss your home renovation ideas and plans with top rated firms, recommended by past homeowners. Let us help you shortlist the most suitable interior designers for your project.