5 Stylish, Affordable 4-Room Designs That Makes You Want To Re-Renovate Your Home
Having a stylish home is something that many of us desire. But often, what limits our imagination of a stylish home is the potential cost that comes with designing a stylish home. There is a misconception that a stylish home is also one that will cost you a bomb to renovate. The more stylish it is, the more it will cost you.
But here's what you need to know: A home can be stylish and yet affordable. It is not a conundrum that cannot be achieved. All you need is to choose the right interior designer who will guide you on making your renovation an affordable yet stylish affair.
In this article, we highlight some of the interior design styles that have shown they have what it takes to be both stylish and affordable to inspire your next home renovation.
1. Modern Home For The Modern Day
Location: Sengkang
Design Style: Modern
Size: 99m2
Cost: $15,000
Interior Designer: Design Avenue
Modern interior design is an amalgamation of clean lines, clear space, function, and storage. That is exactly what is added to this 4-room flat in Sengkang.
The home combines all the right elements of the modern interior design to create a modern looking home for the 21st century. The space is thoughtfully designed so that it doesn't feel ostentatious.
The design is so modern that even the altar seems ahead of its times. Overall, the whole home gives off great modernized vibes that anyone would enjoy staying in. And the cost? Just $15,000, with the bulk of it going to carpentry work.
2. Simple, Minimal, Uncluttered Living Space
Location: Clementi
Design Style: Minimalist
Size: 100m2
Cost: $20,000
Interior Designer: Design 4 Space Pte Ltd
Minimalist design has long been popular, but its popularity has shot up in recent times. The clean, crisp, and clutter-free look is something that homeowners seek because having a de-cluttered home can make your home seem visually bigger than what the floor plan says.
For many, the wide, uncluttered home also creates a sense of visual calmness for those living in the space.
This design from Design 4 Space Pte Ltd creates the exact replica of a cosy, minimalist home that makes it hard to not fall in love with it.
The simple, minimalistic design is consistent throughout the home, from the living room to the kitchen and even in the bedroom.
We also love the emphasis of functionality on all the furniture in the home. There is no wastage or unnecessary furniture. Each piece of furniture is well thought and handpicked to accentuate the minimalist feel in the home.
To be able to transform your home into this minimalist theme for just $20,000, doesn't it make you feel like re-renovating your home again?
3. Going Industrial Without Breaking Your Budget
Location: Woodlands
Design Style: Industrial
Size: 93m2
Cost: $23,000
Interior Designer: WHST Design
The industrial style interior design is a popular design style that is well-liked for its special and unique feel. But the industrial style is not easy to pull off and requires an experienced interior designer to work their magic.
There's also this lingering worry that hiring an experienced interior designer to give you the perfect industrial design look and feel will cost you a bomb. Luckily, that doesn't have to be the case.
This well-designed 4-room HDB flat in Woodlands by WHST Design brings together nicely the whole wood x metal combination with radiating light fixtures. In place of the typical HDB window grills, WHST Design installed a unique industrial grill that creates a bold design statement for the home.
Most importantly, the interior designer pulled off the whole industrial design feel with a budget of just $23,000! 
4. Living In A Scandinavian-Inspired Home
Location: Bukit Batok
Design Style: Scandinavian
Size: 104m2
Cost: $38,000
Interior Designer: Dots 'N' Tots Interior
Scandinavian style is known for its clean, simple, and modern interior design approach. The style comes with light colour palettes and light toned wood furniture that blends well with the simple décor.
This 4-room HDB flat in Bukit Batok is the perfect example of a great Scandinavian interior design, which brings out the best in the style with its simple yet modern design.
Another thing to love about this Scandinavian design is that the design makes the home looks really spacious. Who would have thought that this home was a 4-room flat?
The good use of natural lighting into the home also makes the home really inviting and accentuates its stylish interior design.
Most importantly, the interior design is affordably priced. Scandinavian interior design style is not known for being cheap. But, at $38,000, the interior design of this 4-room flat really makes your money worth the buck, considering how cool your home can look for this price.
5. Condo-Like Design In An HDB Space
Location: Bukit Batok
Design Style: Contemporary
Size: 92m2
Cost: $42,500
Interior Designer: Space Atelier Pte Ltd
Sometimes, interior design for HDB flats give this impression that they are boring. Some might even perceive HDB flats to be less stylish than condos. But the truth is that interior design for HDB flats can are not boring at all. In fact, some of them are even cooler than condos.
All you need to do is to check out this design by Space Atelier Pte Ltd. It looks nothing like your typical 4-room HDB flat.
When you enter the home from the HDB corridor, it is as though you are walking into a different realm. It feels like you are teleported into a different dimension through the main door.
Even the toilet itself exudes a stylish vibe that resembles more of a hotel toilet rather than a HDB home toilet.
At $42,500, the interior design cost for this 4-room HDB flat isn't too expensive. In fact, for such quality design work, $42,500 sounds like a real steal.
Browse For More Interior Design For 4-Room HDBs On Hometrust
Can't help but fall in love with the interior designs that you see for 4-room HDB flats? Keen to explore more designs for other 4-room HDB interior design inspirations?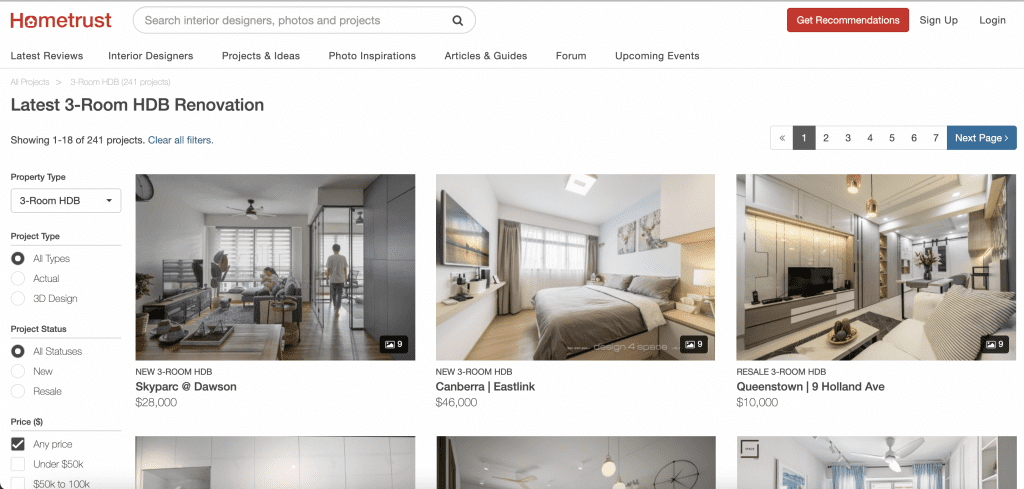 At Hometrust, we curate interior design portfolios from our interior design partners. You can browse through various renovation projects on Hometrust to find one that fits your liking. We even added the function for you to filter by budget, floor area, and style.
For homeowners who already know what you want, the next step is to shortlist a trusted and experienced interior design firm for your renovation project. You can use Hometrust to shortlist the right interior design firm for your home renovation today.
Renovating soon? Let Hometrust recommend the best interior designers.
If you are reading this, you are probably wondering how you can create your dream home.
Here's the thing, everyone's needs and requirements for their home renovation is different. A designer that may work for someone else, may not quite work for you.
At Hometrust, we're here to help match top rated designers, recommended by past homeowners to you through our data-driven and matching algorithm.
Whether you are looking for partial renovation or a full fledge overhaul, we'll be able to recommend you top designers to match your renovation requirements and lifestyle.
Recommendations and free and you can simply start by helping us understand your needs below!
Get Recommendations
Renovate safe!
The Hometrust Team