How To Create A Study That's Ideal For Work-From-Home
For most folks, work-from-home has become part of our reality. Even as restrictions ease and offices re-open, many companies now (thankfully!) have more flexible working arrangements, allowing their employees to work from home as and when the situation calls for it.
How do you remain productive and ensure that you get your work done, whilst you work from home? In this article, we share several tips on how you can do just that.
1. Ensure You Have A Clean Backdrop
(If you don't need to take video calls at home, ever, skip past this point. Also: we're jealous of you!)
Even though you're working from home, professionalism still matters. Obviously, you're not going to show up to work in a ratty old singlet – you'll want to wear something presentable. The same goes for your work environment: you need to be in a space that's presentable.
Try to design your workspace such that your back is against a clean backdrop, such as a blank wall. If you've got bookshelves or other storage behind you, that's fine – as long as you don't have people constantly walking behind you, which can get distracting. For those of you who don't have a separate study and are working from your bedroom, try not to have your wardrobe or your bed visible behind you – again, it can be distracting, and come off as unprofessional.
2. Be Intentional About Lighting
Lighting is key. If possible, position your desk near a source of natural light. According to research, this can improve your mood, and help you stay focused throughout the day.
Regardless of whether you have natural light in your room, you'll want to make sure there are enough additional sources of lighting as well. Insufficient lighting can cause a slew of problems, including eyestrain, headaches, and overall fatigue.
Lastly, also think about whether you want to utilise warm (yellow) or cold (white) light in your study. We'd recommend colder lighting, because while warm lighting helps you relax, cold lighting is great for staying alert and productive. If you have the habit of working late into the night, though, switch to yellow lights once the sun sets. This helps your body wind down, and reduces the likelihood of insomnia at night.
3. Make Sure Your Set-up Is Ergonomic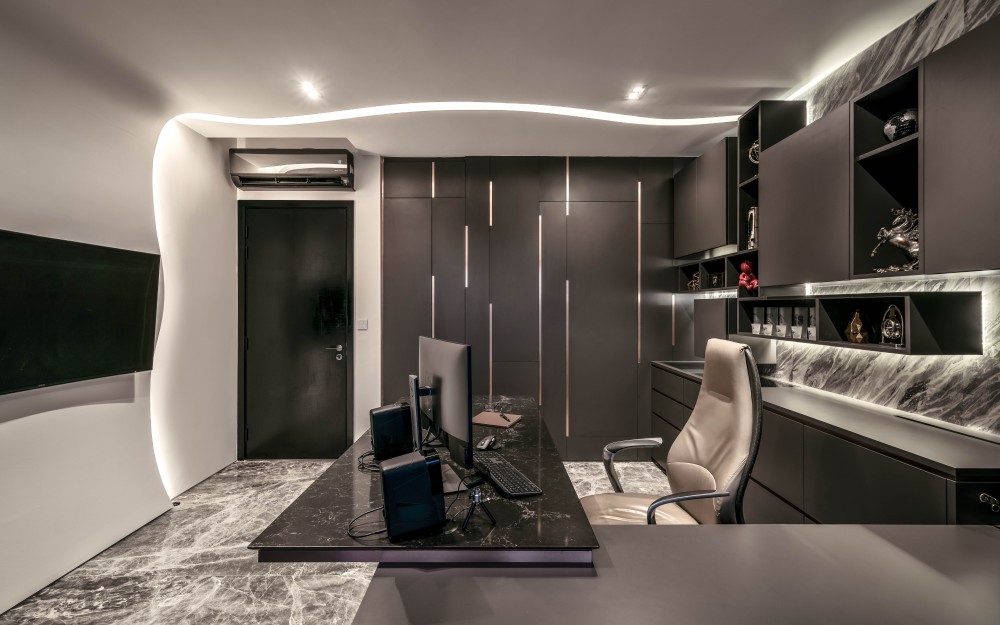 You knew this was coming – ergonomic furniture is a huge must!
There are plenty of ergonomic tables and chairs to choose from, so do your research and figure out what works best for you. The general guideline is that your elbow should connect to your arm at a 90 degree angle when you're working, and your keyboard should be positioned around 8cm away from your body. Your wrists should remain flat at the keyboard instead of being angled up, and your knees should be roughly level with your hips.
For desks, you can also consider using a standing desk, which allows you to switch between standing/sitting throughout the day. (If you're dealing with a post-lunch slump, working while standing can help you ease back into work and reduce lethargy!)
Lastly, if you're thinking of purchasing a standing desk but aren't sure about it, an easy solution is to clear out one shelf from your bookcase, and place your laptop there to work. It's not a perfect fix, but it mimics a standing desk and lets you try it out before committing to a purchase. Just remember to choose a shelf that's at eye level, so you don't end up slouching while standing, or straining your neck.
4. Carve Out Individual Spaces For Different Family Members
If you've got various family members who all need a space to work, try to carve out individual spaces for each person. When each person has a fixed area to work in, there's less hassle and mess. Plus, everyone will have the peace of mind of knowing that all their documents, stationery, and supplies will be exactly where they left them.
5. Set Up A Water Station
Who is guilty of drinking less water than they should? We know we definitely are!
To keep yourself hydrated throughout the day, have a water station near your desk. Simply add a side table and keep a jug of water and a glass on it. When you have water within reach, you'll naturally drink more throughout the day.
6. Create Space For Storage
You'll want to ensure you have plenty of storage space in your studio, so that you can put things away, and reduce the amount of clutter on your desk.
Don't have space for a standalone storage bench? You can always buy a cheap trolley from IKEA, load it up with all your supplies and materials, and keep it under your desk for easy access. These trolleys might look small, but they're surprisingly roomy! Alternatively, install shelves on your wall to take advantage of your vertical space.
Ideally, your study should be in an enclosed space that's separate from your living/sleeping spaces. However, if you don't have the luxury of working in a separate room, you'll have to be creative in thinking of ways to demarcate your space, so that you can work with minimal distractions.
For example, you can use a room divider to block off your work area, and give yourself more privacy. Alternatively, position your desk against the back of your wardrobe or bookcase – and voila, you have a DIY divider!
8. Spruce Up Your Space With Plants
This one might seem strange… what do plants have to do with working from home?
Well, according to research, people who work in an environment with natural greenery tend to be healthier and take fewer sick days. Data also shows that in hospitals, patients that are exposed to natural elements recover faster – which is why hospitals such as Khoo Teck Puat Hospital incorporate plenty of greenery into their surroundings.
Don't have a green thumb? Get plants which require minimal maintenance, such as snake plant, money plant, or monstera.
Want to design the study of your dreams? With work from home arrangements being here to stay, it makes sense to invest some time and energy into making your workspace more productive. For more inspiration, browse study design photos on Hometrust, or click the button below to get connected with expert designers.