Thinking Of Buying Outdoor Blinds? Read Our Ultimate Guide
So you've got a balcony at home, but you can't use it 90% of the time because it's either too hot, or it's raining.
How do you get more utility out of your balcony? Simple… by installing outdoor blinds!
But here's the thing – not all outdoor blinds are made equal. There are many different types of outdoor blinds, from free-hanging ones to track-guided ones, and their price points range pretty widely as well.
In this ultimate guide, we walk you through all you need to know about outdoor blinds, including:
Benefits of outdoor blinds
The different categories of outdoor blinds
Outdoor blinds vs awnings
How to choose between the different types of outdoor blinds
How do Ziptrak blinds work?
How much do the different types of blinds cost?
Should you use automated blinds or manual blinds?
Read on to find out more!
Why Install Outdoor Blinds?
The key benefit of outdoor blinds is obvious – they offer you protection from the elements, and allow you to use your balcony more frequently.
That said, there are either benefits of using outdoor blinds as well.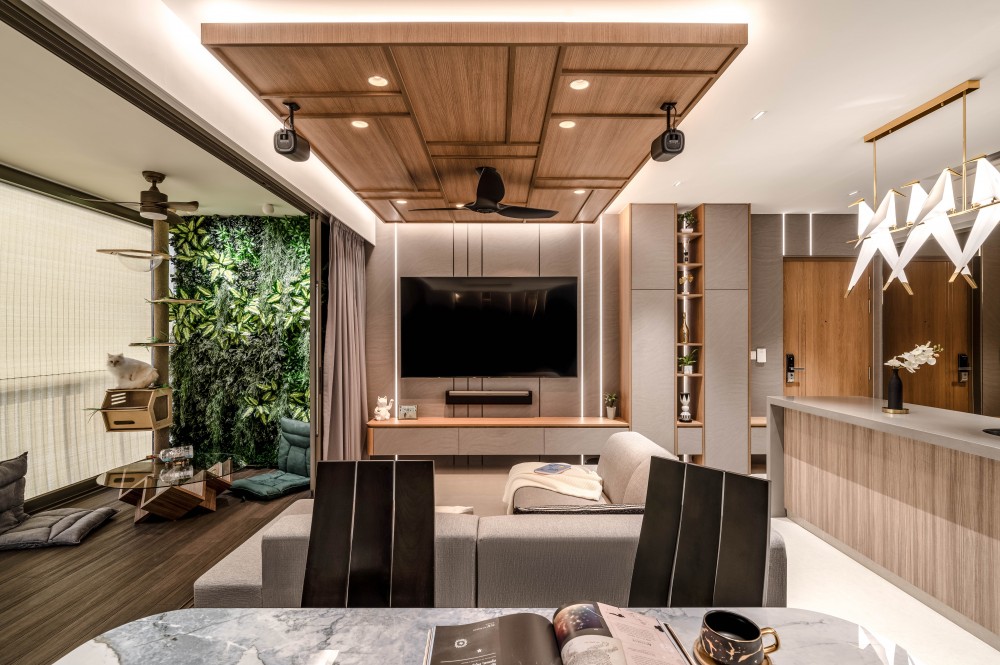 Firstly, depending on what type of outdoor blinds you choose to install, these may help you to reduce the amount of dust, dirt, and debris that enter your home through the balcony.
On top of that, outdoor blinds also help to protect you from harmful UV rays.
The amount of protection varies based on the type of blinds – for instance, Ziptrak blinds are able to block up to 90% of UV rays, and they're certified to meet the Melanoma International Foundation standard in effectively preventing sun damage to the skin and eyes. However, what's good to know is that even the most bare-bones of blinds will offer you some protection from the sun.
Last but not least, outdoor blinds also give you more privacy. As newer HDB and condo developments are getting increasingly dense, you may find yourself in the situation where you can see directly into your neighbour's home, and vice versa. If you'd like some privacy, outdoor blinds will do the trick.
What Are The Different Types Of Outdoor Blinds?
Generally speaking, outdoor blinds are categorised into these three buckets:
Free hanging outdoor blinds
Wire or cable-guided outdoor blinds
Track-guided outdoor roller blinds (aka Ziptrak)
Free hanging outdoor blinds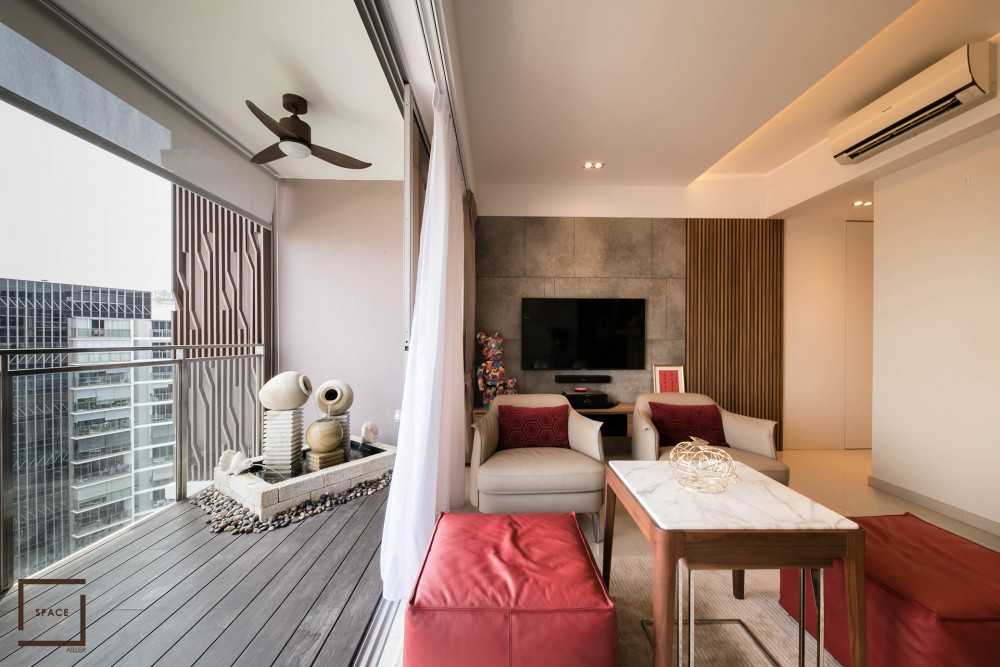 Firstly, free hanging outdoor blinds are the most basic of the bunch. Looks-wise, these look exactly the same as indoor blinds that you might install in your bedroom or living room, and they do not adhere directly to the wall or window.
What's the difference between outdoor blinds and indoor blinds, then? Outdoor blinds are generally heavier duty and have a larger tube that can accommodate a more robust chain spring system inside it.
Cost-wise, free hanging outdoor blinds are extremely cost-effective – they're affordable to install and remove, and won't cost you an arm and a leg. That said, these are generally not as durable or lasting as compared to the other types of outdoor blinds, and they offer less protection against strong wind, insects, debris and dust.
Variety-wise, there are many different types of free hanging outdoor blinds, and you'll definitely be able to find a suitable option regardless of what look and feel you're going for. For instance, you could choose bamboo blinds for a rustic look, or venetian blinds for a modern look.
Wire or cable-guided outdoor blinds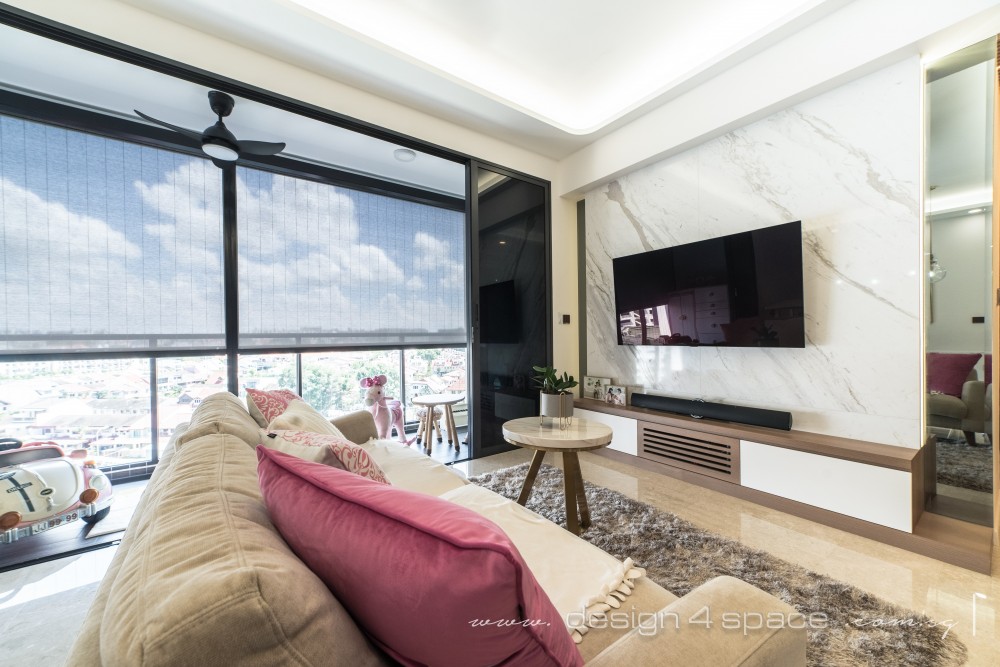 Next, wire or cable-guided outdoor blinds are blinds that are either installed with weights or a lock mechanism in order to secure the blinds. The wire or cables are typically made from durable materials such as stainless steel or aluminium, and you can easily adjust the blinds to any vertical position, and lock it in place.
To compare wire-guided outdoor blinds with the other options, think of wire-guided blinds as the middle ground between free hanging outdoor blinds and track-guided outdoor blinds.
To be more specific: wire-guided blinds are expensive than free hanging blinds, but more affordable than track-guided blinds. In terms of permeability, again, they offer more protection against insects, debris and dust as compared to free hanging blinds, but still lose out to track-guided blinds.
Track-guided outdoor roller blinds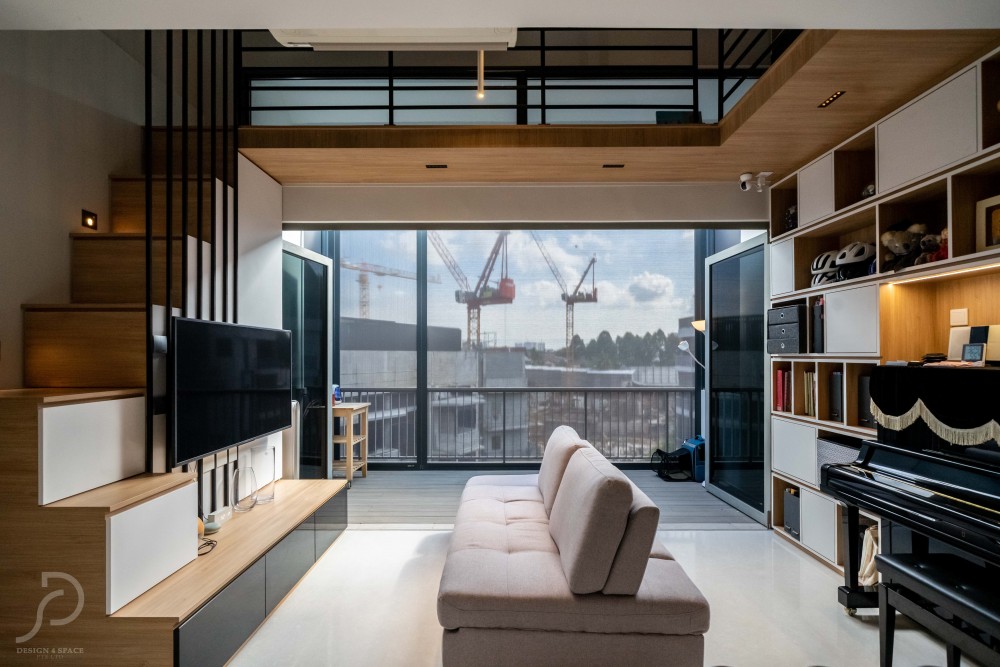 Finally, there are track-guided outdoor roller blinds – these are the most expensive of the lot, but they also offer the most protection against the elements.
How do these work? They are installed with a spring-loaded tracking system, and have locking mechanisms that will allow you to lock the blinds in a secure fashion. Because track-guided blinds are designed to have a tight seal with no gaps, they are extremely effective in keeping out insects and debris, and offer the most utility for anyone who wants to transform their balcony into a more livable space.
The most popular track-guided outdoor blinds in Singapore is ZipTrak, although there are other brands such as Zipblinds.
Outdoor Blinds vs Awnings
The different types of outdoor blinds aside, there's also another option for homeowners seeking protection from the elements… and that's awnings.
What's the difference between outdoor blinds and awnings? Outdoor blinds extend vertically, and they cut off your space vertically. Awnings, on the other hand, extend outwards and horizontally.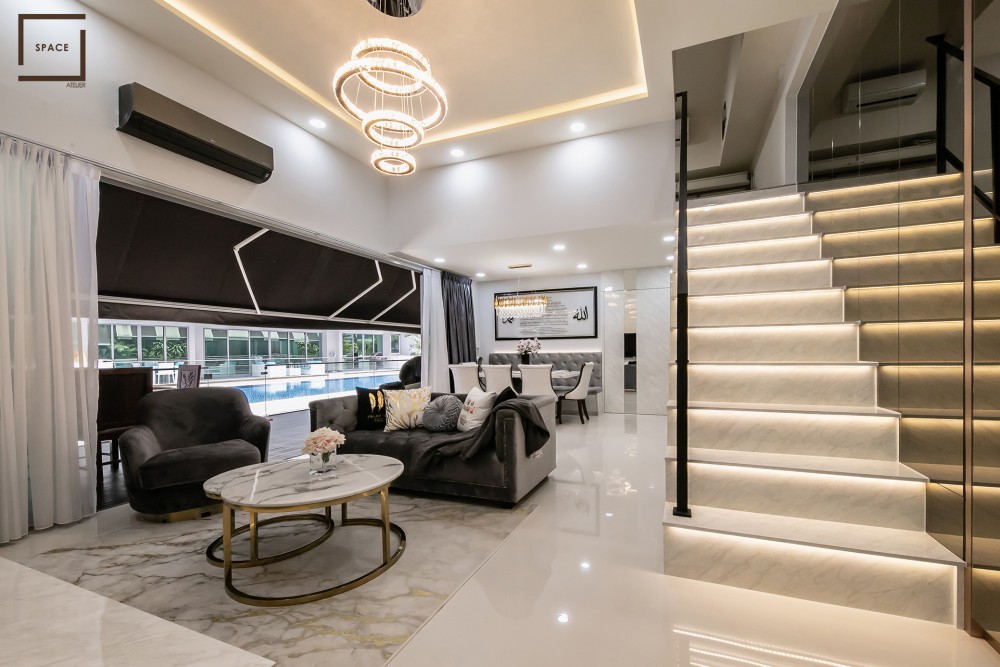 There are also several different types of awnings, including retractable awnings, freestanding awnings, and stationery awnings.
How do you know whether you should use outdoor blinds or awnings? Generally speaking, most homeowners opt for outdoor blinds, unless you're staying in a ground floor patio, or you have a penthouse balcony that's not fully covered and you want to extend your protective covering.
In terms of approval, yes, you do need to share the details with the condo's MCST, and get their approval before you can proceed to install an awning.
Since awnings are a bit more niche, and aren't relevant to most homeowners, we'll be focusing on outdoor blinds for the rest of the article. If you are keen on awnings, though, you'll be able to find many firms specialising in these with a quick Google search.
How To Choose Between The Different Types Of Outdoor Blinds
If you're wondering how you should choose between free hanging blinds, wire guided blinds and track guided blinds, you'll want to make a decision based on two factors: your usage and your environment.
Your usage
Firstly, in terms of usage, think about how often you'll use your balcony, and the different scenarios in which you'll use it.
For instance, are you just going to occasionally do yoga on your balcony, or do you intend to convert your balcony into a space for entertaining, and friends over often?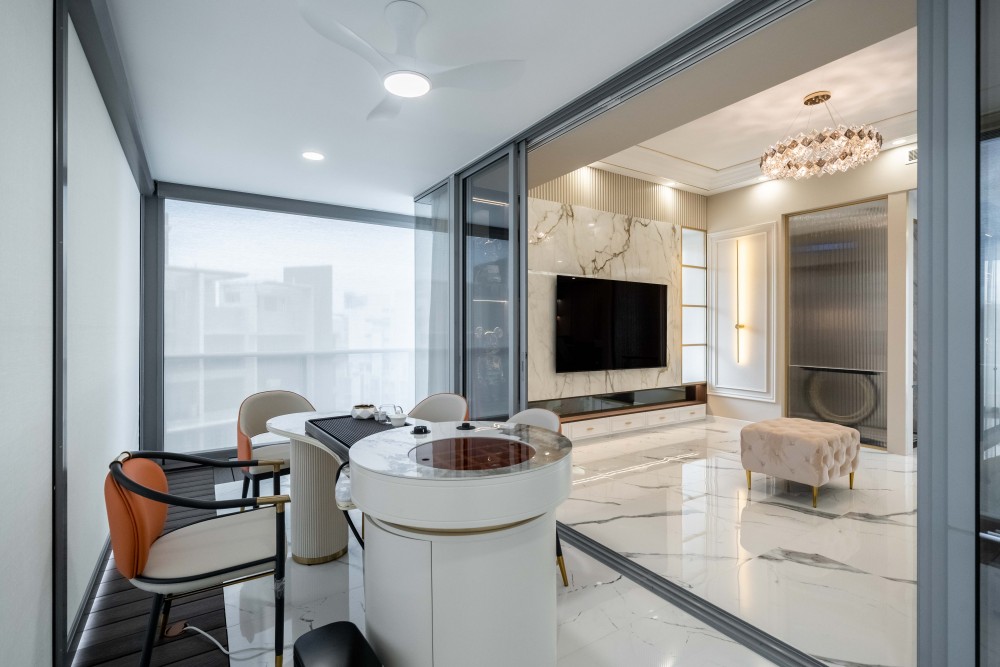 If it's the former, you might be fine with free hanging blinds or wire-guided blinds – even if they flap around noisily while you're doing yoga, that's fine.
However, if you intend to host dinner parties on your balcony, you'll probably need to invest in track-guided blinds, which are more efficient and reliable in keeping the elements out (and the cool air in).
With track-guided blinds, you can turn on the air-conditioning in the living room and have it flow out to the balcony, so that you can host your friends in comfort. If the weather is cool and you're not using your AC, track-guided blinds can also offer protection against the elements – so if it suddenly starts raining, your dinner party won't be ruined!
Your environment
On top of your usage, also think about whether your environment calls for heavier-duty blinds, or whether you can get away with less heavy-duty ones.
Firstly, how much sun comes into your balcony? If your balcony faces west, you'll be hit with the full force of the afternoon sun, and this can be a huge turn-off that prevents you from using your balcony. If that's the case, you might want to invest in wire or track-guided blinds, which are more effective in blocking out the sun.
Secondly, how windy is your balcony and apartment? Apartments that are located on a high floor with unobstructed views, and apartments that face the sea are generally subject to stronger winds. With this in mind, you might want to invest in sturdier track-guided blinds, instead of purchasing free hanging blinds.
Are Ziptrak Blinds Really That Amazing?
At this point, it might sound like Ziptrak (aka track-guided blinds) are the holy grail, and that they're the solution to the problems you might be facing with your balcony.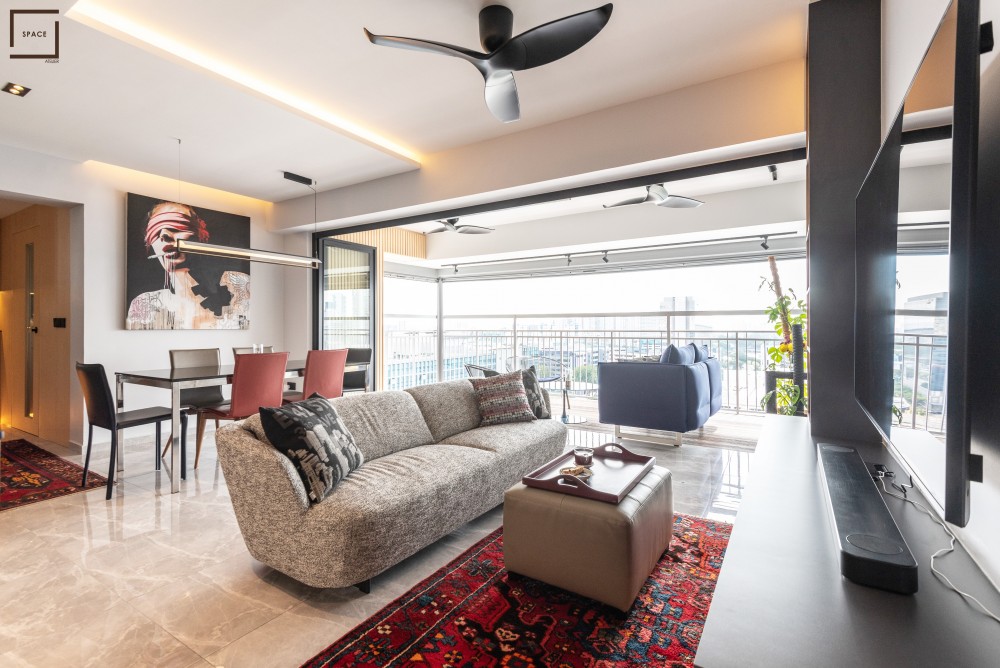 Now, you might wonder… how do Ziptrak blinds work? Are they really that amazing?
In this section, we'll delve more into the mechanics of how Ziptrak works – and you can judge for yourself!
Ziptrak is originally from South Australia (where extreme weather such as torrential rain, hailstones, and flash flooding is a common occurrence), and it was created to cope with harsh weather conditions.
What sets Ziptrak apart from other zip blinds? This essentially lies in the method in which the fabric is held in the spline, which affects how durable or strong the blinds turn out to be. Ziptrak uses a patented side spline system where the material is welded to the fabric, making it more robust (or so they say!) as compared to competitor zip blinds.
That aside, Ziptrak also comes with an easy-to-use locking system and a patented pelmet (which is mounted over the top tube of the blind, where it conceals and protects the blind material and internal components). This pelmet is designed to prevent insects from building nests in the blind, and comes with a brush insert that automatically cleans the fabric every time you use or move your blinds.
You can install Ziptrak on virtually any balcony, even if it's irregularly-shaped. In order to bring your blinds up and down, you can do it manually by pushing or pulling the bottom bar to any height. If you're all about a smart home, you can also configure your blinds to be motorised, which will allow you to move your blinds with a push of a button.
Aesthetics-wise, Ziptrak is the only blind that can go up to 6 metres wide without a centre post in a high-rise environment. This specially designed system was developed exclusively for the Singapore market, and it's perfect for homeowners who want their balcony to look expansive and seamless.
Ziptrak fabrics & openness
If you're considering Ziptrak as an option for your balcony, you'll need to figure out which fabric works best for you.
There are several types of Ziptrak fabric, including:
Porous fabrics (1%, 5%, 10% openness)
Non-porous RainOut® fabrics (0% openness)
Here, the percentage of openness refers to how opaque the fabric is. Note that according to URA, balconies are not allowed to be fully enclosed as they're meant to be semi-outdoor spaces.
As such, assuming you're staying in an HDB flat or condo (and not landed property), there's a high chance that you'll need to stick to porous fabrics, with the least porous option that's available to you being 1% openness.**
That said, if you look at online forums, most homeowners say that the porous fabrics work well. The general feedback is that if you choose a fabric with 1% openness, it'll be highly effective in blocking out rain and other elements, with virtually no rain coming in when your blinds are shut.
**Certain condos may allow residents to utilise RainOut fabrics with 0% openness – homeowners may check with their condo's management office for more details.
How do you clean Ziptrak blinds?
The good news is that Ziptrak blinds are low-maintenance and easy to clean.
As mentioned previously, the pelmet comes with a brush insert that helps to dust off the fabric automatically whenever the blinds are raised or lowered. On top of that, their fabrics are specially treated to offer antimicrobial protection, which means that they inhibit the growth of bacteria, mould and mildew.
With this in mind, you won't need to clean the fabric too often. If you do want to clean your fabric though, just wipe it with a soft cloth and soapy cold water.
How Much Do The Different Blinds Cost?
Now that you have a better understanding of how Ziptrack and track-guided blinds differ from free hanging blinds and wire-guided blinds, let's discuss prices.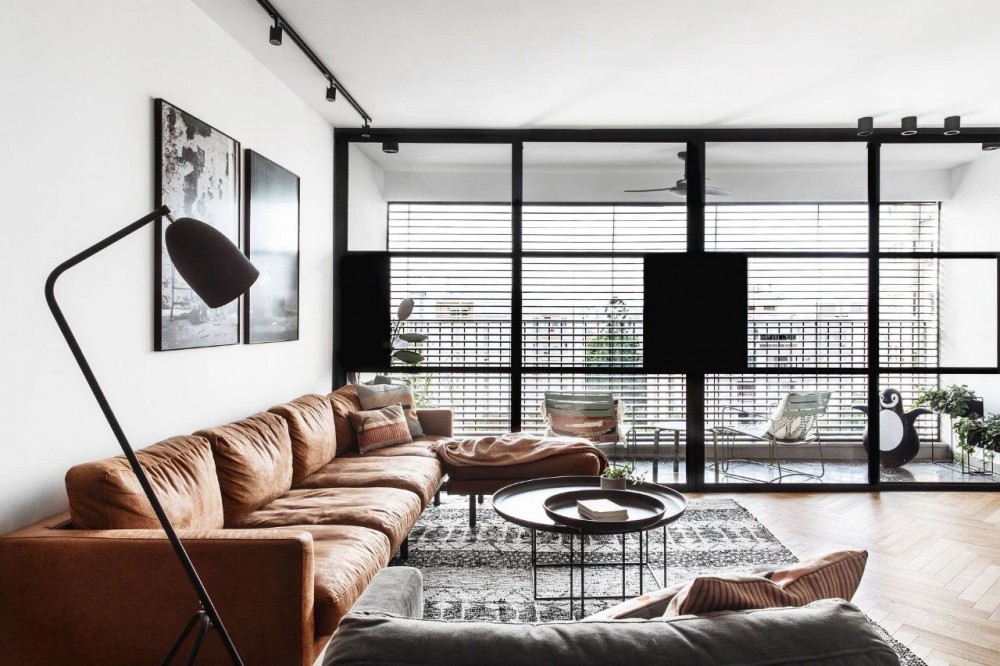 Free hanging outdoor blinds and wire-guided outdoor blinds can cost anywhere from $200 onwards. Depending on the material that you choose, there will be a specific per square foot price, that you then multiply by the size of blinds that you need in order to get the final price.
Note that some companies will charge you for installation separately, while others will include this in the cost.
As for Ziptrak, these are a lot more expensive. Again, the price depends on the size of your balcony, but Ziptrak blinds can cost anywhere from $2,000 to $6,000.
If you'd like to install track-guided blinds, but find Ziptrak too expensive, there are other alternatives that you can check out, including Zipscreen, Zip blinds, and more.
However, pay close attention to how the mechanism works with each alternative, and how the fabric is held in place.
Cheaper alternatives typically use a zipper (like what you'd see on clothing) and mount it on a channel. This is less effective as compared to Ziptrak's system (where the material is welded to the fabric), and using a zipper mechanism means that the system might be prone to jamming.
Working with ropes and pulleys can be exhausting and difficult for the elderly or younger children. Consider motorising the outdoor blinds at the click of a button, so that it is easier for them whenever they need to open or close the outdoor blinds.
Should You Use Automated Blinds Or Manual Blinds?
Regardless of which type of outdoor blinds you want to get, you'll be able to choose between the manual version and the automated version.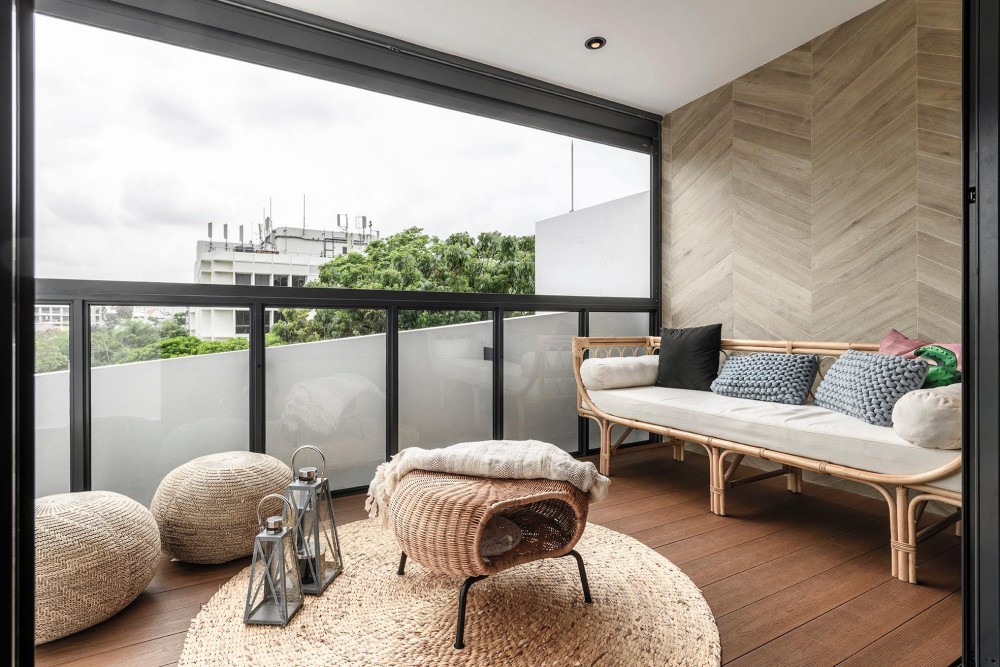 For the budget-conscious, manual blinds are definitely the more affordable option.
If you are able to invest in your blinds, however, having motorized or automated blinds can bring about greater convenience, especially for those who have high windows that are hard to access.
Convenience aside, another key benefit of using automated blinds is that they eliminate any risk of accidents in households with children and pets. If you're using corded blinds, there's always the risk that a young child or a pet may accidentally get entangled in the cords, which will then pose a strangulation hazard.
A Final Word On Buying And Installing Outdoor Blinds
Whew! You made it all the way to the end of our mega guide… this means you're now an unofficial expert in blinds 😉
To wrap up, here are the steps you can take to get started:
Think about your lifestyle & usage of your blinds
Figure out whether you want blinds or an awning
Figure out what type of blinds you want: free hanging, wire guided, or track guided
If track guided: do you want Ziptrak, or are you okay with another brand?
Figure out if you want your blinds to be automated or manual
Do some rough measurements of your balcony
Search for companies specializing in the type of blinds you want, submit your measurements to get a quote
Visit showrooms to get a better understand of the types of materials used
Ask about warranties – 2 years is common, but cheaper providers may offer shorter warranties
Submit your proposed design to your building management for approval
And… that's a wrap!
Want to check out home renovation projects for more inspiration? Browse home design ideas on Hometrust, or click the button below to get connected with expert designers.
Renovating soon? Speak to top rated interior designers.
Discuss your home renovation ideas and plans with top rated firms, recommended by past homeowners. Let us help you shortlist the most suitable interior designers for your project.