10 Interior Ideas to Cool Your Home from the Unbearable Heat
Singapore is a fantastic country in so many ways, except one…… our weather is perennially hot and humid.
This has made air-conditioning a near-necessity in almost every household across the island. But if soaring electricity bills (or environmental concerns) are making you change your mind about turning on the air-conditioning in your home, we have some innovative solutions for you.
These are 10 nifty ways you can beat the heat with cool interior design ideas.
1. Airflow, airflow, airflow
The key to keeping your home cool is by keeping it well-ventilated, with air that flows through your house or apartment (and doesn't simply stop at one enclosed area).
A well-ventilated home will comprise of openings (i.e. windows or doors) at each end to form a regular air tunnel. If you're living in an apartment, the layout of your home will be fixed – but you can optimise airflow by studying your floor plan and being careful not to build additional barriers that may obstruct the natural flow of air though your home. (Stagnant air makes homes feel stuffy, especially with our humid weather.)
Where possible, you may even consider knocking down some walls for a more modern, open-plan concept that will provide maximum space for good air circulation. If you're unsure about which walls can (or cannot) be removed, consult with your developer, HDB or interior design specialists.
And if you're inspired by the current "Marie Kondo" movement, it should spark joy in you to know that decluttering your rooms (and home) also helps to improve airflow. A minimalist home looks chic and saves space. Consider filling it with ready-made or built-to-order furnishings that are sleek, compact and multi-purpose.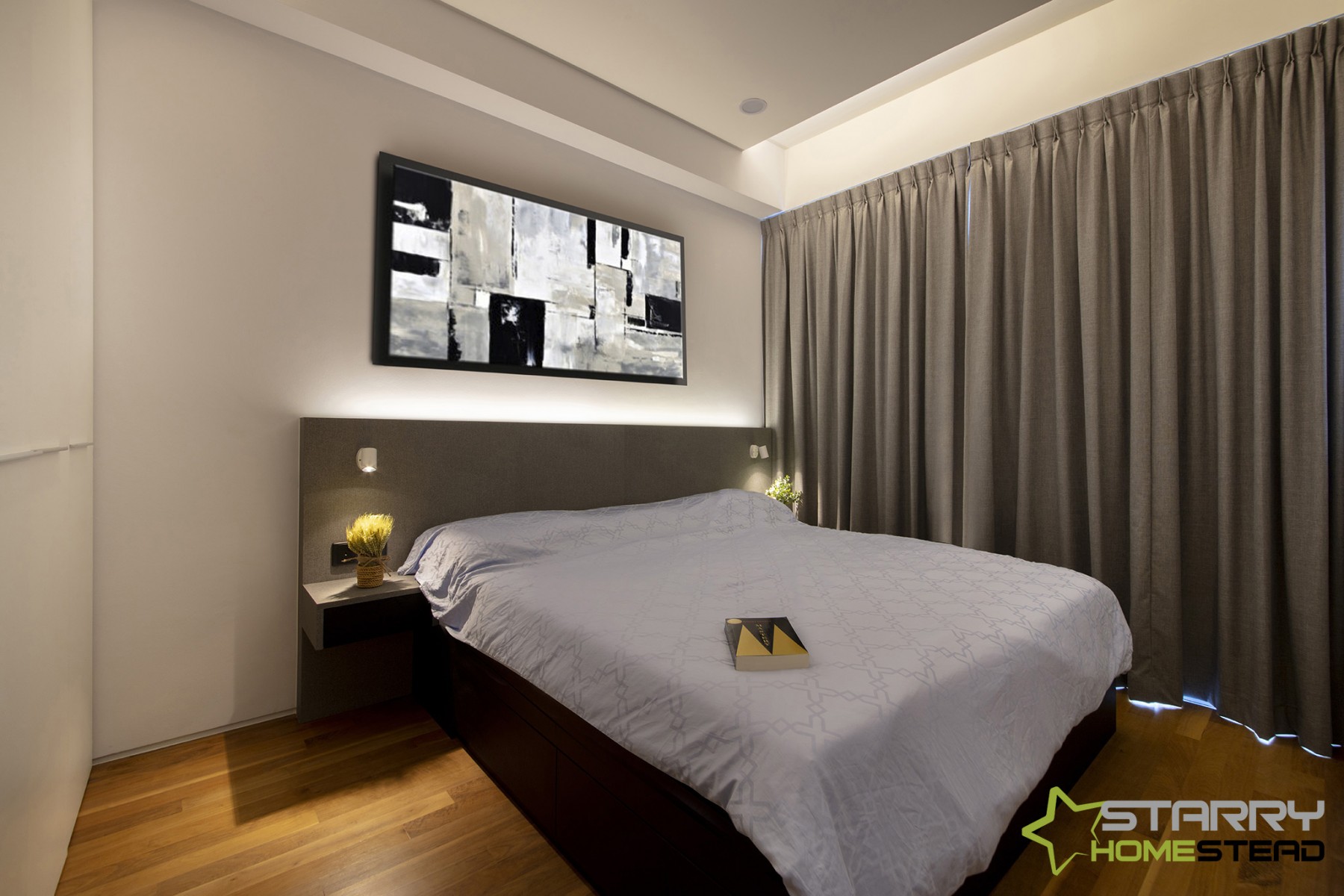 2. Keep UV-rays from Entering Through Windows
Windows are essential for letting fresh air into your home. In Singapore's sunny climate though, windows are a double-edged sword as they also invite blistering sun rays into our homes. (This is one reason why full-length windows look great in Western brochures – but are less commonly seen here.)
A simple yet effective way you can reduce the intensity of these rays is to install a coating onto your windows. For privacy, you can use a frosted coating. Or if you prefer a clear view of the outside, a transparent heat-reflective film will work just as well.
For even better protection, you can choose UV-deflecting glass with features such as double-glazing, low e-coating and argon fills to block out even more of the sun's heat and UV rays.
Or if you wish to leave your windows alone, an alternative is to put up heat-reflective blinds or curtains. For blinds, we recommend choosing a lightweight and cooling material, such as bamboo and aluminium. On the other hand, the curtains you choose should be made of thick and opaque fabrics (such as velvet or cotton) to effectively block out sun rays. Make sure they have a white-plastic backing to counter the heat-retaining properties of these materials. Remember to keep the blinds and curtains closed during the hottest times of the day, but open them at night to allow cool evening air to flow through.
As a bonus, deflecting UV rays will not only keep your house cool, but also offer up protection from the damaging properties of UV light. Overexposure to UV has been proven harmful to the human eyes and skin, and bleaches the colour of your furniture!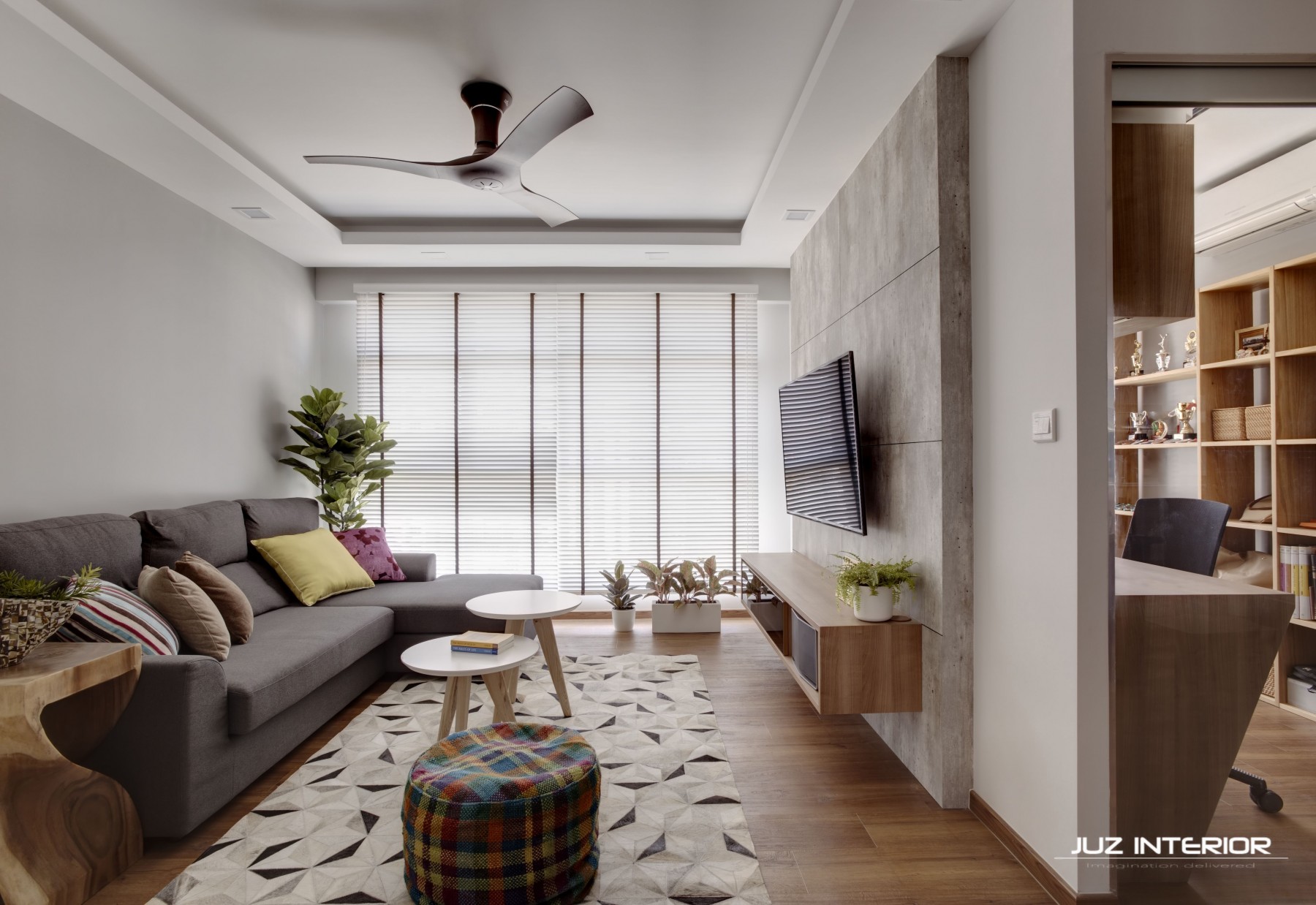 3. Stay Cool with Ceiling Fans and Dehumidifiers
Fans are perhaps the simplest solution for keeping cool at home. They're affordable, more environmentally-friendly than air-conditioners, barely raise your electricity bills, are easy to maintain and clean, and offer superb air ventilation.
The important question is, which fan should you choose?
For optimal airflow and cooling, ceiling fans are superior to standing ones. This is because ceiling fans typically have longer, wider blades that generate stronger drafts of wind. Further, these fans are typically fixed in the centre of the ceiling, ensuring that the wind produced circulates throughout a room for maximum coverage.
Because Singapore's tropical weather is not only hot, but humid as well, we need a solution to lower humidity levels at home. A dehumidifier is ideal as it lowers humidity levels and instantly makes a space feel cooler.
Even better, the process of dehumidifying the air inside your flat also makes your home less susceptible to dust mites, mould and mildew – decreasing the occurrence of related allergies and odours. Additionally, a less humid environment will dry out your wet clothes faster, extend food freshness, and prevent (or at least, delay) your metal equipment and tools from rusting.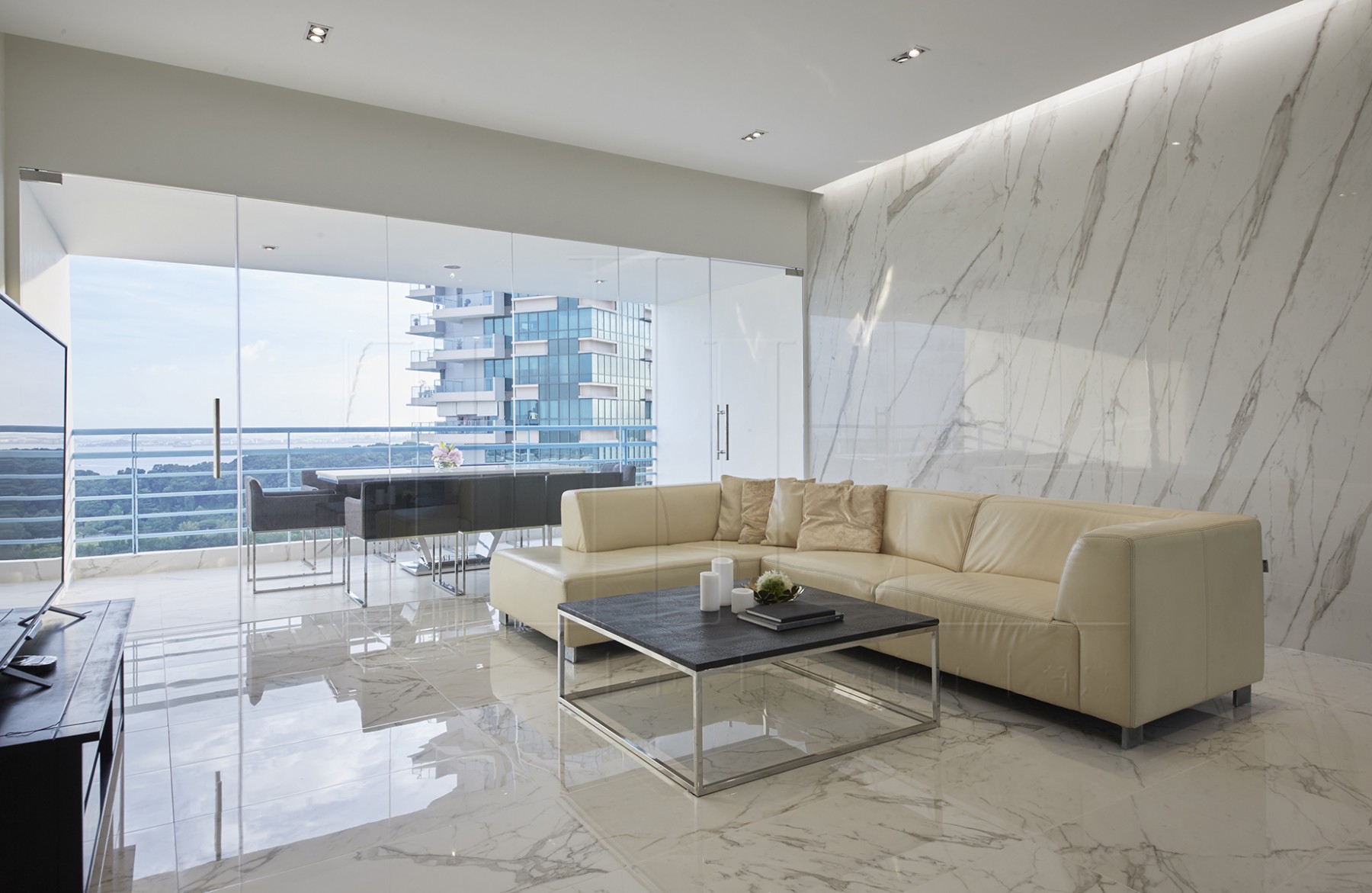 4. Use Surface Materials that are Cool to the Touch
Choosing the right surface materials can make a major difference in keeping your home cool. This is especially important when selecting your home's flooring type.
Parquet floors may be popular here because of their stylish looks, but all forms of wood retain heat and will make your floor (and home) feel warm. The same is true for materials such as vinyl, fibreglass, carpet and cork.
To keep your home cool, select other stylish materials like natural stone, marble, cement or porcelain tiles. These feel cooler to the touch as they are able to dissipate heat quickly. This principle also applies to your choice of materials for cabinets, panels and furnishings.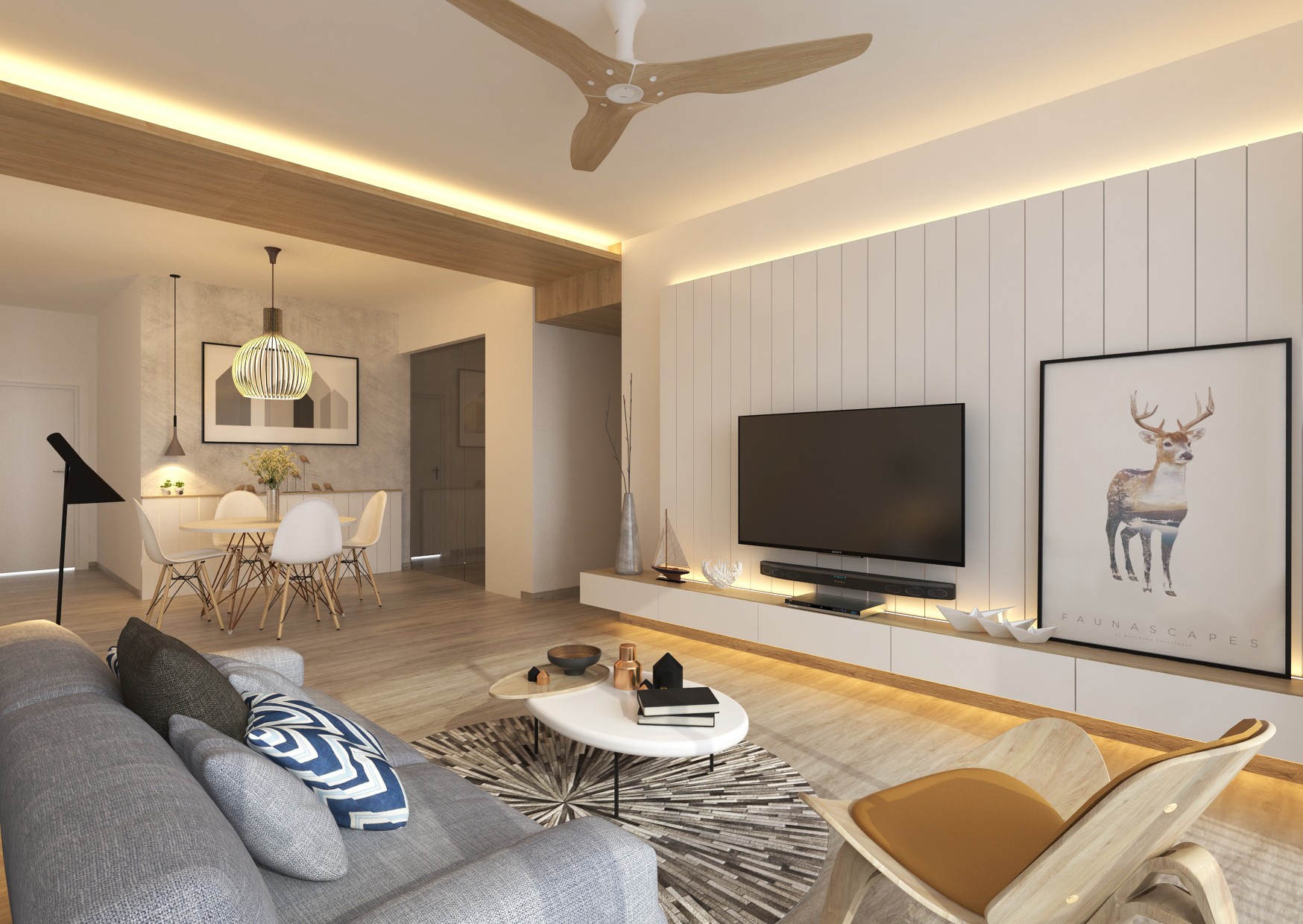 5. Apply Lighter Colours and Simple Patterns
Here's a little-known fact that the best interior designers know – colours hold heat-conducting properties. Darker colours soak up heat, while lighter ones deflect them. Paint your walls in pale shades (cream, beige, mauve, oyster, pale pink, etc.) to provide a light and airy feel to your apartment.
When choosing wallpaper, hold back on patterns that are overly busy (or complex) as they tend to make a room look smaller and feel stuffier. Instead, opt for patterns that come in simple designs that *pardon us for jumping on this trend again* sparks joy in your heart.
Apart from the walls, you can also incorporate décor fittings (furniture, artwork) in icy colour schemes (such as blues and whites) to your home. Even though the use of such furnishings has no tangible effect on the actual temperature of your room, just gazing at these wintry accent pieces can be a mental salve that helps you to feel calmer and cooler.
6. Introduce some Water Features
For folks living in landed property, the term "water features" is often associated with outdoor patios and gardens, and having a large body of water. While these can definitely cool down an area, they're also unfeasible to most Singaporeans (who live in HDB flats and apartments). With that said, while you may not squeeze a swimming pool into your flat, you could certainly fit a miniature version of it into your apartment.
Fountains, springs, cascades and ponds now come in a variety of innovative and interesting designs meant for indoor installation. Although the reduced scale of the water feature limits its cooling effect, the magic of these features is that they're psychologically-uplifting. Studies have shown that the soothing sound of flowing water can trick our brains into thinking that we're in a cooler environment (than we actually are in).
Even better, water features are generally considered good Feng Shui. (So if your luck suddenly improves, you might guess where it came from!)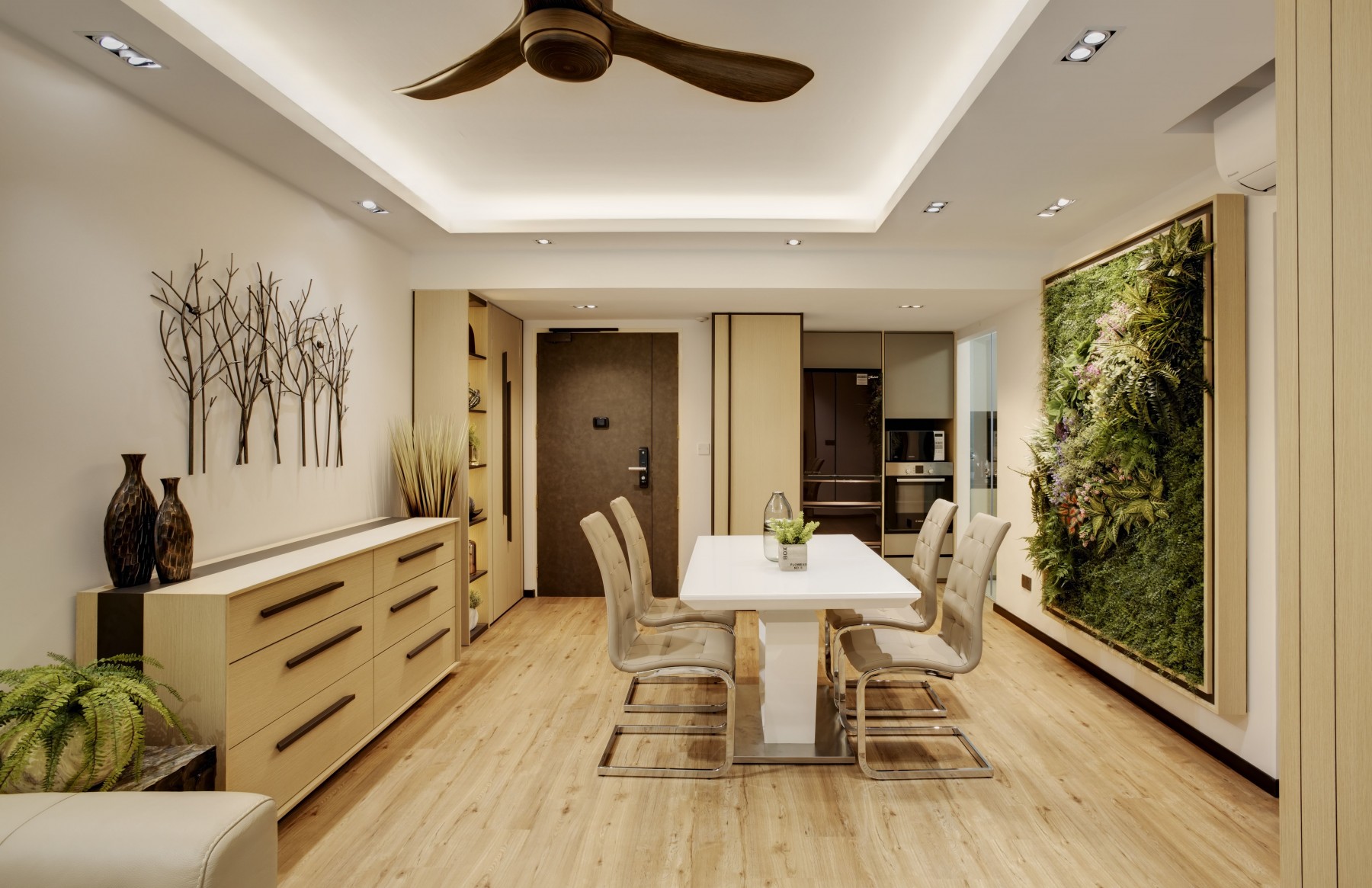 7. Adorn Your House with Plants
Having plants not only spruces up the look your home, they are also natural aerators that can purify the air and cool off a space. Remember learning about the process of photosynthesis from science class? Green plants take in carbon dioxide and emit fresh oxygen!
What's more, there are so many species of flora and fauna available to suit every lifestyle and preference. A busy professional living in a space-constrained apartment? Look for leafy, compact and low maintenance plants that can still produce significant bursts of freshly-oxygenated air. Consider these apartment-friendly plants – Mother-in-Law's Tongue, the spider plant and the Monstera.
To go "full green", you can consider having a green wall in your home. This bold feature is an outstanding centrepiece that can calm your nerves after a hard day at work – plus, it'll certainly impress visitors. Additionally, green walls can act as a layer of insulation against blistering sun rays falling against the wall.
8. Replace Incandescent Bulbs with LED Lighting
Conventional incandescent bulbs use tungsten wires that produce light, but this process also warms up wires and emits heat to its surroundings. Instead, use fluorescent bulbs or LED lights – both radiate less heat. Even though fluorescent and LED lights appear to cost more than incandescent bulbs, these two choices are much more energy-efficient and will result in bigger savings in the long-run.
Worried that fluorescent and LED lights may be too strong for your eyes? These lights now come in multiple colour options so you can easily choose a colour that will cast your home in a gentle, golden hue.
9. Install an Exhaust Fan in Your Kitchen
You may have heard of the saying, "If you can't stand the heat, stay out of the kitchen!" This statement is true in so many ways, as the kitchen is indeed a major source of heat in many homes.
But don't worry, you won't have to give up on home-cooked food to stay cool. By simply installing an exhaust fan above your kitchen stove, you can significantly reduce heat produced while cooking. The exhaust fan will extract the steaming heat emitted from stoves and ovens out of your apartment and redirect it outside. This prevents hot air from being confined and distributed inside your home.
10. Embrace the Future with Smart Home Systems
Home automation has come a long way since its early days of awkward technology that worked on good days (and took "days off" on others). Today, smart home systems are more than toys for the rich or technologically-inclined. Home automation has reached the masses and is more budget-friendly, easier-to-use and accessible than ever.
There are smart systems that can gauge room temperatures and automatically withdraw/lower the blinds and curtains accordingly. Some systems can even program your air-conditioner to be switched on before you arrive home, so you no longer have to wait for the room to cool – instead, you can step into a refreshingly cool environment the moment you step into your home.
The tips in this article will apply to most Singapore residents, whether you're living in an HDB flat, a condominium or landed property. For customised advice and solutions for your specific home, ask for a consultation with a reputed interior designer in Singapore.
Renovating soon? Speak to top rated interior designers.
Discuss your home renovation ideas and plans with top rated firms, recommended by past homeowners. Let us help you shortlist the most suitable interior designers for your project.