4 Factors You Can Use To Find The Perfect ID For Your Renovation Needs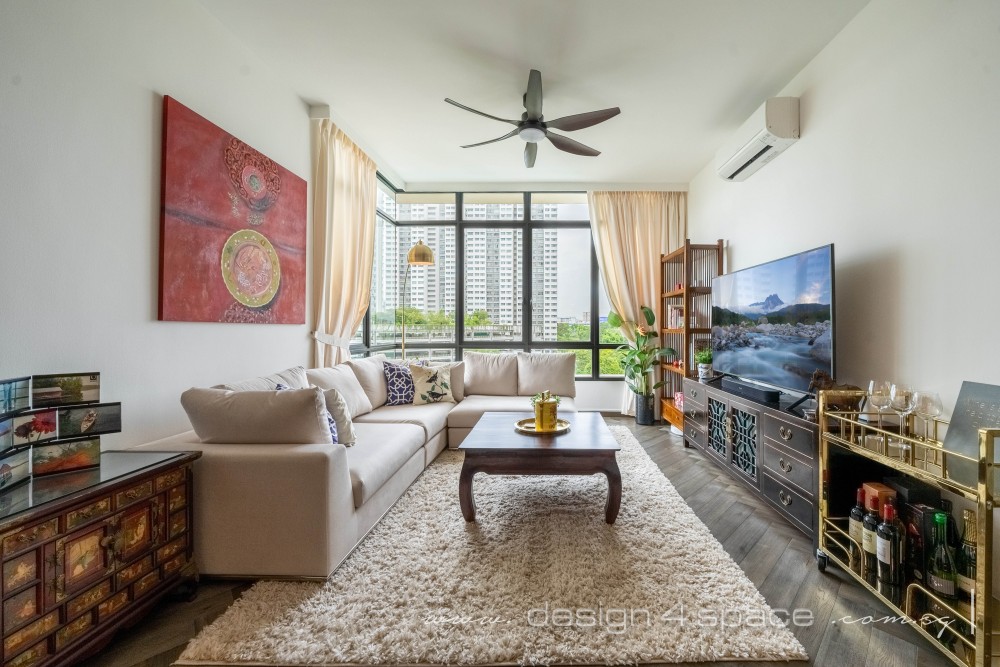 Finding the right interior designer (ID) is like finding a needle in a haystack. There are many IDs on the market, but unfortunately not every ID is a good ID. That's why the ability to discern between a good and bad ID is very important, especially for first-time homeowners. After all, you don't want to leave your first home in the hands of a bad ID and set yourself up for failure.
Thus, at Hometrust, we wanted to design the right tool to help homeowners find the perfect ID for your renovation needs. Coupling our experience as an ID platform and our research on IDs, we came up with 4 factors that we think can help every homeowner find the perfect ID.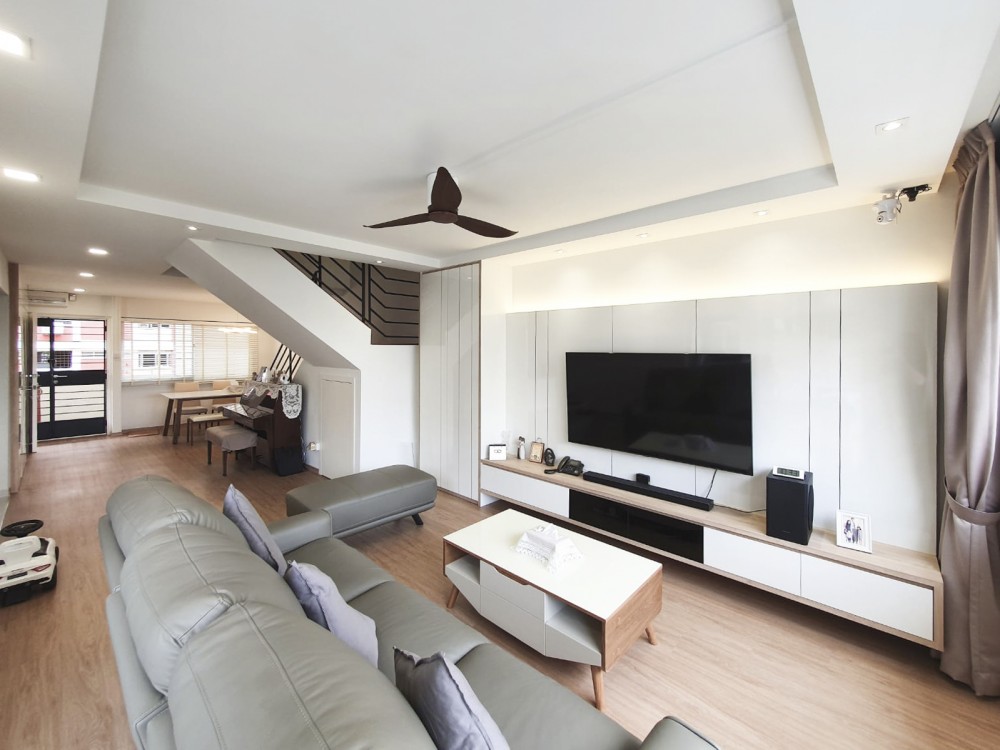 The goal of interior design is to create a space that you not only find cosy and comfortable, but also be proud of the space to call it your home. And if you want to transform a space from its grey and concrete walls into a space that any homeowner enjoys, design will be a key element.
Here are some key benefits that you can bring to your home with good designs.
Good Design Adds Aesthetic Value To Your Home
Outstanding IDs are like artists. A few strokes of genius touches and they can turn your home into a piece of artwork.
A Home With A Good Design Adds Functionality To The Place
Good IDs are able to find the perfect blend of design and functionality to create a space that is both aesthetically pleasing and fulfil your functional needs.
A Well Designed Home Is Fit For Purpose
Making it aesthetically pleasing and functional is important, but it also needs to be fit for purpose. When designing the space, the ID also needs to take the lifestyle of the homeowner into account so that it suits the homeowner.
Thus, if you are looking for the perfect ID, you want to find one that has great design sense so that he/she can help you design your perfect home. A simple way to do that is to browse through the portfolio of past work from the interior design firm.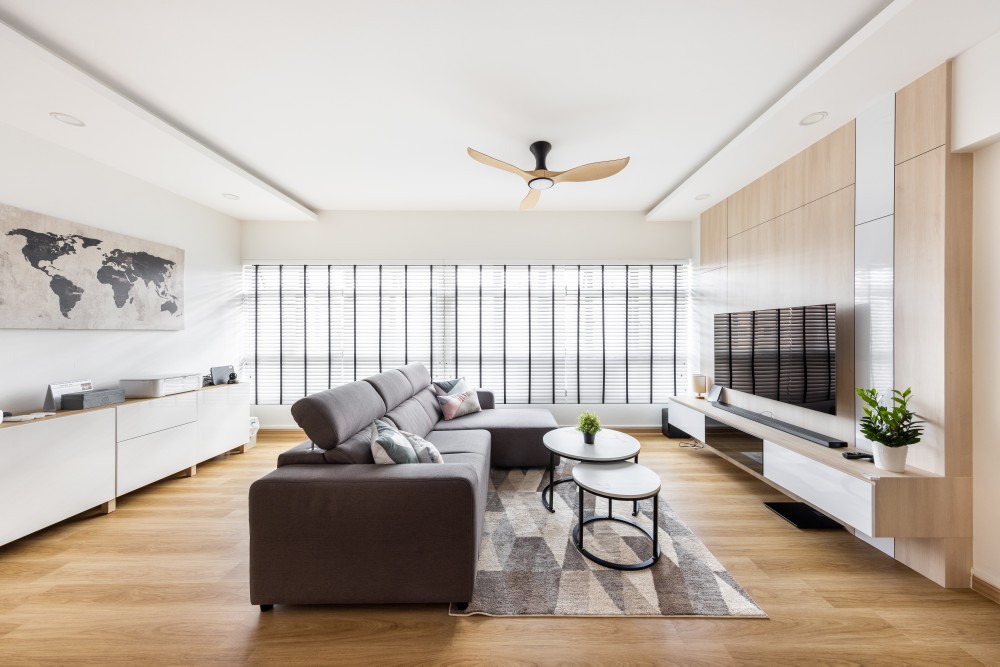 Having good design sense is just one part of the equation. The other half of the equation is workmanship. After all, design is just the blueprint for your home. The execution of the design is also key.
If the interior design firm does not have a team of carpenters or contractors with good workmanship, they won't be able to execute on the design plan from the ID. That's why we sometimes hear of horror stories where IDs show promises of nice digital designs but the eventual output of the home is nowhere near the digital design.
A proven method to find out which interior design firm possess the best workmanship, you can simply read reviews or look at photos of the interior design firm's work from other homeowners that have engaged them in the past. Or if you know of other homeowners who have engaged the same interior design firm, arrange for a house visit to their home to check out the kind of work produced by the interior design firm.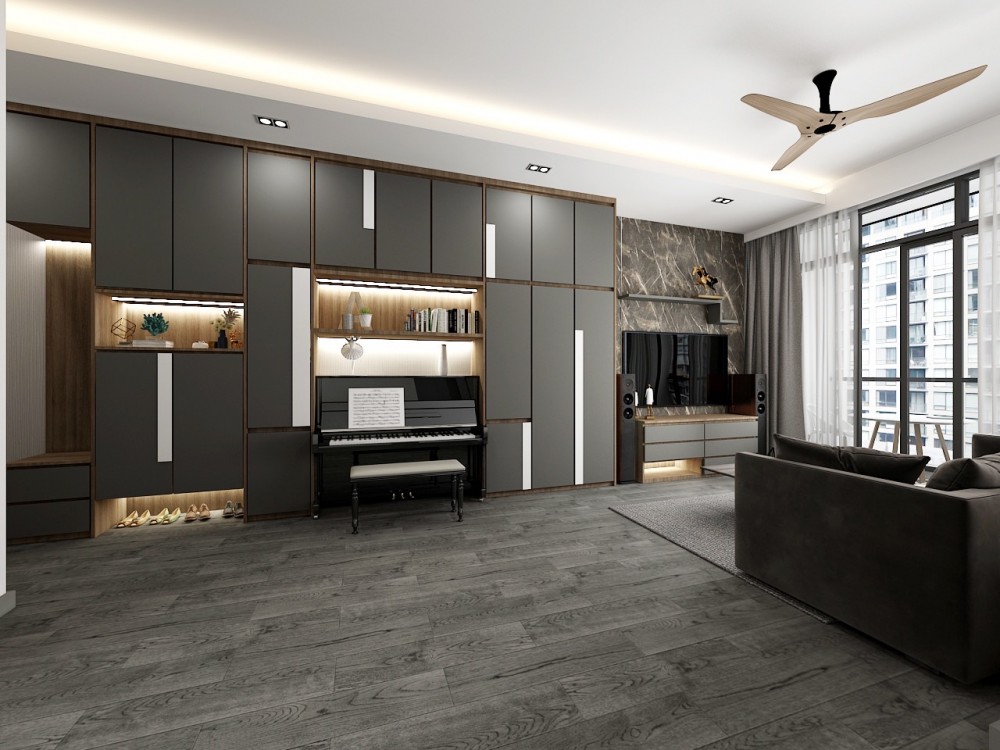 Interior design is a service that comes with many moving parts. An ID will need to handle multiple things at one go, from scheduling when contractors should come down to visiting showrooms with homeowners to select the furniture to planning for when the furniture should be delivered and collected.
Because of the moving parts, the whole interior design process create unwanted hiccups that can potentially mess with your home's interior design and perhaps even the move in date.
That is one of the reasons why it is of paramount importance for you to engage an interior design firm with great customer service. You want to entrust your home's interior design to a trusted and experienced interior design firm and ID so that you don't have much to worry about your renovation works. In addition, if the renovation work ever goes wrong, you know that the interior design firm will not shirk responsibility and leave you in the lurch.
You can read about the experience of other homeowners who have engaged the interior design firm that you are planning to shortlist and judge from their experience whether the interior design firm offers great customer service or not.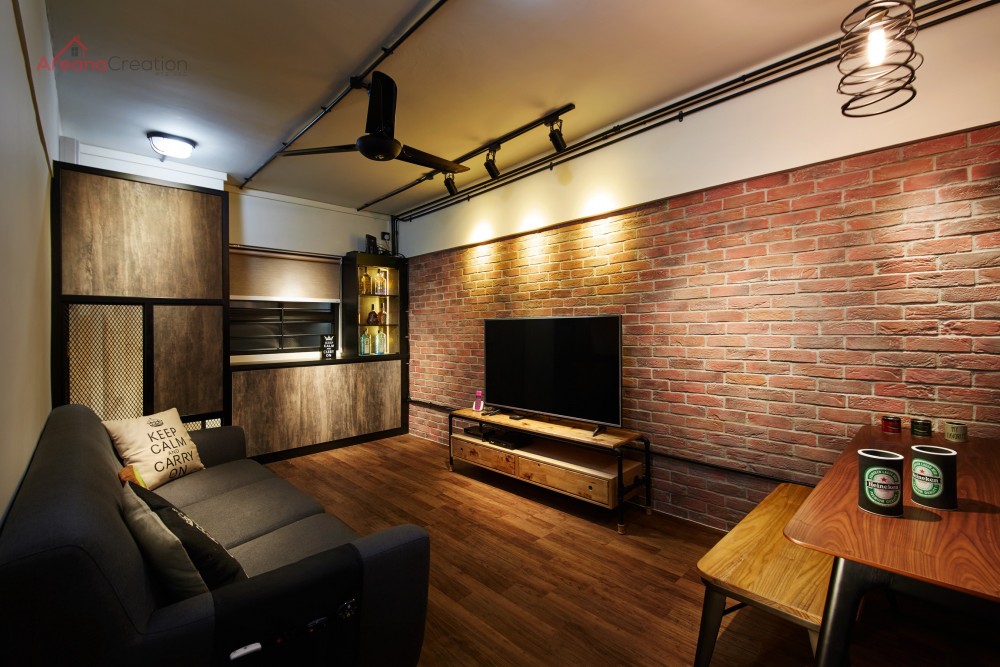 Last but not least, it is all about the price. Who doesn't want to engage an ID that offers great customer service, good workmanship and splendid design? But because of the rare combination of customer service, workmanship and design, some interior design firms do charge a high premium above the existing market rate. So, the question is, can you afford it?
As such, value for money is also another criteria for you to consider when finding the perfect ID for your renovation needs. You want to find an ID that offers the most value for the price that you are expected to pay, be it for customer service, workmanship, design or a combination of the 3.
How To Find The Perfect ID For Your Renovation Needs?
With the 4 factors in mind, the next step is for you to start shortlisting for which interior design firm to engage.
To help you in your customer journey of selecting and shortlisting the right interior design firm, we ranked the popular interior design firms in Singapore based on the 4 criteria using Hometrust's proprietary algorithm that calculates a business's daily rank with our Rating Index.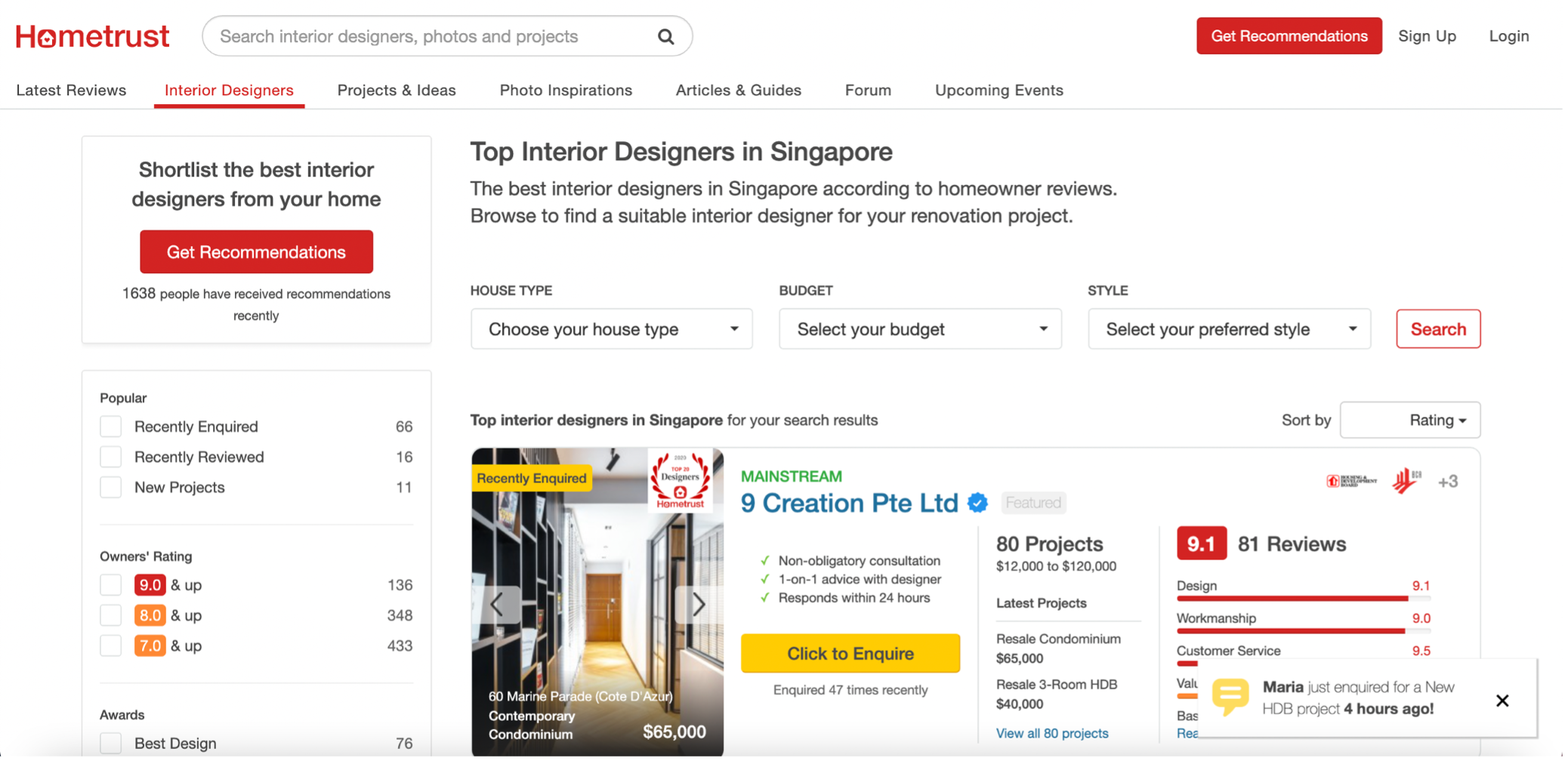 Using Hometrust, you can easily rank the different interior design firms by:
Combined rating of design, workmanship, customer service and value for money
Interior design firm with the best workmanship
Interior design firm with the best customer service
Interior design firm with the most value for money
The Hometrust platform also provides you with the latest information on the available promo and packages that you can enjoy when you engage different interior design firms.
Don't Know What You Need? Try Hometrust Recommendation Service Powered By Our Proprietary Algorithm
We know that finding an ID for your renovation needs is no easy feat. It can sometimes even be daunting, especially if you are a first time homeowner who is not familiar and too overwhelmed with owning your first home. That's why, on top of the interior design rankings, Hometrust also offers a recommendation service to match you with the perfect ID for your renovation.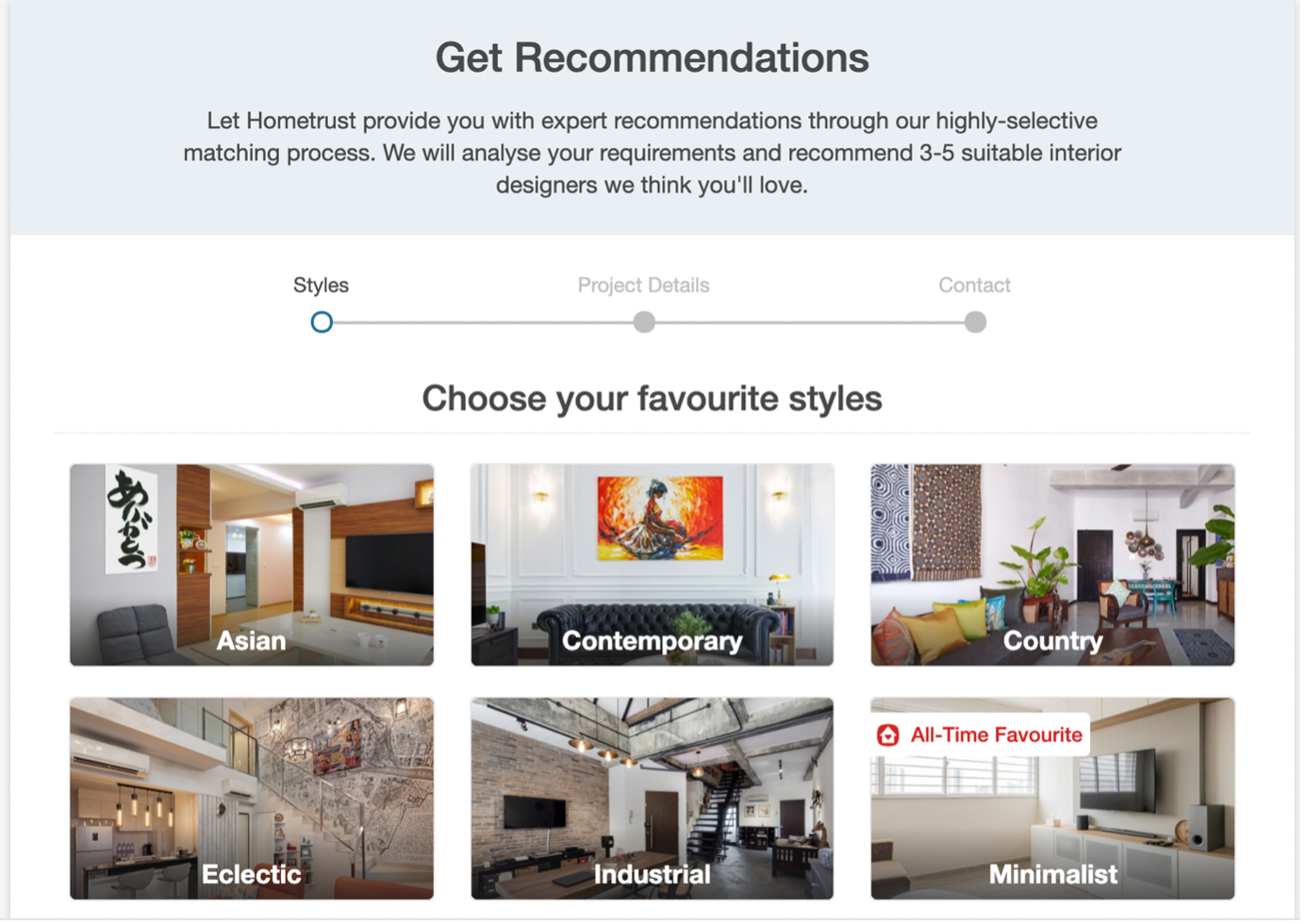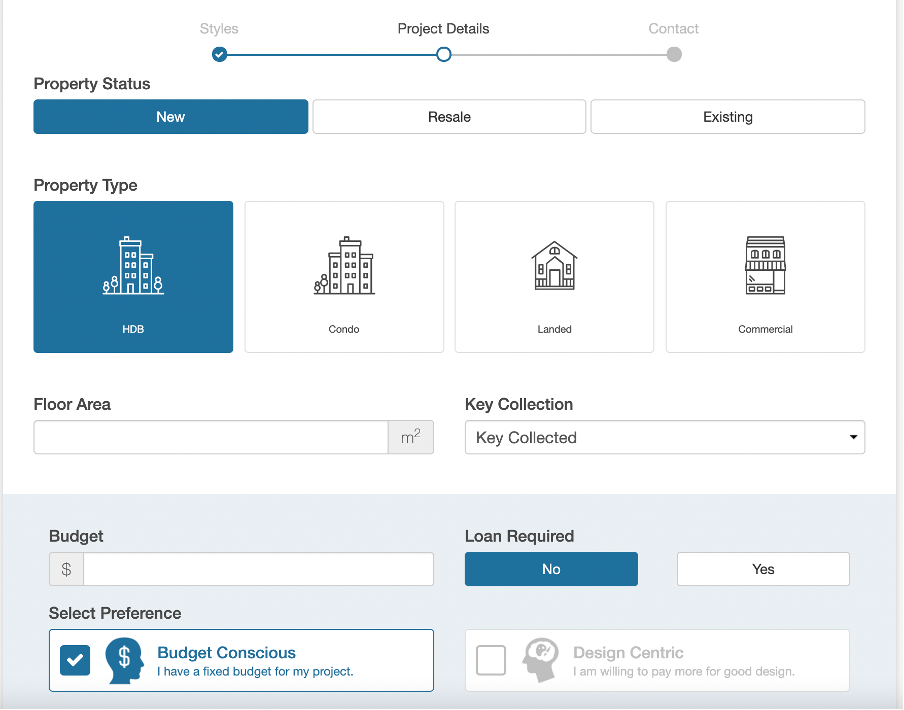 The recommendation service is powered by Hometrust proprietary algorithm that presents suitable choices for you based on your budget and design requirements.
You start by choosing your favourite styles from a range of interior design styles. After which, you need to fill in details about your property and budget. Hometrust's recommendation algorithm will then match you with the perfect ID for that suit your renovation needs in terms of design and budget. Viola, you are now one step closer to your dream home.
Be it whether you are shortlisting your ID using Hometrust Rating Index, or letting our recommendation engine work the magic to help you find the perfect ID, you can be rest assured that you are in safe hands for your home renovation with our Hometrust accredited interior design firms.
Renovating soon? Let Hometrust recommend the best interior designers.
If you are reading this, you are probably wondering how you can create your dream home.
Here's the thing, everyone's needs and requirements for their home renovation is different. A designer that may work for someone else, may not quite work for you.
At Hometrust, we're here to help match top rated designers, recommended by past homeowners to you through our data-driven and matching algorithm.
Whether you are looking for partial renovation or a full fledge overhaul, we'll be able to recommend you top designers to match your renovation requirements and lifestyle.
Recommendations and free and you can simply start by helping us understand your needs below!
Get Recommendations
Renovate safe!
The Hometrust Team