4 Gorgeous BTO Renovations Under $30,000 – Yes, It's Possible!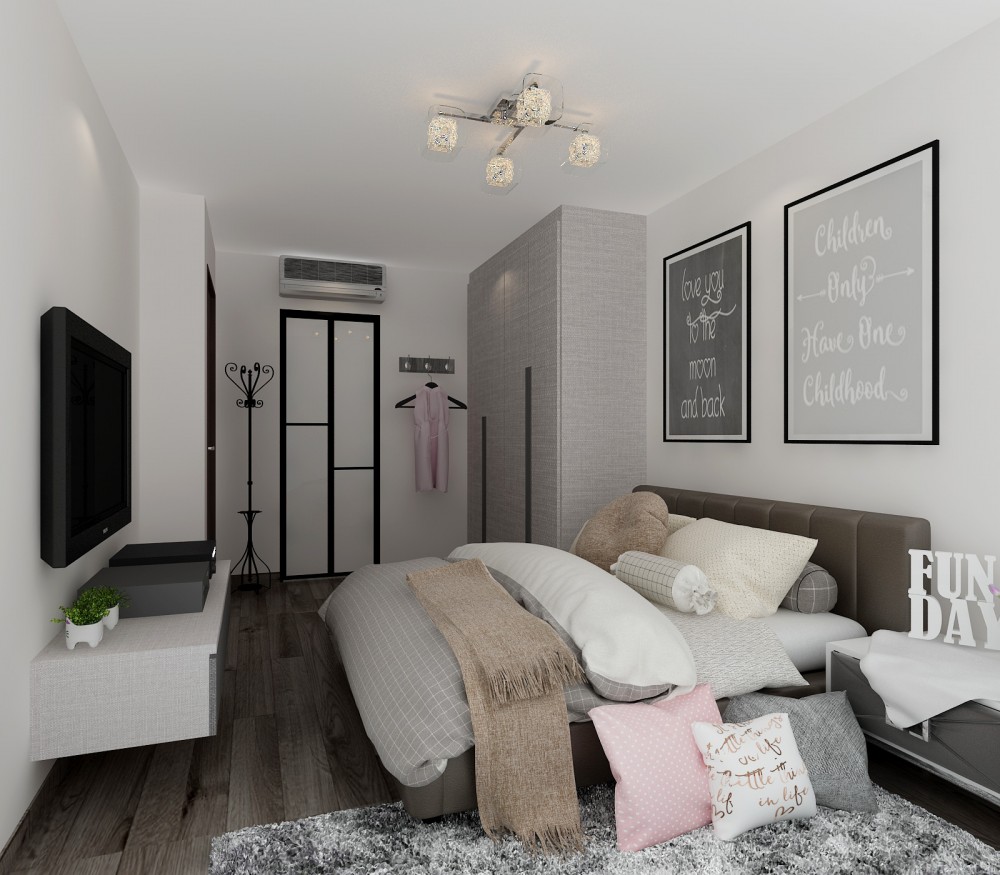 Besides the cost of buying a new BTO, the next item that is going to cost a hefty chunk of the proverbial pie would be the cost of renovations. We know that renovations hardly come cheap, but it doesn't mean that it can't be affordable! With a BTO, you have the luxury of starting a new home from a clean and fresh slate — that means you don't have to commit to spending money on tearing down existing walls or furniture, and can channel that to really sprucing up your new place, instead!
Here, we've specially curated 4 gorgeous BTO renovations for SGD 30,000 and under for the whole apartment. The key to an affordable BTO renovation? Knowing exactly what style and aesthetic you're after, and select a workable budget based on that. Take a good amount of inspiration from these homes, and have a happy renovation journey!
1. A Minimalistic And Understated Contemporary Styled Home: 4-room HDB at Bukit Batok
Project Title: Bukit Batok @ Skyline I
Type of home: 4-room HDB
Cost of renovation: $25,000
The contemporary style has always been hugely popular in Singapore, and why would it not be? With its sleek, clean lines and colours tending to the neutral palette, it's an easy and versatile look that suits every home.
For this 4-room HDB, the majority of the renovation budget was spent on carpentry, flooring, and tiling — and what a difference it makes! Focusing on a few key areas of your home that you want to change up is a good tip to keep your budget on track. We love the gorgeous wooden laminated floors and open study area — it's understated but hardly underwhelming. Some other characteristics of this contemporary style consists of clean and open spaces with a lot of natural light, and the light-coloured walls help to keep your home bright!
2. A Modern And Marbled Home: 4-room HDB at Punggol
Project Title: New 4-room HDB at Punggol
Type of home: 4-room HDB
Cost of renovation: $30,000
Straying far away from the common neutral and white themed homes we see quite often nowadays, this 4-room HDB at Punggol reminds us of a muted version of a modern Renaissance museum! With the delicately marbled floor and surfaces, paired with gorgeous golden ornate finishes — we love how seamlessly understated yet sophisticated it looks and comes together. Understandably, the bulk of the renovation costs came from the carpentry — and with how classic and modern it looks, we'll say it was well worth it!
3. A Cheerful Twist On A Classic Scandinavian Home: 4-room HDB at Joo Seng
Project Title: 9 Joo Seng Road
Type of home: 4-room HDB
Cost of renovation: $30,000
We know this for a fact: Singaporeans love the Scandinavian aesthetic. We love IKEA furniture, clean sleek lines, and minimalistic furniture — all accurate emblems of the Scandinavian style! That being said, this design can admittedly be quite cookie cutter, where homeowners opt to default to this safe choice. However, this home is anything but ordinary — we love the subtle whimsical touches of bright, bold colours and additions of the cutesy soft toys that differentiates it from the usual minimalistic style that most people love. Most of the renovation costs went to wiring, carpentry, and most of all — the false ceiling! We love how the combination of the false ceiling and lighting illuminates the living room, adding a cheerful vibe that we absolutely love!
4. A Breezy Resort-style Home With A Splash Of Colour: 4-room HDB at Edgedale Plains
Project Title: 684C Edgedale Plains
Type of home: 4-room HDB
Cost of renovation: $23,000
With renovations priced at a reasonable $23,000, we think that this home is has surely the most bang for buck! With gorgeous wooden laminate, wooden finishing, and wooden carpentry — this home resembles a winter cabin deep in the forests of Scandinavia. This exquisite pairing brings a warm comfort and coziness in the home, and makes us want to curl up on the sofa after a hard day's work — and that's exactly the feeling that your home should evoke in you. We also love the bold splash of blue in the master bedroom — quite a stroke of genius in an otherwise consistent palette of dark neutrals and wood fixtures!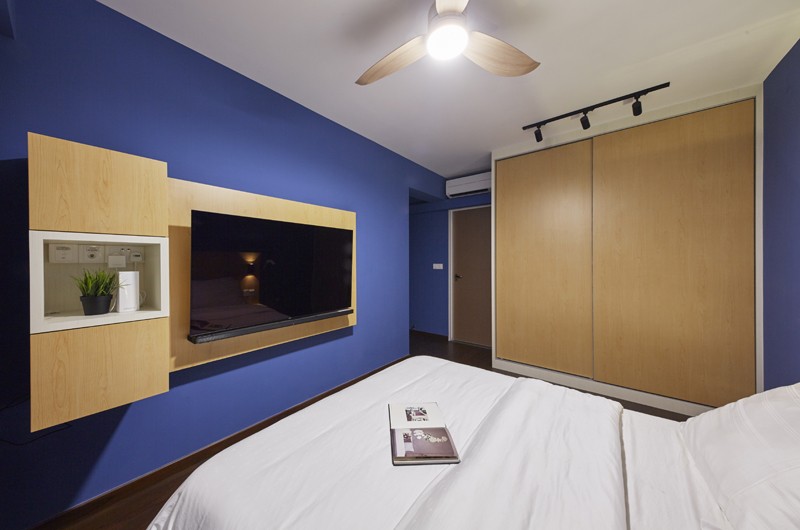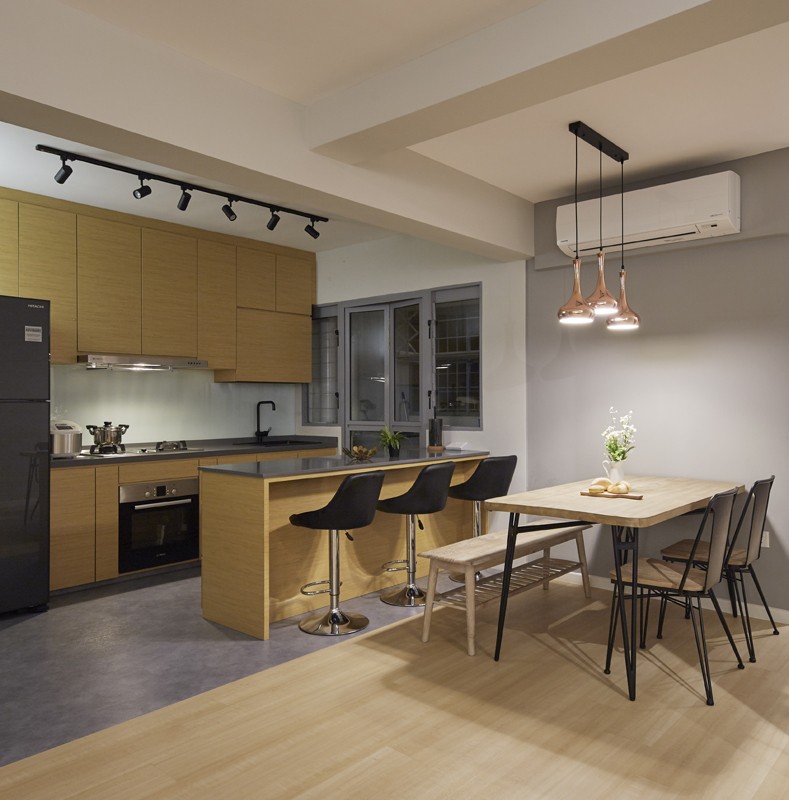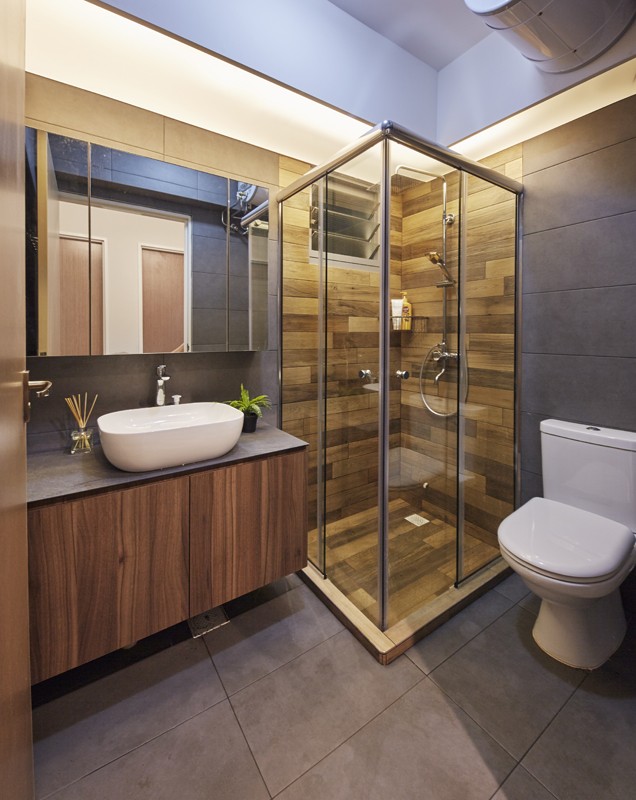 Conclusion
With so many gorgeous BTO renovations done affordably, we think that inspiration for a better home is never too far away. The choice between the myriad of interior design styles — be it Scandinavian, minimalist, rustic, or even a unique modern Renaissance — can be quite a difficult one, but trust your gut and instinct and make sure to follow your heart. It's high time to roll up your sleeves and take the leap, and soon enough you'll be looking forward to a brand new home!
Renovating soon? Let Hometrust recommend the best interior designers.
If you are reading this, you are probably wondering how you can create your dream home.
Here's the thing, everyone's needs and requirements for their home renovation is different. A designer that may work for someone else, may not quite work for you.
At Hometrust, we're here to help match top rated designers, recommended by past homeowners to you through our data-driven and matching algorithm.
Whether you are looking for partial renovation or a full fledge overhaul, we'll be able to recommend you top designers to match your renovation requirements and lifestyle.
Recommendations and free and you can simply start by helping us understand your needs below!
Get Recommendations
Renovate safe!
The Hometrust Team