5 Workstation Inspirations To Get Ready For The Future Of Work
The Covid-19 pandemic has changed many things in our lives. One of which is changing people's perception of working from home. Before this decade, nobody would have imagined that you can be telling your employer that you will be working from home. But today, working from home has become a norm and even became the default working mode for many of us, especially as the number of Covid-19 cases rose to almost 3,000 cases in the community.
Because of the shift towards working from home, many of us have started to realize the importance of having a good workstation at home. Not many were prepared with a good workstation at home because who knew that working from home can actually be accepted in the society. Moving forward, the future of work may adopt a hybrid setting where one may work from home on some days and work from the office on other days.
To be ready for the future of work, it is important to have a good workstation in your home as you consider the renovation for your home.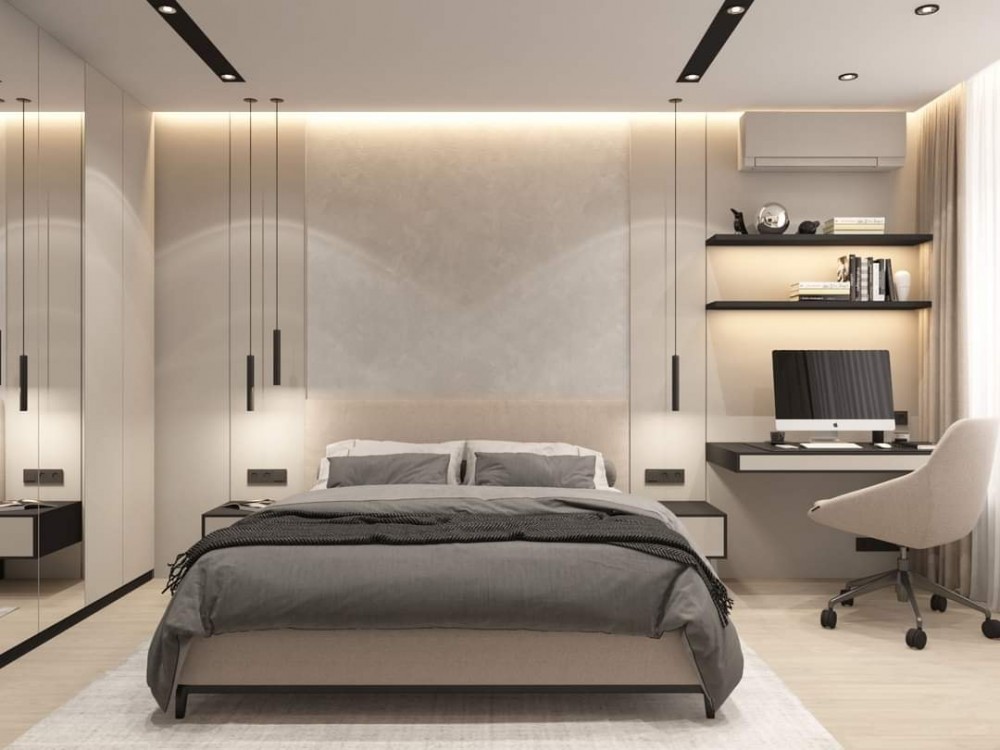 Apart from the living room, the master bedroom is often the biggest room in the home. The space in your master bedroom makes it one of those potential places for you to install a cosy workstation for you to work comfortably.
Instead of having bedside tables, you can save that space and utilise it for your own workstation, just like what 13 Degree Design Studio Pte Ltd has done in this master bedroom.
The good thing about having the workstation right beside your bed is that you can always stay connected with your work, especially if you have to reply to late night emails or if you work with counterparts from different time zones that require you to take late night calls.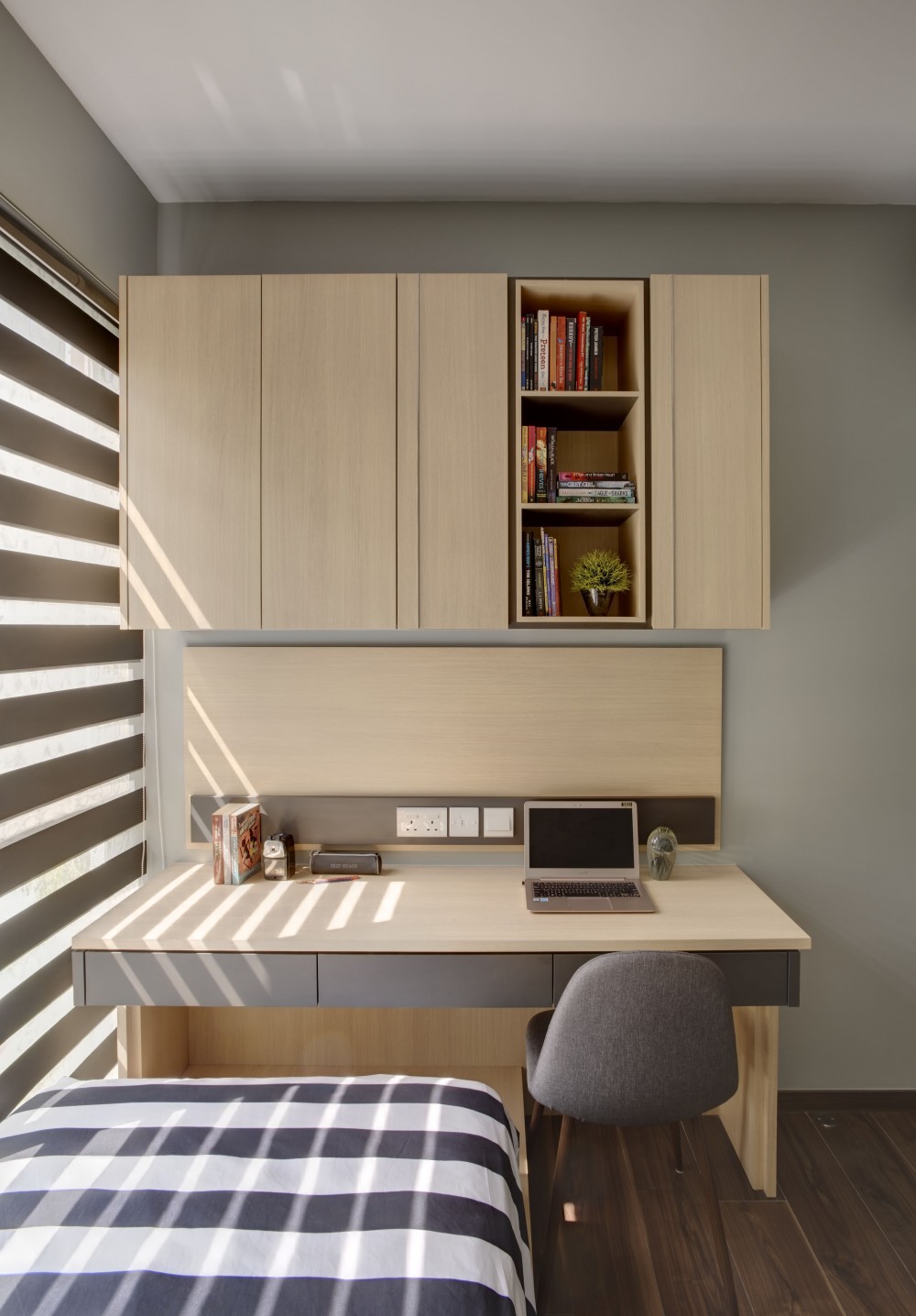 In case you are wondering, bedside workstation isn't limited to big master bedrooms. With smart interior design touches, you can have a bedside workstation in any of your bedrooms. Take this design by Juz Interior Pte Ltd for example.
The bedside workstation makes use of the length of the room at the edge of the bedframe to install a workstation. You can choose to either work or study off your bed, or do it with a proper posture on the chair. And if you are tired, you can always take a break on your bed and get recharged.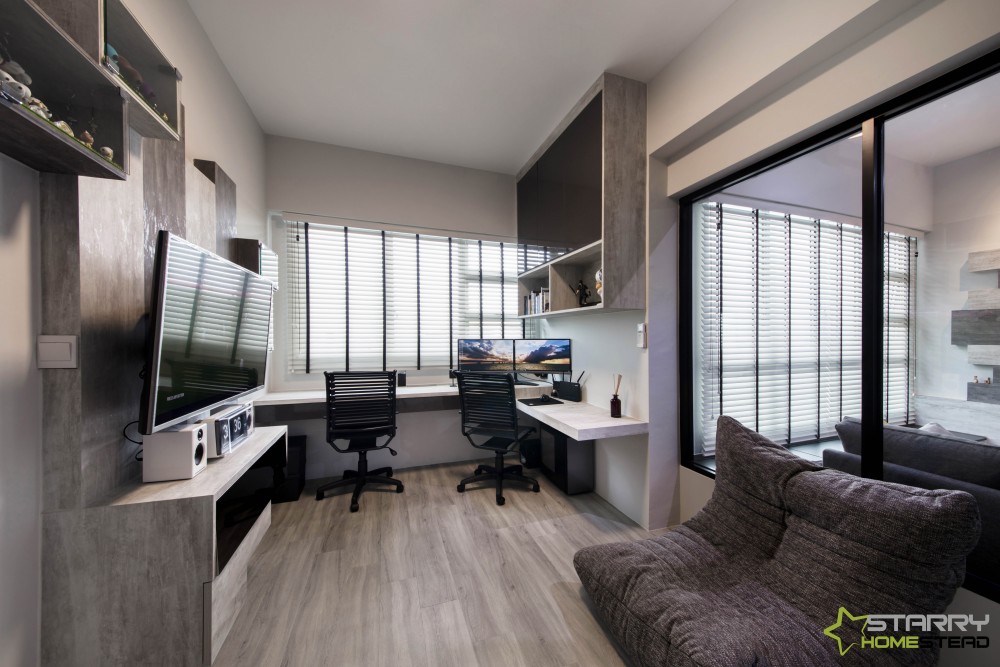 If you have the luxury of space to carve out a room for a work space, why not consider turning that room into your home office? This room in the 3-room HDB flat at Jalan Tenteram turned into both a home office and home entertainment space under the hands of the interior design firm Starry Homestead Pte Ltd.
You have a corner office with good view out of the 3-room HDB flat. At the same time, it comes with a cosy entertainment corner that you can use to relax and chill whenever you need a break from work.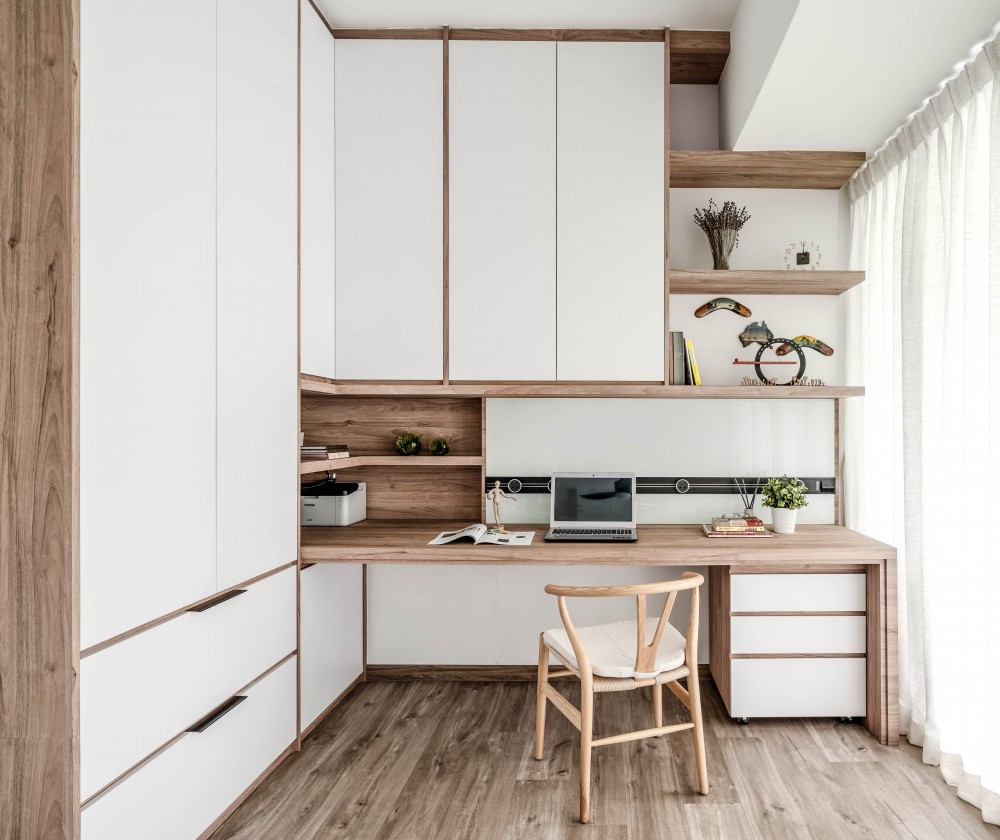 Space is a commodity in any home. Sometimes, it becomes hard to decide when you need to choose between storage space and a space dedicated for your workstation. Well, a smart and experienced interior designer will tell you not to settle for any.
In fact, you can have the best of both worlds. This is exactly what Weiken.com ID Pte Ltd did for this condo in Fernvale. It creates much needed storage space for the condo so that the owner has enough storage space to keep their things. At the same time, it adds a nice open workstation at the sitting height that lets the owner use it as an office space. Pretty neat touch if you ask us.
An alternative storage + workstation design by Weiken.com ID Pte Ltd that makes full use of the height of the ceiling to install tall storage cabinets on top of the workstation. This puts the cabinets within easy reach from the user if you need to store any documents in the cabinets for reference.
Nowadays, with homes getting smaller in size, finding extra space in the home to place a workstation is not easy. But there's always a way if you have the right interior designer to work things out for you.
For instance, Starry Homestead Pte Ltd leveraged the corner space of this open kitchen to utilise it as a workstation. It efficiently uses the limited space in the home to carve out a dedicated workstation area for the family to use. You also don't have to worry about having others see your messy kitchen because the workstation is facing away from the kitchen.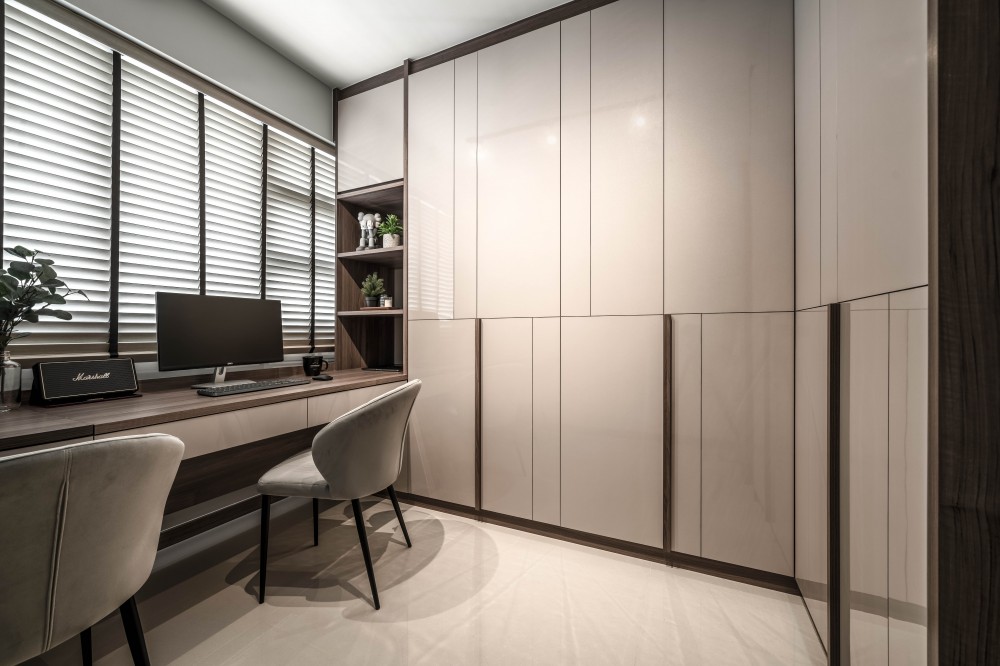 Another great inspiration for an efficient workstation is this 4-room HDB at Bukit Batok West. The interior designer fully utilised the room for storage purpose with built-in wardrobe across the room. Since the windows are on the left of the room, they can't build the wardrobe there.
Instead, what the interior designer did was to use the remaining space below the window for more storage. The storage is then topped off with a flat surface that also doubles as a workstation so that the owners can work from there. The appropriate height of the workstation also creates a nice view from the room while working at the workstation.
5. Adjustable Workstation
Another workstation design to consider if you want a space efficient workstation is to have it adjustable (and hidden). This workstation design by Mr Designer Studio is what a space efficient workstation looks like.
At first glance, it seems like just a workstation table sticking out from the striped wall. However, when you take a close look, you can see the innovative design of it.
The workstation table is collapsible, which allows you to hide the workstation away in the wall when it is not in use. This ensures that it doesn't end up becoming an obstacle in your home, especially when you have guests in your home and walking room becomes important.
On other occasions, if you don't need so much room to manoeuvre, you can always bring out your workstation. It can even double as your coffee table if needed.
Looking For Workstation Design Inspirations?
Thinking about a revamp to add a much-needed workstation into your home? But still undecided on which workstation design suits your needs? How about getting more visual inspirations from the renovation partners on Hometrust? You can find a range of workstation designs on Hometrust's workstation photo inspiration page to inspire your next workstation look.
Once you decide on the design that you like, you can reach out to the interior design firm via Hometrust. Alternatively, you may also want to use our interior design recommendation engine to find a suitable interior design firm. You can then bring your photo inspiration to the interior design firm to kickstart your design process with them.