7 Types Of Flooring You Need To Know To Create Your Perfect Home Space
Flooring is a crucial aspect of any home. It is a key element in your interior design that can make or break the look and feel of the space. It is also the part of your home where you will spend a bulk of the budget, i.e. to lay the flooring for the bare cement flooring that it comes with.
But there are so many types of flooring materials and designs that can make you fall into a choice dilemma. That's why we are here to introduce the seven most common type of flooring that you need to know so that you can easily create your perfect home space.
Among the different types of flooring material, vinyl flooring has proven to be the most popular among new homeowners nowadays. Many homeowners are going for vinyl flooring because of the various benefits that come with it such as low maintenance and water resistance.
But most importantly, it is also very durable and known to be very cost effective. Simply take a look at the 4-room HDB at Alkaff Courtview designed by Design 4 Space Pte Ltd which uses vinyl flooring. It looks really classy and pleasing on the eye without costing a bomb. It is no wonder why vinyl flooring has become the go-to industry standard for many homes.
Laminate is a flooring type that is often confused with its distant cousin vinyl flooring. Most layman who are not in the interior design industry will casually categorise vinyl flooring and laminate as the same. The quality of vinyl flooring is so good nowadays that sometimes even ID veterans will need to take a closer look to discern between vinyl flooring and laminate.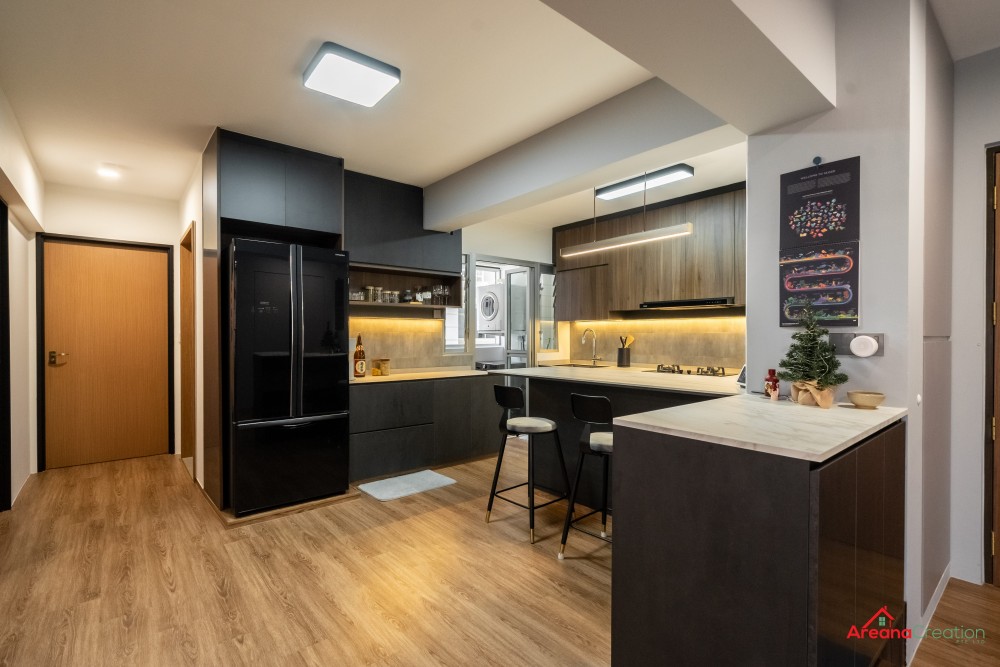 One key difference, though, between vinyl flooring and laminate is that laminate contains wood elements in it whereas vinyl flooring is purely synthetic and made up of plastic. Due to its natural wood content, it is also considered more environmentally friendly.
Besides being more environmentally friendly, there are some other advantages that comes with laminate flooring. For instance, laminate flooring offers a wider variety of style choices, which makes it easier to accommodate different ID style that you want for your home.
Also, because of its natural element, people tend to have a higher perceived value for laminate flooring. This increases the resale value of laminate flooring, especially if you are thinking of selling your home one day.
If you are looking for a pure, natural element kind of flooring, then parquet flooring might be something you can shortlist.
Parquet brings a bold design statement to any home with its busy, patterned look. Part of the reason for selecting parquet flooring is that it suits lots of modern interior design styles that are popular today such as Scandinavian and Japandi.
Parquet flooring also brings more soft and warm underfoot than hard flooring materials such as ceramic or stone tile.
Marble is the age old, classic natural stone flooring type that you can never go wrong with. It's gorgeous, durable, and can last you a lifetime. It is also scratch resistant that makes it child friendly.
On top of those, marble is a really good insulating material. Even on a hot day, the marble flooring doesn't get too hot. On a cooling day, you get to enjoy the cool weather on the "chilled" marble flooring. If you have air condition in the room, having a marble flooring really adds an additional dimension of living experience in an aircon room.
Marble flooring does have some drawback like higher maintenance compared to typical ceramic tiles. For instance, you need to have a flooring detergent that is meant for marble. It also requires proper care in order to maintain its polished look.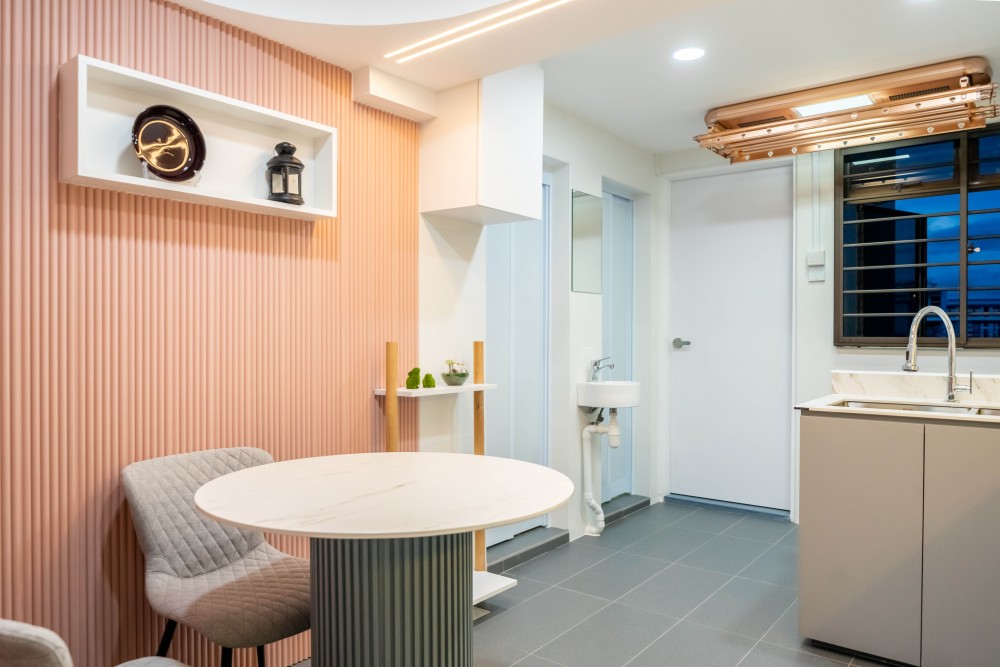 Ceramic tiles including homogeneous tiles are the most common type of flooring that most homeowners are familiar with. There're good reasons why ceramic flooring are chosen for some space in the home like kitchen and walls. Resistant to wear and scratching, easy to clean and doesn't stain as well as resistant to adverse weather condition are among the top reasons for picking ceramic flooring over other types of flooring.
However, ceramic flooring is slowly being replaced by their porcelain cousin: Glazed porcelain tiles. These tiles, according to HDB, are less vulnerable to wear and tear, which is why they are being provided as upgrades for new BTO flats.
That said, ceramic flooring is still the OG tiles for home renovation, making it one of the go-to choices among homeowners.
The name Herringbone tiling may not be as common as the other flooring types and ring a bell compared to the others on this list. However, you might probably have seen them in your friend's latest interior design.
By definition, herringbone tiles are those that are laid out in a 45 degree angled pattern. This creates sort of a fish bone pattern across the wall or floor. But the herringbone pattern has since "evolved" to shapes and patterns beyond just the typical 45 degree angled pattern.
This fun herringbone pattern bathroom wall design from Dots 'N' Tots Interior Pte Ltd is one of those evolutions.
The great thing about herringbone tiling is that the geometric design creates a touch of richness and sophistication, even for small spaces. They create a stunning effect on your room even though they might cost you slightly more due to it being more labour intensive to lay out.
Granite tiles are commonly found in the kitchen of homes on the backsplash and countertop. But hey, granite tiles are so versatile that they can feature almost anywhere in a home! From the kitchen to bathroom to living room, it fits perfectly regardless of the type of room.
The classic, luxury look and feel of granite is one of the key reasons why they are so in demand. The natural beauty of granite is one that will capture the attention of your guest whenever they step into your home. Like marble, granite is natural and yet highly durable. That's why you see lots of shopping malls using granite as the flooring tile, especially at the grand entrance of the malls.
What's even better is that granite tiles are hypoallergenic, which means that you don't have to worry about any allergic reactions even if your kid lies on it all day. And it is also less porous than other natural stones so it doesn't trap liquid or moisture that easily.
Some might even claim that granite tiles can help to boost the value of your home.
Flooring And Interior Design Should Be Whole, Not Separate
At Hometrust, we have collated lots of different interior design inspiration for flooring right here. Feel free to check them out to inspire the flooring tiles for your new home.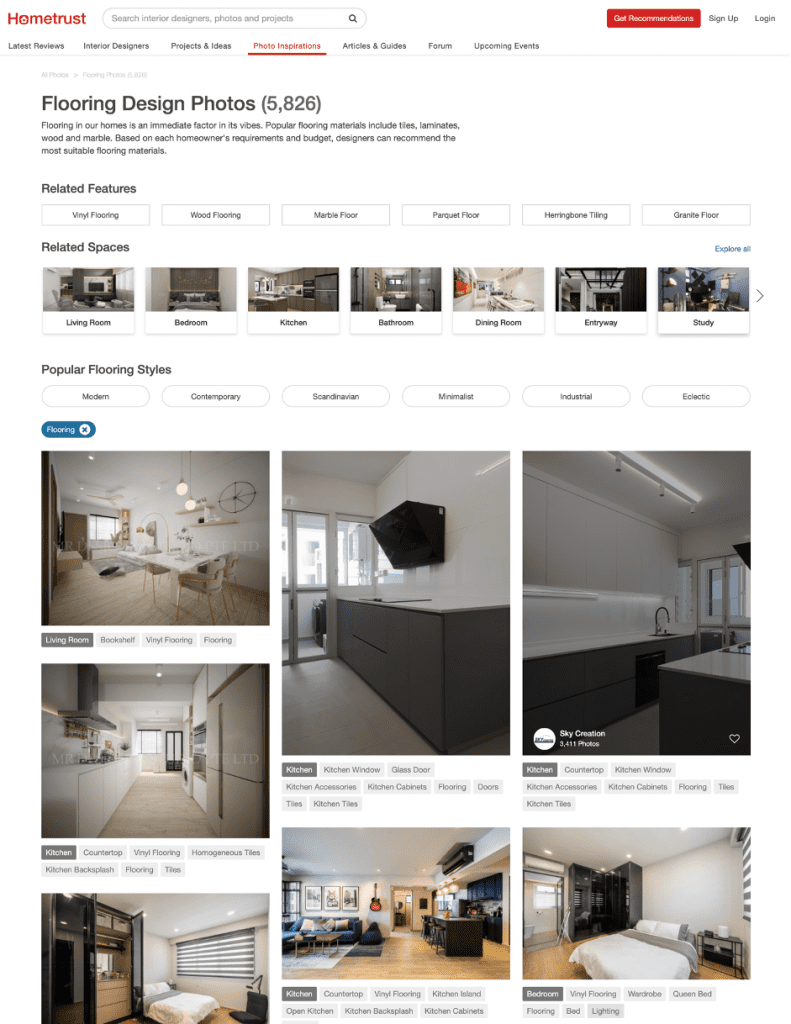 Beyond just choosing the type of flooring type that you love, you also want to make sure that your flooring can gel with the look of your interior design. It needs to be considered as a whole, not as separate elements of the home. That's why, at Hometrust, we recommend engaging a good interior designer who will help you to consider all aspects and piece them together in a coherent, stylish manner.