All You Need To Know About Concrete Floors, Walls & More
The industrial aesthetic isn't anything new – but while it's been around for a long time, it's still very much in trend.
We can definitely see the appeal; there's a certain beauty in the rawness of this unfinished look.
If you're a fan of the industrial look, one of the design elements that's heavily associated with this look is… concrete floors and walls!
In this article, we discuss the different types of concrete floors, walls, and furniture, and tell you what you need to know before committing to using concrete in your home.
Concrete Flooring
In essence, concrete flooring is made using a mixture of cement, water, and other coarse stones such as gravel or sand. When this mixture is fully dried, it becomes extremely durable – in fact, while concrete sets within one to two days, it takes up to a month to reach its full strength.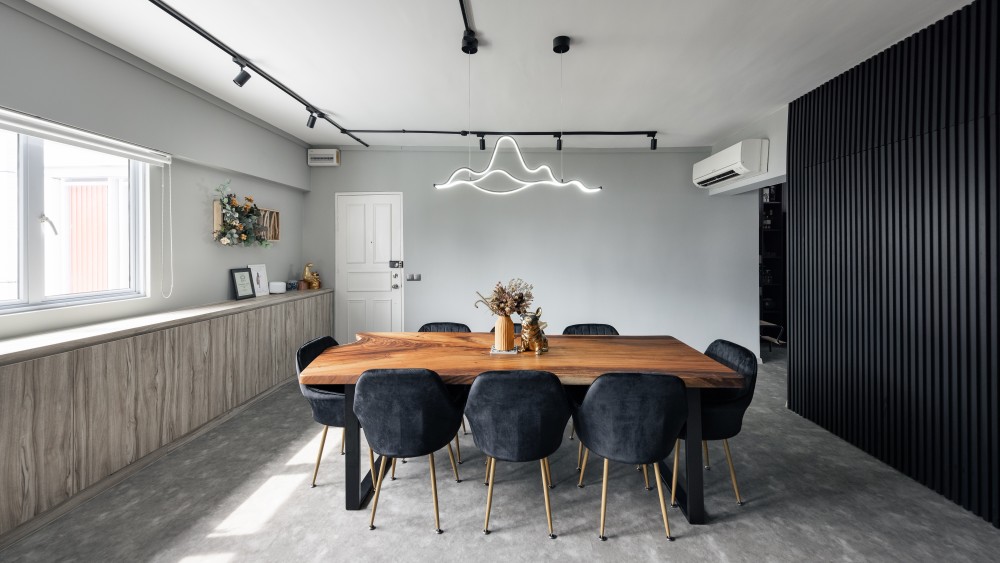 There are many different types of finishing for concrete floors, including screed, stamping, dying, embossing, staining and more. In Singapore, however, concrete floor finishes are pretty limited as HDB mandates the use of pre-packed screed (typically one part cement, and three or four parts sand).
If you're wondering what's the difference between concrete flooring and cement screed, it boils down to two factors:
How it's layered
The difference in composition
With regards to how it's layered, concrete flooring = concrete, while cement screed = concrete that's topped with a layer of varnish (aka the screed).
So when you say you want your living room floor to be made with cement screed – it isn't actually entirely screed, you're still getting concrete, and the only difference is that it's finished with screed. When the screed is applied on top of concrete flooring, it hardens into a shiny, smooth finish.
Now, moving on to the difference in composition, aka the amount of aggregates (materials such as clay, lime, and coarse stones) in the mix.
You'll find a lot more aggregates in concrete flooring as compared to cement screed, and the aggregates used in concrete flooring are also more coarse (the aggregates used in cement screed, on the other hand, are smoother).
This translates into concrete being more durable and stronger as compared to cement screed.
Cement Screed: The Different Types Of Screed
Now that you know the difference between concrete and cement screed, let's dive into the different types of cement screed.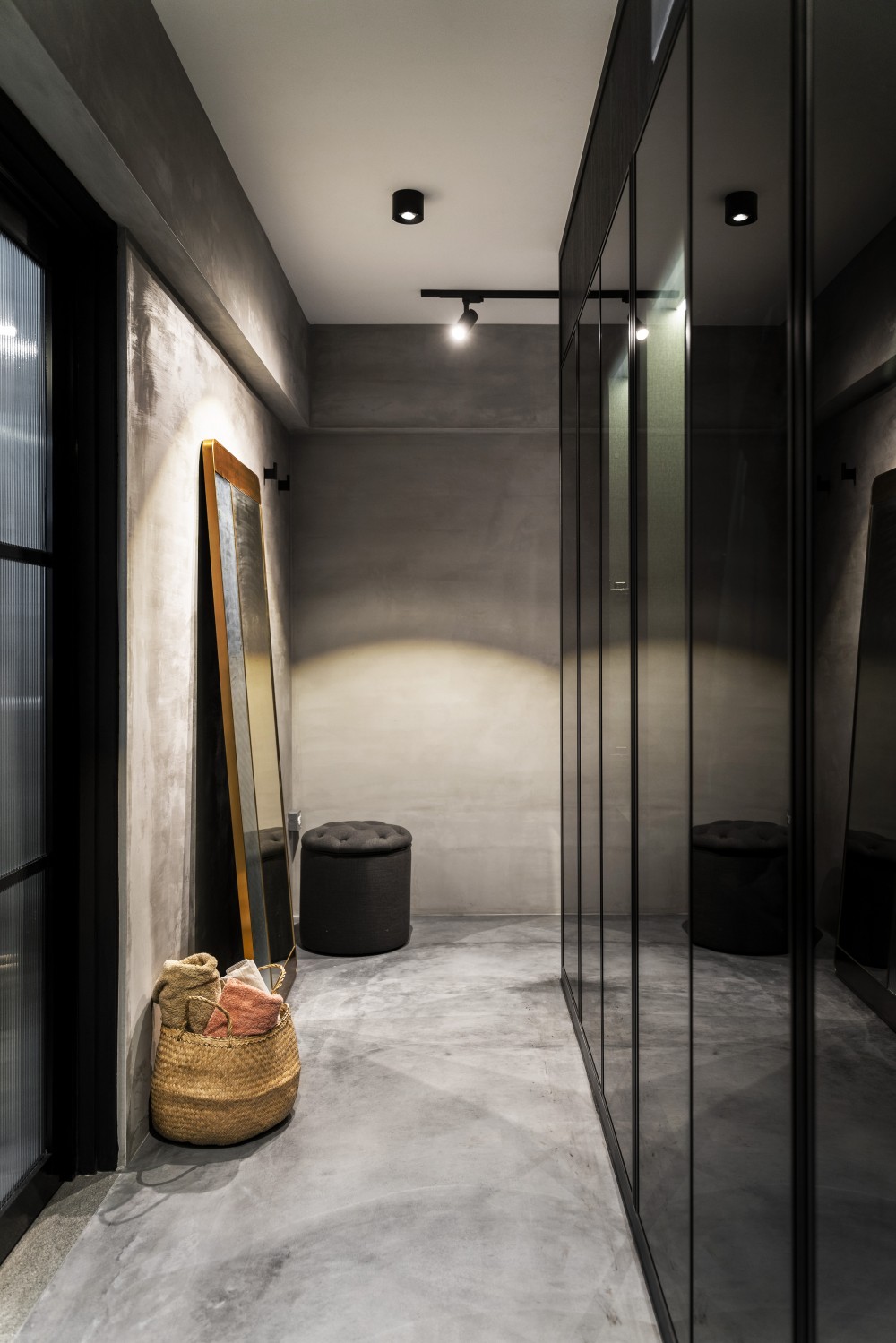 There are three main categories of cement screed: underfloor, bonded, unbonded, and floating.
Firstly, underfloor screed is a thin type of cement screed that's used to insulate heating pipes. This is the most common type of cement screed in Singapore.
Next, bonded screed is a type of screed that's bonded over a concrete floor using glue or other adhesives. In this application, the concrete floor needs to have a rough surface so that the adhesive agent has sufficient grip, and can be bonded properly.
Bonded screed is highly durable, and it's a great option for spaces with high foot traffic.
There's also unbonded screed, which is where you separate the floor screeds from the substrate layer using a PVC membrane, or other damp-proof membrane. This is typically used in humid or damp spaces.
‍Last but not least, there's floating screed – like unbonded screed, this type of cement screed is also created by separating floor screeds from the substrate level. However, floating screed is typically created as a covering on top of some sort of insulation material, such as acoustic insulation or thermal insulation.
How Is Cement Screed Installed?
The process of installing cement screed involves a few steps: firstly, your contractors will prepare and clean your floors, and mix the screed.
They'll then section off the floor using dividers – this is to ensure that they can cover each part of the floor with the same thickness of screed.
Next is application: the layer of screed is applied, and then levelled out. This is done as many times as is needed, until the entire floor is covered.
Next, you'll wait for the screed to cure and dry. All in all, it takes about 4 weeks for cement screed to completely dry.
On top of that, cement screed needs to be sealed. Cement is porous and it stains easily, which is why sealing is necessary if you're installing a cement screed floor.
Sealing vs Not Sealing Cement Screed Floors
When you seal your cement screed floors, this results in a slight sheen (a shiny finish) on the floor, which some homeowners might not like.
If you prefer your concrete floor rough and raw-looking, there technically is the option of not sealing your floor. However, this will result in a powdery texture that you'll need to get rid of by buffing down the surface of your floor and reapplying the cement.
Generally speaking, you'll need to repeat the process (buffing + reapplying the cement) 6-7 times in order to get rid of the powdery texture. What's tricky is that not all contractors will do this – this is a time-consuming and laborious process, and many contractors these days will not take up such jobs.
What Are The Advantages Of Cement Screed?
Now that you know what cement screed is and how it works, let's discuss some of the pros and cons of using cement screed.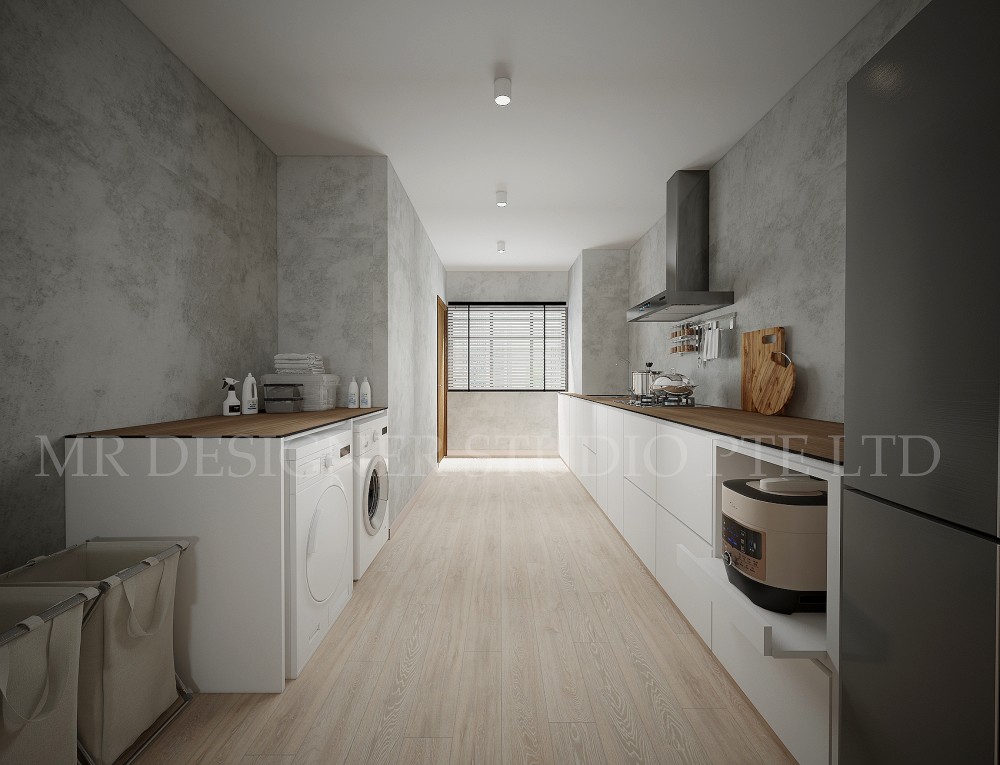 The main advantages of cement screed are that it is low-maintenance and easy to clean. In terms of maintenance, it's good practice to refinish your floors every 5 to 10 years, using a protective seal.
For cleaning, you can simply sweep or vacuum your floors to keep them debris-free. You can also mop your cement screed floors, and if you need to deep-clean for some reason, go ahead and scrub your floors with soapy water.
What Are The Disadvantages Of Cement Screed?
The disadvantages of cement screed are that it's prone to wear and tear, and that results may vary (ie: no two cement floors look the same).
Here's something most homeowners don't realise: when you see a beautifully uniform cement screed floor in a design magazine, chances are that the contractor has gone over the installation process a few times, in order to produce the best possible result.
In real life, it's common for cement screed floors to come with weird patches or uneven tones – this is caused by the cement reacting with different parts of the existing floor base.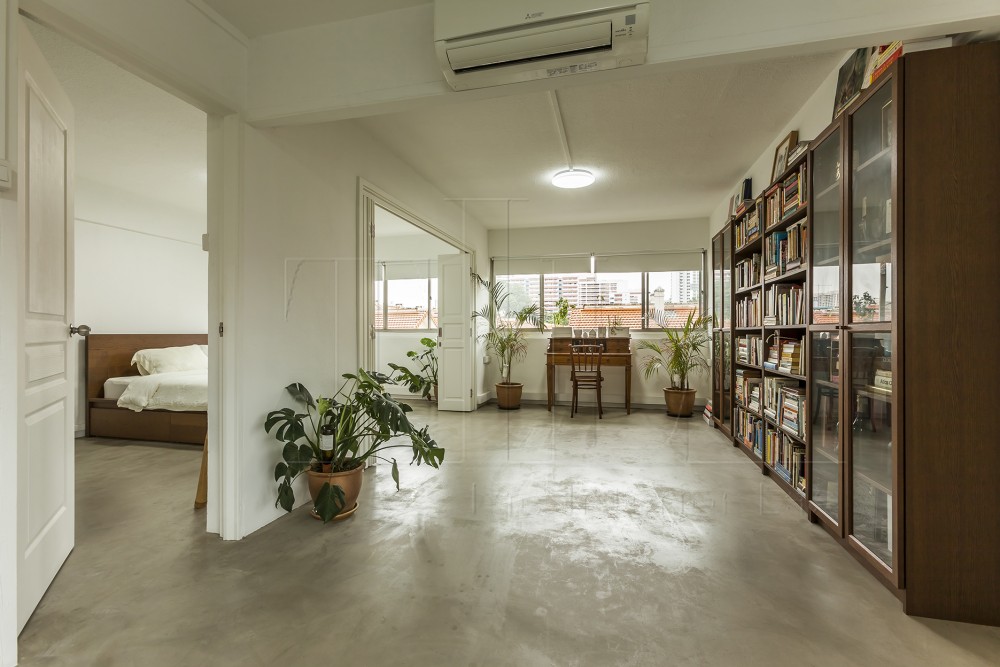 On top of that, also keep in mind that cement screed floors easily develop hairline cracks. This is because cement screed isn't a flexible material, and is prone to chipping or cracking.
Of course, the amount of wear and tear and hairline cracks varies from situation to situation. If the humidity is high in your home, or your neighbour has a prolonged period of intense renovation that's ongoing, this may cause your flooring to crack at a faster rate.
The same applies for your own usage – if you have kids that are constantly jumping up and down, or you shift heavy furniture around a lot to reconfigure your space, you can expect more chips and cracks as well.
Unfortunately, there's no way to repair hairline cracks or chips. The old adage 'prevention is better than cure' comes into play here – you can try to prevent hairline cracks by placing carpets or rugs over high-traffic areas to cushion the flooring, and this will hopefully slow down wear and tear.
Otherwise, try to reframe your point of view to accept minor flaws and imperfections. For instance, some owners are not too concerned about these cracks as they feel that it adds to the overall charm of the industrial aesthetic. If that's the case for you, then you won't have to fuss or vex over any chips or cracks that may occur!
Where Should You Avoid Using Cement Screed?
Are there any areas in which you should not use cement screed?
The answer is yes – cement screed is not a good option for wet zones such as bathroom floors.
Why is this the case? As mentioned earlier, concrete is porous, and even after you've applied a sealant, your cement screed floor might still absorb a bit of water. On top of that, cement screed floors are normally glossy and slightly slippery, which is not suitable for bathrooms.
If you absolutely need to use concrete screed in your bathroom, you'll need to take extra care to use sealers to prevent water penetration. In your daily usage, you'll also want to be careful and avoid knocks or scratches, so that you can preserve the sealant and ensure that your floors are as waterproof as possible.
For those who want to mimic the look of concrete screed without actually using concrete screed, there are other options as well. Ask your ID to recommend tiles and high-pressure laminates that resemble concrete screed finish.
Cement Screed Walls
Cement screed isn't just restricted to floors – it can be used on walls as well.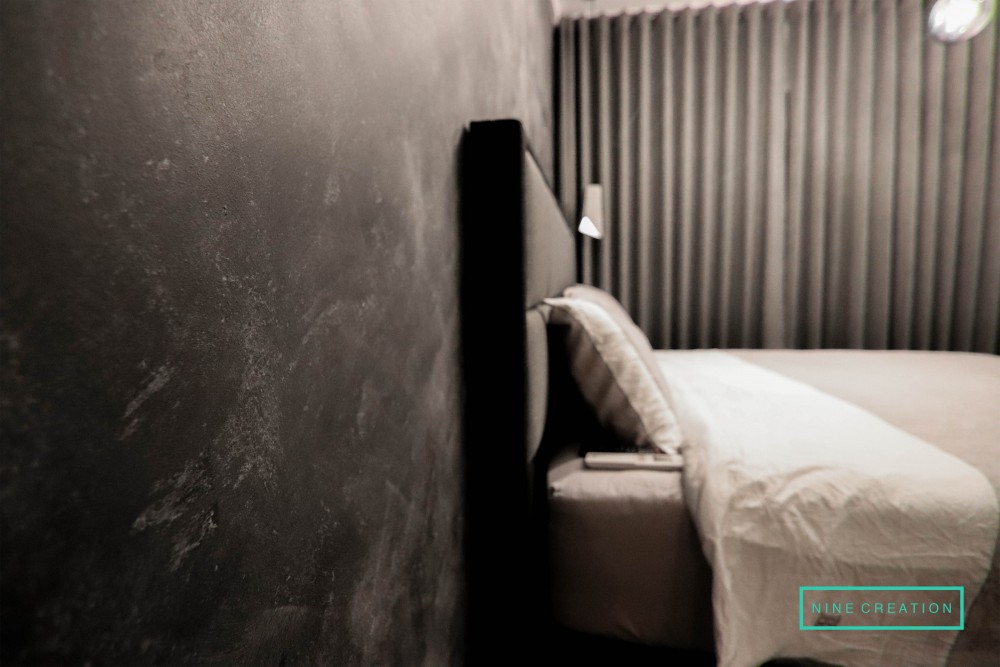 However, cement screed walls are generally less popular as compared to floors. The same disadvantages apply here – cement screed walls are not advisable for humid areas such as kitchens and bathrooms, and hairline cracks will be a common sight on cement screed walls.
If you're looking for an alternative, there are plenty of cement screed-look paints that you can use to achieve a similar effect. Another option is to use cement or concrete-lookalike tiles.
Concrete Furniture
Cement screed floors and walls aside, you can also introduce concrete/cement into your home by the way of concrete furniture.
With concrete furniture, the exact same caveats apply. Each piece of furniture produced will vary in tone and patina, so if you're buying a concrete bench, the one that you get won't look identical to the one that you see in the store.
Concrete furniture is also prone to uneven colouration and other aesthetic imperfections such as hairline cracks and exposed fibre.
This is due to the way concrete pieces are cast and produced – in any casting process, there will be spots left behind by air bubbles, and these spots will receive another layer of screed in order for the surface to be evened out. This causes uneven colouration, which is characteristic of all concrete furniture.
When buying concrete furniture, one factor to keep in mind is the weight. Most concrete furniture aren't made of solid concrete – manufacturers incorporate other materials into the piece so that the furniture isn't too heavy to lift and transport.
To give an example, a 160x100cm concrete table that's not cast solid might weigh up to 120kg. This isn't too heavy to use in a home, and won't cause your floors to break.
Like cement screed walls and floors, concrete furniture aren't fully waterproof even if they've been sealed. If you want to use your concrete furniture outdoors, ensure that there's adequate shelter (so they don't get rained on), and if there are any water spills, wipe them up immediately.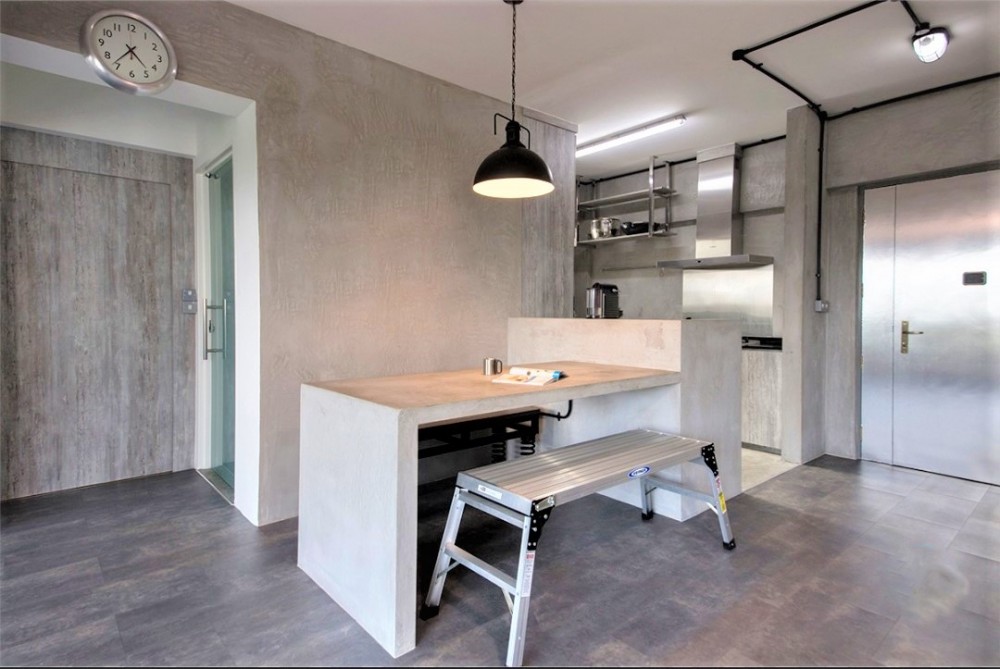 A Final Word About Using Cement Or Concrete At Home
To sum it up, cement screed or concrete is great for achieving that industrial look, but you'll need to be prepared to embrace all the flaws and imperfections that come with it.
Cement screed is never picture-perfect – if you can't live with that, then it might not be the best fit for you!
Luckily, there are plenty of other options (cement-look tiles, cement-look vinyl, and more) for homeowners who want to achieve the same visual effect without committing to using cement or concrete.
Do your due diligence and do some research about the various options… then decide which works best in your home!
Want to check out home renovation projects for more inspiration? Browse industrial home design ideas on Hometrust, or click the button below to get connected with expert designers.