How To Make A Small Kitchen Work For You: Best Tips & Tricks To Know
So you've got ambitious plans of whipping up delicious homemade meals in your kitchen, but your kitchen is tiny, and you're not sure how to make everything fit.
In this guide, we'll teach you how to design a small kitchen, and share several tips and tricks to help you make the most of your space. Read on to find out more!
How To Design A Small Kitchen
A well-designed kitchen should be ergonomic and allow traffic to flow easily. Proper planning and design makes a world of difference!
Decide what style of kitchen you want
First things first – decide what style of kitchen you want to create. Your options are:
Single wall kitchens
L-shaped kitchens
Galley kitchens
Firstly, single wall kitchens are what you'd go with if you're really short on space. With this type of kitchen, your appliances, storage and workspace will be aligned along a single wall.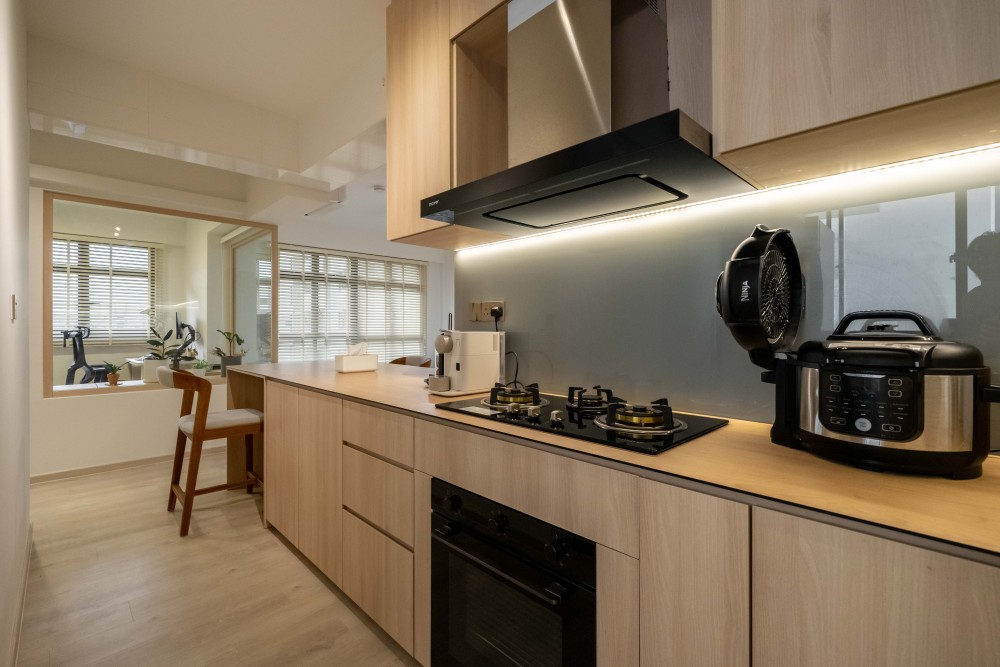 If you're staying in a studio apartment in a condominium, or a small 2-bedder unit, there's a high chance that it'll come with a single wall kitchen. Of course, you can always renovate to add more kitchen cabinets and transform the space into an L-shaped kitchen or galley kitchen, but the assumption is that because your apartment is that small, doing this wouldn't make much sense.
Next, L-shaped kitchens are where your appliances and cabinets are distributed across two joining walls. In this setup, the oven and hob are typically located on one side of the L, and the sink on the other side.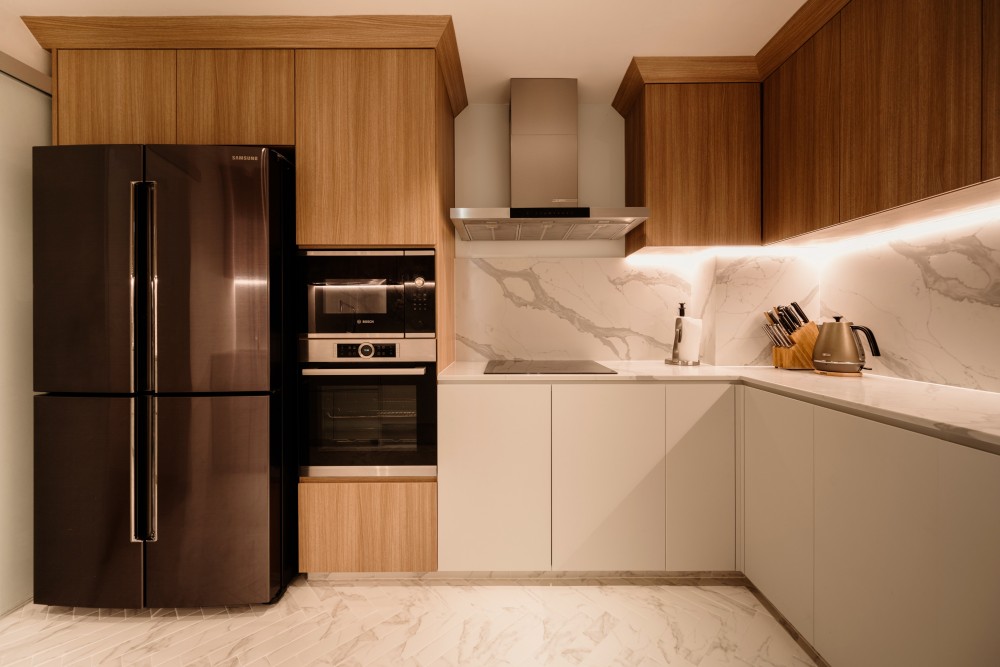 Note that if you're designing an L-shaped kitchen that's also an open-concept kitchen, this means that your back will be facing your family and friends while you're prepping in the kitchen. One way of getting around this is to add a kitchen island in the middle of your L-shaped configuration, so that you can interact with your guests while you prep.
Finally, galley kitchens are kitchens where counters and appliances are laid out on opposing walls. These are suited to long, narrow kitchens, and they allow you to work efficiently as you'll have everything you need within reach. Most galley kitchens do not have the space to accommodate a kitchen island.
Designing your kitchen work triangle
In a kitchen, most tasks are carried out at one of these three spots: the stove, the sink, and the refrigerator. These three spots (and the lines that connect them) come together to form your "work triangle".
A crucial aspect of ergonomic kitchen design is ensuring that your work triangle is well-balanced. For example, if your fridge and stove are located near each other, but your sink is far away and out of reach, this throws the triangle off-balance, and makes it hard for you to prep and cook.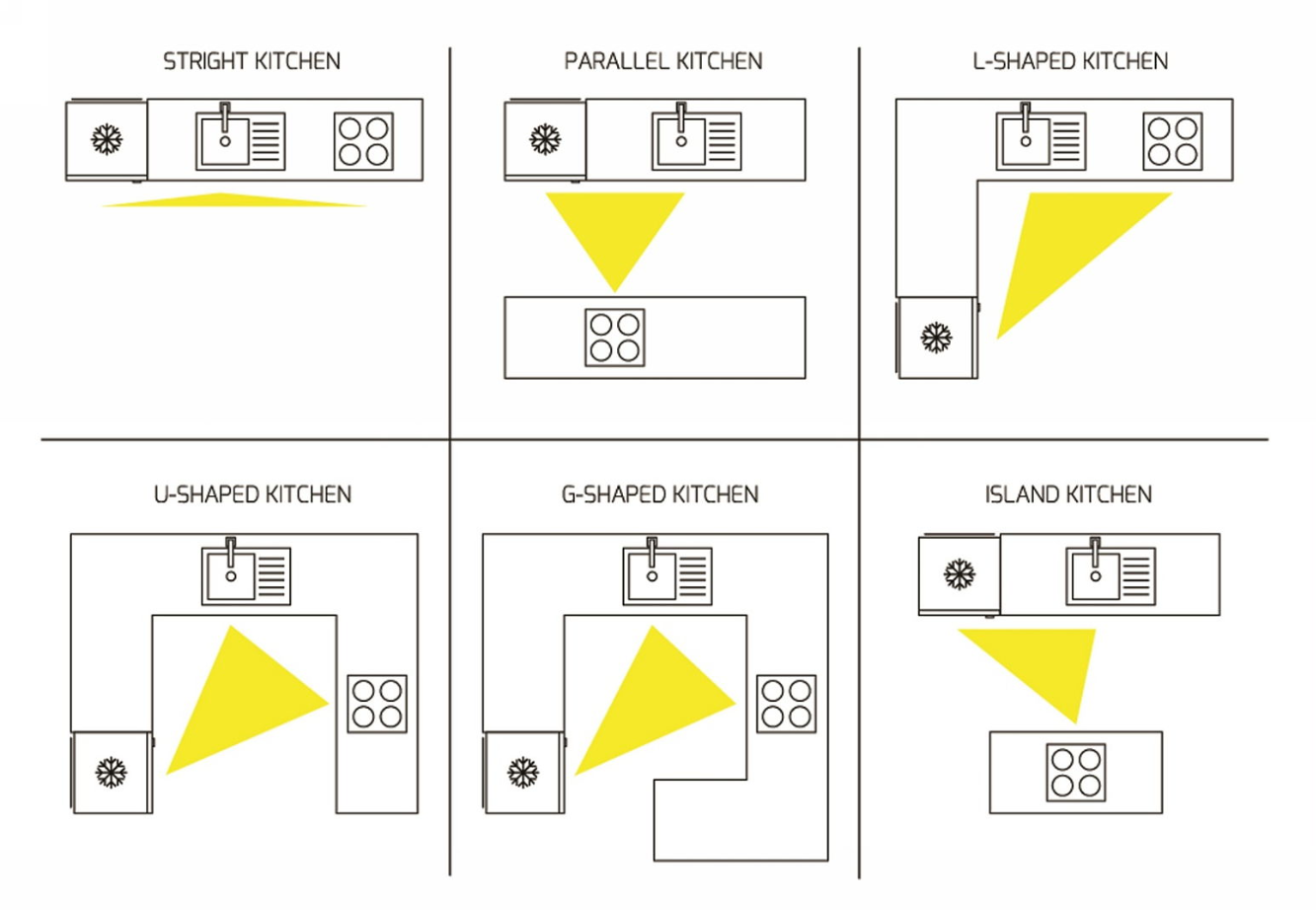 Make sure you keep this in mind, so that your kitchen is ergonomic and functional!
Renovating Tips For A Small Kitchen
Now that we've got kitchen design out of the way, here are some additional tips on how to renovate a small kitchen:
Opt for glass walls and doors
Opt for light colours, and fewer colours
Use drawers instead of cabinets
Use minimal hardware on cabinets and drawers
Glass walls: Firstly, an easy way to make a small space look larger is to replace solid walls with glass walls and doors.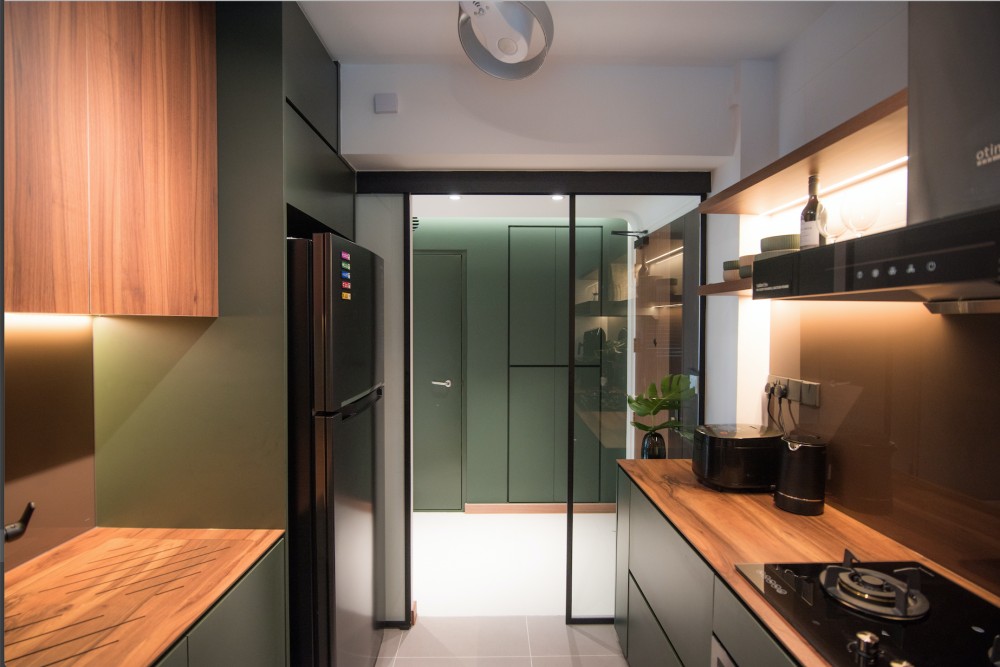 Of course, you can also remove your walls without replacing it (transforming your kitchen into an open-concept one). But if you're concerned with kitchen fumes reaching the rest of your home, glass walls give you the best of both worlds.
Light colours: This one is also fairly straightforward – using lighter colours (white, beige, cream) help to open up small spaces, and make them feel less claustrophobic. Running in the same vein, use just 2 or 3 colours at the most – using too many colours in a small space makes the space feel overwhelming.
Drawers instead of cabinets: Once you switch out your cabinets to drawers, you'll never go back. These make it so much easier to access your entire storage space, as you can simply pull the drawer out to reveal its full contents.
We'd always recommend drawers over cabinets, but this is especially crucial in small kitchens with limited storage space. If you already have cabinets built-in and you're not keen to replace everything, see if you can get your contractor to install pull-out mechanisms within your cabinet.
Floor to ceiling cabinets: Floor to ceiling cabinets come with a number of advantages: obviously, they give you more storage space; on top of that, they offer a sleek, seamless look and eliminate dead space (between your upper cabinets and ceilings) that collect dust. These will definitely cost more than regular cabinets, but they're a great way of carving out more space.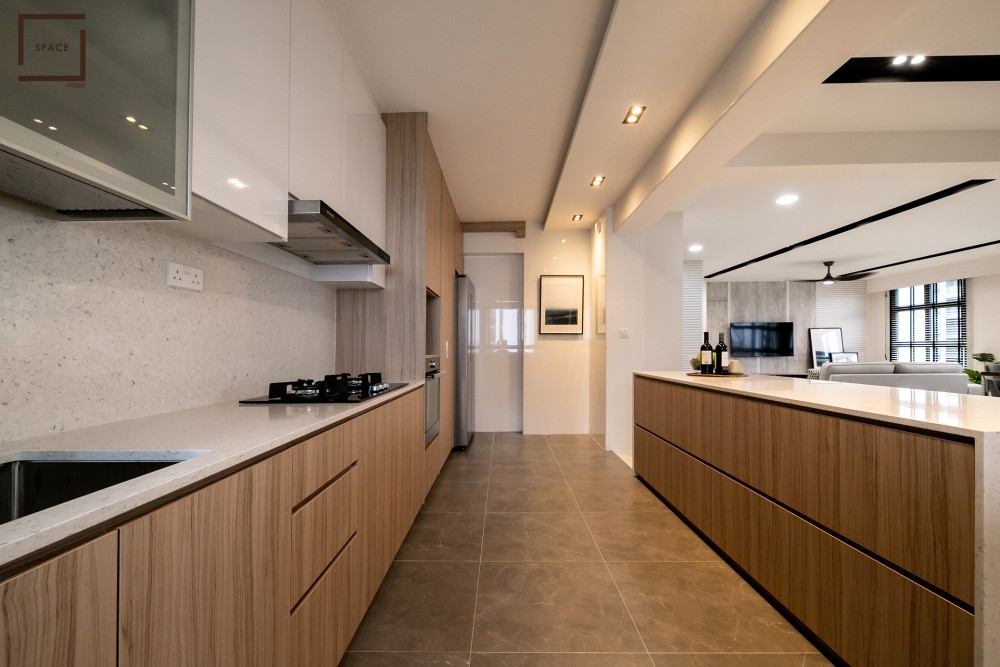 Minimal hardware: Again, small kitchens can easily look cluttered or crowded. One way of reducing the visual clutter is to go with minimal hardware on your drawers/cabinets, or no hardware at all. This makes your kitchen look sleek and elegant.
Furniture And Storage Tips For A Small Kitchen
Don't want to spend too much on renovating your small kitchen? You can also swap out your furniture, and/or organise cleverly to optimise a small space. Here are some tips:
Use a storage bench instead of a regular bench/dining chairs
Use your vertical space
Use a rolling kitchen island
Use trolleys for mise en place
Organise your cabinets
Find creative ways to decorate
Expand outside your kitchen
Use a storage bench: it's common for homeowners to mix seating units these days, such as using a mixture of dining chairs + benches. If you like the idea of using a bench, go for a storage bench instead of a regular bench – and voila! You get extra storage right under your seat.
Use your vertical space: You'd be surprised at how much floor space you can free up by making use of your vertical space. Some ideas: Mount your knives on your walls, use pegboards, install a hanging strip on the side of your fridge, hang a pot rack on your ceiling.
Use a rolling kitchen island: If you don't have space for a traditional kitchen island, you might still be able to use a rolling kitchen island. These are typically slimmer and smaller in size, and you can easily move them around. This way, you can use your island for prep before guests arrive, then move it out of the way and park it in a corner to free up space when you're entertaining.
Use trolleys: Running in the same vein, trolleys are great to have on hand in small kitchens. You can use these to hold your mise en place in the kitchen, or wheel them out to your dining area to hold extra ingredients (if you're having hotpot, for example). These can also double up as bar carts.
Organise your cabinets: With space at a premium, it's important to organise your drawers and cabinets, so that you get more mileage out of every square inch of space. Purchase shelf risers, lid and pan organisers, and other tools to help you get started.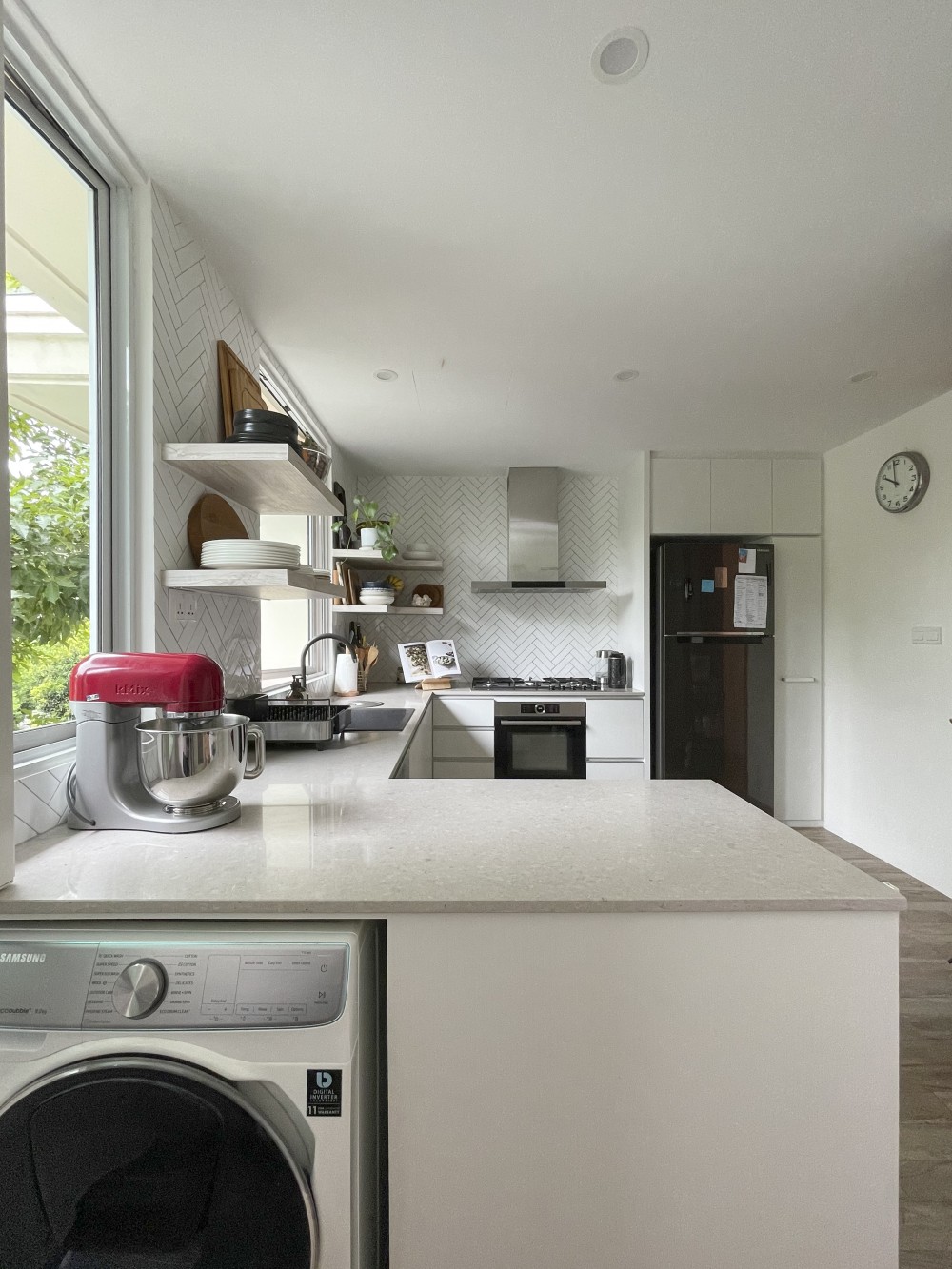 Find creative ways to decorate: You might assume that there's no space for decor in a small kitchen – but that's not the case. There are always creative ways to decorate, without taking up much space. For example, you can put plants on top of your fridge, alongside your KitchenAid Mixer (or other presentable appliances).
Expand outside: If you've tried every trick and the book and you still have insufficient storage in your kitchen, you can also expand outside! Put a storage unit in your living/dining area, and load it up. You can display your favourite coffee mugs, or take inspiration from those Pinterest kitchens and showcase your pantry staples (pasta, oats, beans, etc) in pretty glass containers.
Want to check out home renovation projects for more inspiration? Browse kitchen projects on Hometrust, or click the button below to get connected with expert designers.