6 Renovation Mistakes Homeowners Commonly Make That You Want To Avoid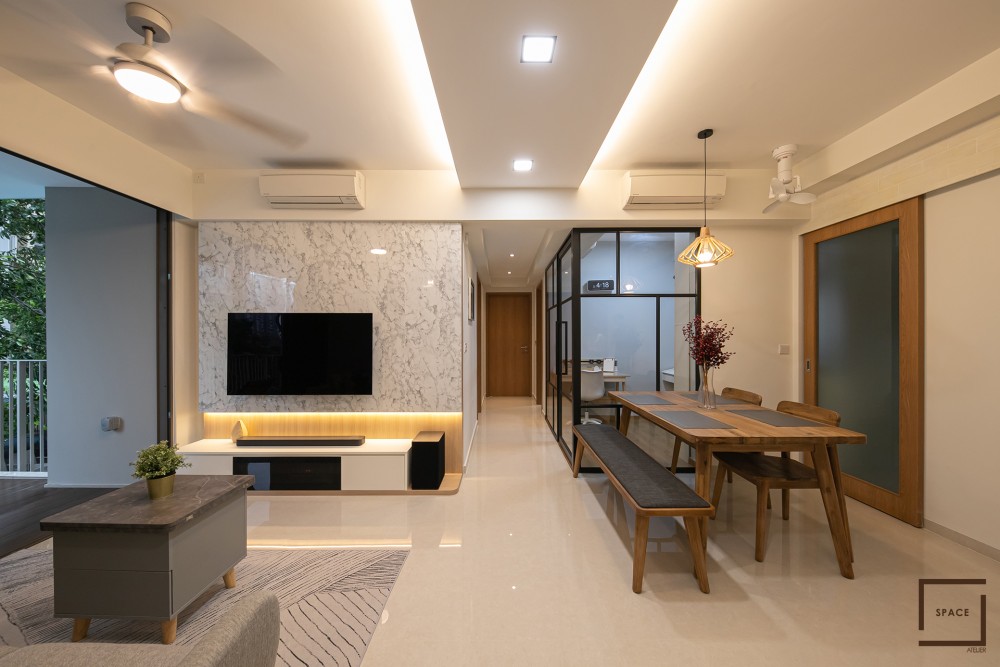 Home renovation is one of the most exciting phase for any first-time homeowner. But the renovation phase can also become one that is filled with missteps and regrets if you end up making avoidable renovation mistakes. For the first-time homeowners out there, here are some common renovation mistakes to take note of so as to avoid the missteps of past homeowners.
1. Not Planning For Enough Electrical Points
From TV to projector to laptop charger to smartphone charger, each electronic gadget needs an electrical point in order to be charged. Plus, nowadays every member of the household unit owns at least 1-2 electronic gadget. For some, they might own even more. This makes electrical points a key essential for a household in today's context. Thus, failing to plan for enough electrical points can end up spoiling your living experience.
Just imagine failing to plan for enough electrical points in the home and you end up having to stay in different corners of the home just to stay charged. Another scenario is that you end up having to buy multiple extension wires to bring the electrical points closer to where you want to rest and relax in the home. Not only does this spoil your home's look with multiple extensions running across the nice interior decoration that you paid so much for, it also creates a safety hazard, especially if you have kids.
2. Forgetting To Plan For A Shoe Cabinet
Shoe cabinet isn't exactly the most prominent when it comes to household furniture that homeowners plan for during renovation. Often times, shoe cabinet ends up being the afterthought when you are close to the completion of your home renovation. You suddenly realize that you have no space in the home for you to put your shoes when you come home.
You may end up making do without a shoe cabinet and just placing your shoes on the floor. However, this might turn your walkway into a huge shoe slump, especially when you have too many pairs of shoes. The other possibility is that you will buy a self-fix shoe rack. While a shoe rack makes it neater, it is hard to find a shoe rack that totally fits into your home décor.
3. Boxing Up Aircon Trunking, Aircon Unit
In a tropical climate like Singapore, aircon is a must in most homes. It is almost impossible not to have one. But in order to enjoy the cooling air that is generated by the aircon, you need to contend with 2 things: Aircon trunking and the fan coil unit (FCU).
For some homeowners, aircon trunking and FCUs are like sore thumbs sticking out from your interior design décor. As such, you may be tempted to hide them by boxing them up. The best advice that we can give you is this: Do not box them up.
Boxing the aircon trunking and FCU can create unwanted problems with condensation being one of them. Because of the tight space, it will lead to the proliferation of mould. Not just that, it can also make it problematic for the aircon maintenance person to service it and modify things if needed.
4. Over/Underestimating Size Of Furniture To Your Space
Shopping for furniture on Taobao seems to be all the rage in recent years. Some homeowners have even brought this Taobao culture to the extreme by buying every furniture piece from Taobao. But Taobao isn't the only place that you can buy your furniture online. With the growth of e-commerce, there are plenty of marketplaces for you to choose your furniture online.
But if you are planning to buy your furniture online, here's an advice to heed. Make sure to get the right dimensions for the furniture and plan the layout of your home properly. Be sure to discuss it with your interior designer before you make the purchase. The reality is that first-time homeowners have a tendency to under/overestimate the size of the furniture relative to the space that you have.
5. Too Many Colours For The Rooms
Every home needs a touch of colour. Colours have the effect of altering the mood of a person that stays in the home. It also has the effect of making your home look vibrant, cosy and comfortable. In short, choosing the right colours can make or break a space.
But here's the thing. While having colours in the room is important, be sure not to make the mistake of adding too much colours for your home. For colours, it is not "the more the merrier". Rather, it is about applying an optimal balance with the colours. Mixing too many colours across the home can create the wrong balance and make you feel suffocated while staying at home.
Your interior designer will have the right experience to help you make the right choices with colours for your room. Be sure to consult your interior designer so that he/she can help you ensure the colour consistency across the rooms and home.
6. Having Too Many Built-In Furniture
Built-in furniture are must-haves for every home. They not only bring streamlined design, add much-needed storage space but also create a coherent décor throughout the home. While built-in furniture are great additions to the home, they are not without its own constraints.
One of those constraints is that it is fixed and built-in. Because of this constraint, you cannot change the furniture as and when you like or need. For example, if you decide that you need a refresh of your home's décor for a change, the design needs to fit your built-in furniture, not the other way round. If you need any major lifestyle change (e.g. having a new baby in the home) and need to free up the space from the built-in furniture, the only way is to remove it completely.
Thus, with built-in furniture, keep it to just the necessities that you will need. It is also important to choose a timeless and classic design so that its design doesn't end up becoming a stumbling block for your next renovation. Consulting an experienced interior designer on where to place the built-in furniture will also help you get the optimal renovation setup for your built-in furniture without compromising on the constraints that come with it.
Engaging An ID Is The Best Way To Avoid Costly First-Time Homeowner Mistakes
For first-time homeowners, renovation mistakes are bound to happen. But don't despair. With an experienced interior designer that you can trust, he/she can help you avoid unwanted and costly first-time homeowner mistakes to make your home renovation journey smoother.
If you are searching for a trusted and experienced interior design firm to work with, Hometrust helps match the best interior design firm based on reviews from past homeowners.
Renovating soon? Let Hometrust recommend the best interior designers.
If you are reading this, you are probably wondering how you can create your dream home.
Here's the thing, everyone's needs and requirements for their home renovation is different. A designer that may work for someone else, may not quite work for you.
At Hometrust, we're here to help match top rated designers, recommended by past homeowners to you through our data-driven and matching algorithm.
Whether you are looking for partial renovation or a full fledge overhaul, we'll be able to recommend you top designers to match your renovation requirements and lifestyle.
Recommendations and free and you can simply start by helping us understand your needs below!
Get Recommendations
Renovate safe!
The Hometrust Team