Renovation Permits: What You Need A Permit For And How It Works
You buy an HDB flat, renovate it so that it looks like the home of your dreams, and live happily ever after. Sounds amazing, right?
Here's what many first-time homeowners don't realize: you can't just renovate your home and build willy-nilly.
Assuming that you own an HDB flat (and not private property), there are several guidelines to keep in mind, plus certain works that require you to apply for a permit.
Read on to find out more!
What Does HDB Not Allow?
First things first – let's talk about the works that HDB disallows.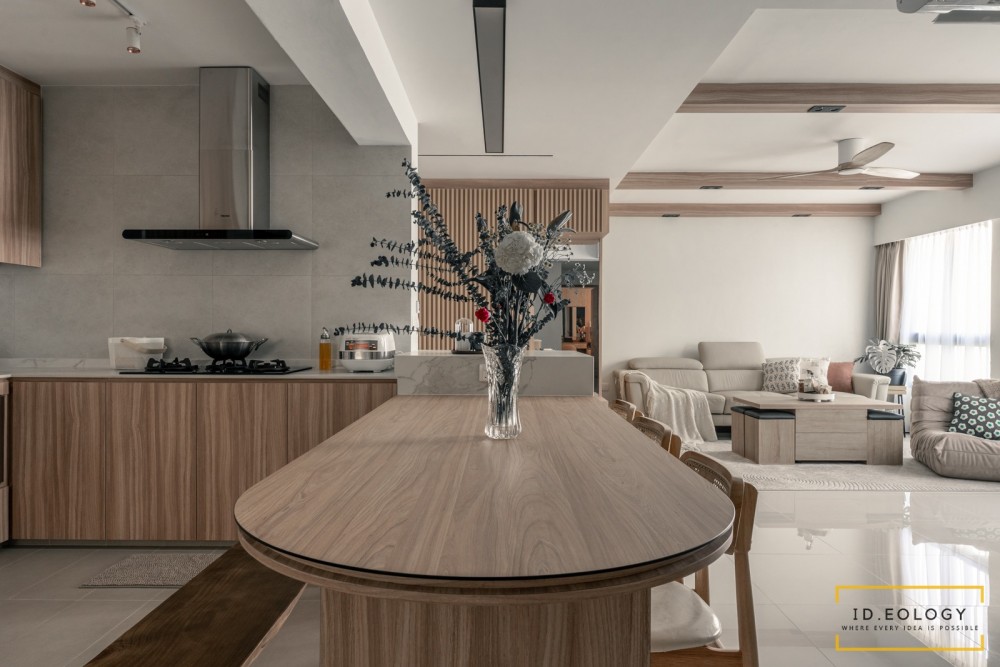 To be clear, you don't need to apply for a permit for these – because these are clear-cut cases that are completely not allowed.
The rationale as to why they're not allowed is because they:
Overload the structure which may affect the building's integrity and safety
Affect the external facade/ form of the building or public safety
Create public nuisance, pose a fire hazard, or intrude into public space
Infringe lease agreement and other statutory regulations or requirements
Here are the works that are not allowed:
Hacking and removal of structural members such as reinforced concrete wall, columns, beams, slabs, and staircases within executive maisonettes, etc.
Excessive overloading of the floor slab with more than 150kg for every metre square of floor area
Plastering of ceilings
Partitioning with combustible or toxic emission materials (e.g. plywood, plastics, asbestos)
Raising of floor level exceeding the allowed thickness of 50mm (inclusive of floor finishes) using concrete
Extending floor area by covering over void areas (e.g. covering over void areas within maisonette flats or loft units)
Repositioning or enlarging chute opening
Painting external part of the building (e.g. common corridor walls and ceilings)
Installing awning or other fixtures outside flat
Laying floor finishes outside entrance door without having recess area or step
Removal of pitched roof ceiling (be it partial or complete) at topmost floor unit as it is part of the building's roof system
Change of use of planter box
Constructing water tank in the bathroom other than using ready-made (e.g. fibreglass) long baths
Installing casement windows where the flat's facade is facing the common corridor
Replacement of full height windows or 3/4 height windows or bay windows
Removal or tampering of safety railings/ grilles (internal and external) originally provided by HDB/ developers installed in the flat and/ or at the sold recess area
Removal or tampering of safety railings/ grilles (internal and external) installed in the flat and/ or at full height windows (including 3/4 height and bay windows located at utility room, space adding item) during the Main Upgrading Programme (MUP)
Partial or total enclosure including installation of solid metal external grilles at planter box. No permanent sealing of planter box
Installation of overhead grilles (i.e. caging up) at interaction balcony
Relocation of sliding door at the balcony where window installation is not allowed
Removal or replacement of sliding door different from the one originally provided at the balcony, where window installation is not allowed
Placement of reflective film over existing window glass panels resulting in daylight reflectance exceeding 20%
Partial or total enclosure including installation of external grilles on air-conditioner ledge
Change of use of air-conditioner ledge
The one rule that's most relevant to homeowners? You can't hack or remove structural walls.
If you look at your floorplan, it'll clearly denote what is a structural wall vs non- structural wall. Make sure you keep this rule in mind as you plan your renovations!
How Does The HDB Renovation Permit Work?
As stated earlier, you're required to apply for a renovation permit for certain works, including:
Replacing your floors
Hacking your walls
Changing your staircase (for maisonettes)
Replacing your windows
Bathroom works
If you neglect to do this, HDB will treat your renovation works as unauthorised works, and they'll ask you to reinstate your flat to its original condition.
HDB Renovation Permit: Replacing Floors
Don't like your floors, and want to switch it up?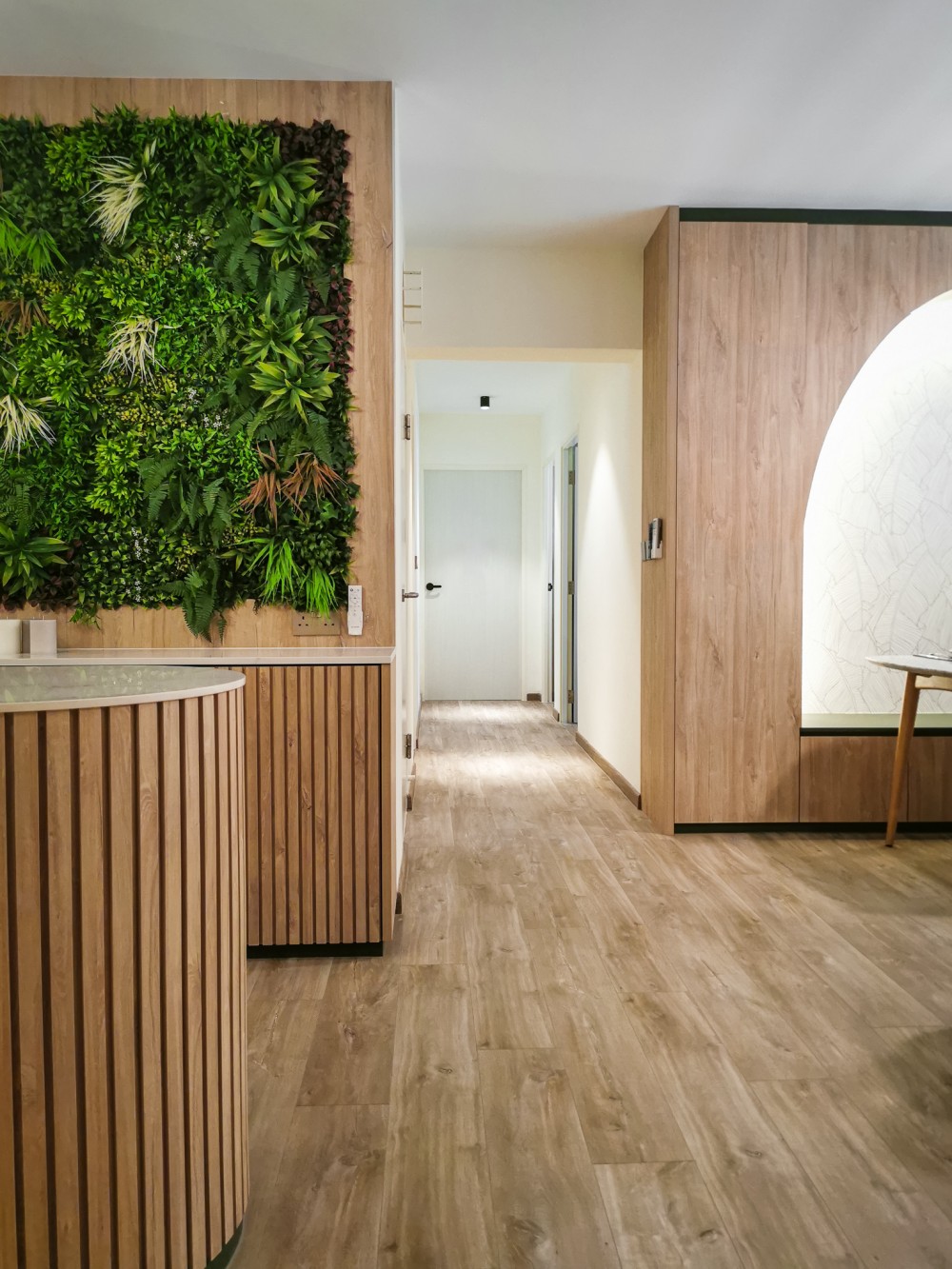 The easiest way to do this is to overlay the existing floor with vinyl flooring. If you take this route, you won't need to get a permit.
If you're not a fan of vinyl flooring and you prefer other options, though, you'll need to hack your floors to remove the existing flooring. This requires a HDB renovation permit.
HDB Renovation Permit: Hacking Walls
Hacking walls is also counted as a significant renovation, and you'll need to secure a HDB hacking permit before you can do this.
HDB Renovation Permit: Changing Staircases
If you're staying in a maisonette and you'd like to update the staircase to make it more modern, note that this is subject to approvals.
More specifically, you'll need an HDB permit, and written permission from the Building and Construction Authority (BCA).
First, get a professional engineer to design your new staircase. Once that's done, you can submit the design to BCA and HDB.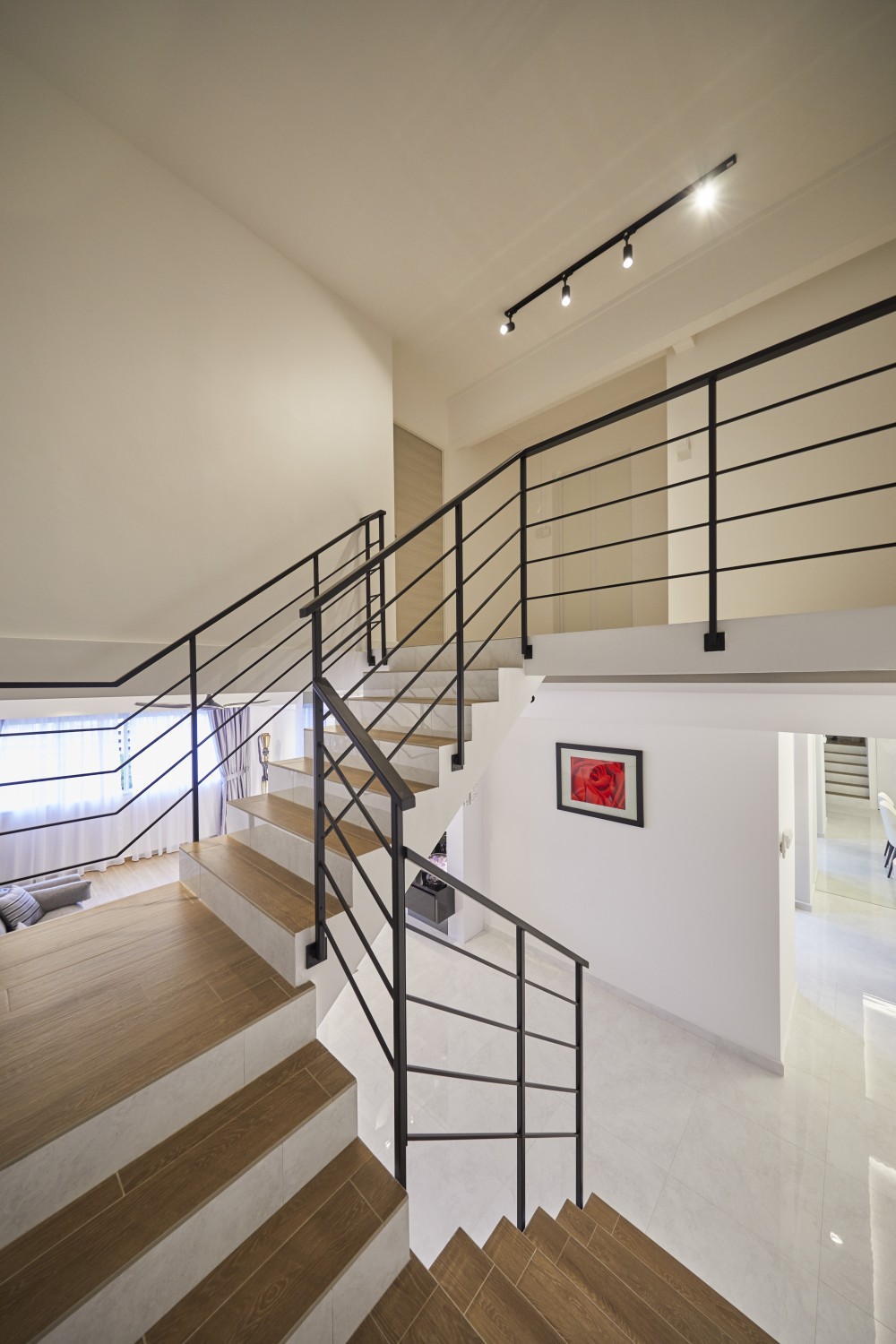 HDB Renovation Permit: Replacing Your Windows
HDB is pretty strict when it comes to windows.
You'll need to get a permit if you want to change your windows, and on top of that, your windows can't deviate too much from the standard design that the rest of your housing estate uses.
There are also specific measurements to adhere to:
Casement windows should be 50cm – 70cm wide
Sliding windows should be 50cm – 120cm wide
HDB Renovation Permit: Bathroom Works
Assuming you have a new BTO flat, you won't be able to replace the floors or walls in your bathrooms within the first three years. This is because there's a waterproofing membrane in all HDB bathrooms that needs time to stabilise, before it is replaced.
Again, to get around this, you can overlay vinyl tiles in your bathroom without ripping out your existing tiles.
Alternatively, you can wait for the three years to pass, then get a renovation permit to change your tiling.
Want to check out home renovation projects for more inspiration? Browse bathroom ideas on Hometrust, or click the button below to get connected with expert designers.