How One Couple Turned Their 1-Bedroom Condo in Central Singapore into a Spacious Loft – All By Themselves!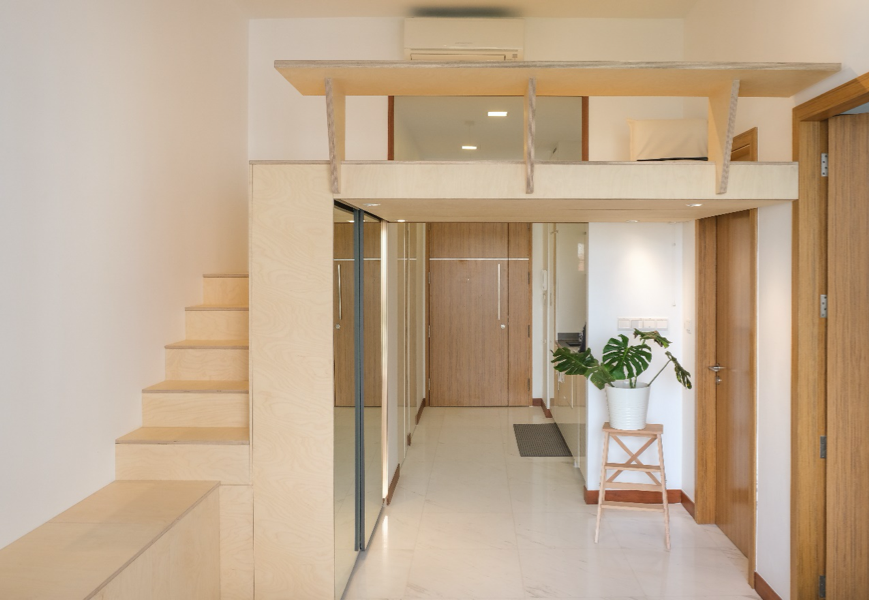 When life gives you a small space, you create more. With a splash of talent and a whole lot of ingenuity, that's what one couple did to their 495 square feet 1-bedroom condo in Central Singapore! They did this by smartly leveraging the high ceilings of their home to create a separate floor, essentially turning their home into a loft — creating more room and space for bigger living and breathing.
Bringing the added illusion of space
As we all know, space can be quite the luxury in Singapore — in order not to sacrifice style or comfort, this couple decided to work around it by going higher. Taking advantage of the high ceilings usually present in most Singaporean condominiums, building an additional loft felt almost like a natural next step. For them, the spacial limitations helped them work around the space constraints of their home, and it all paid off wonderfully.
Doing it all by themselves
While coming up with the idea of the loft-style apartment is more than impressive, what takes the cake is that the couple designed it all by themselves.  They had a very clear design in mind — something simple yet aesthetic, the sweet spot where style met function.
Citing budgetary reasons as to why they did not hire an interior designer, they decided to adopt a do-it-yourself attitude instead and design it themselves instead! Both of them hold jobs in the engineering industry, and that is definitely reflected in the intricately designed space — their home holds both function and form, and there's nothing better than building up your home from scratch, knowing that the place you live in is quite irrefutably yours.
The couple was all hands on deck for this massive project at once — from the beginning when they were carefully selecting the materials, to the actual engineering design where they virtually built a precise model of the eventual loft they wanted to have. They then worked together with a carpenter to build each component of the design, and installed it quickly!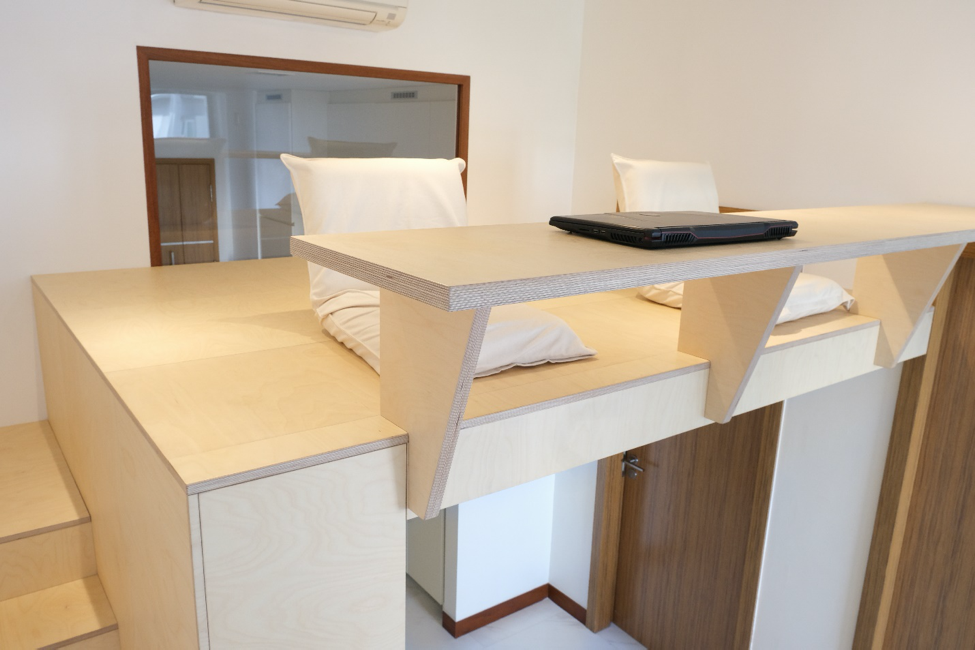 Creating a space for better sleep and storage
The couple's main motivation for building a loft was very simple: they wanted an extra sleeping space, and not resort to settling for a sofa bed. The open space can easily fit a queen-sized mattress or a simple futon, making it easy for them to host their guests. When done, it can easily be folded and kept away, thus transforming it to a hangout or storage corner!
As a result, apart from the extra loft, the build has also created an additional storage solution, giving the couple plenty of space to place their knick-knacks and items, with everything in its rightful place.
At this height, a barrier was definitely needed to prevent any accidents — so as a precaution, a safety barrier was installed — but that's not all, because that also doubled up as a work table for the couple as well. Super smart!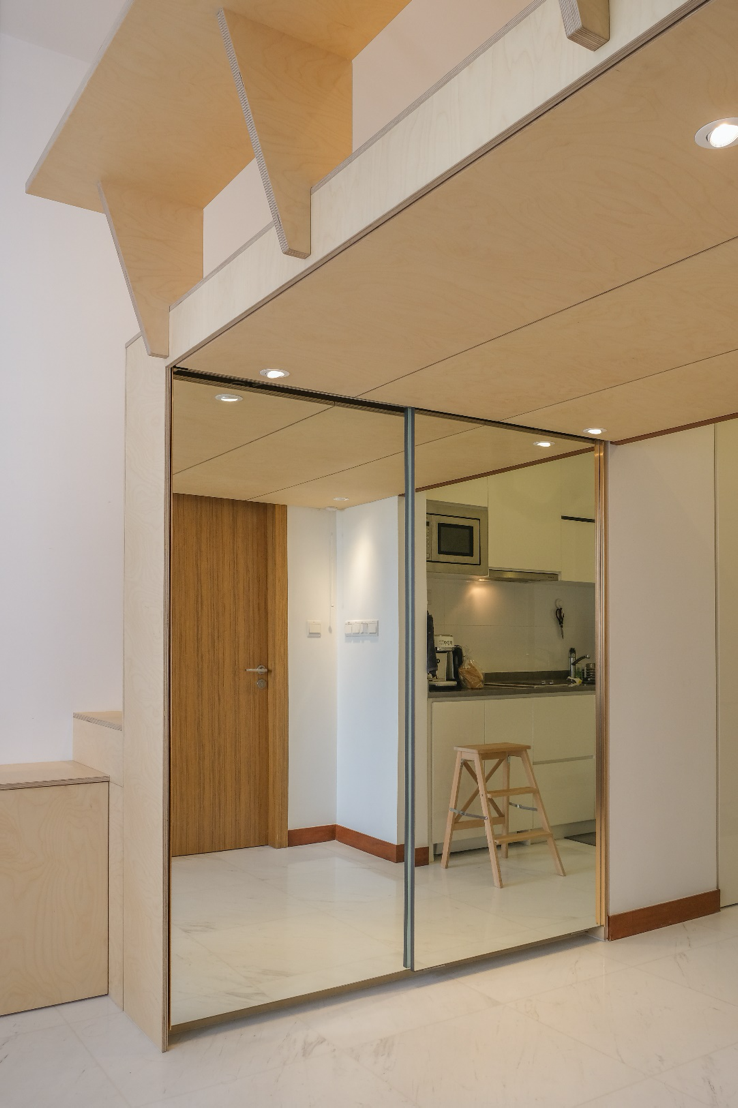 Repurposing the loft staircase as storage
One downside that the couple acknowledged with building an additional storey in their home would definitely take up some space from the ground floor. Again, they managed to work around it by converting the space that would otherwise be wasted into yet another clever storage solution. This design makes use of the space under the stairs, transforming it into a wardrobe of sorts with the addition of a mirrored sliding door.
The full length mirrors also have the great duality of enlarging the living space visually, giving the illusion of a larger space. It also serves as the couple's dressing and fitting room — all encapsulated in one space.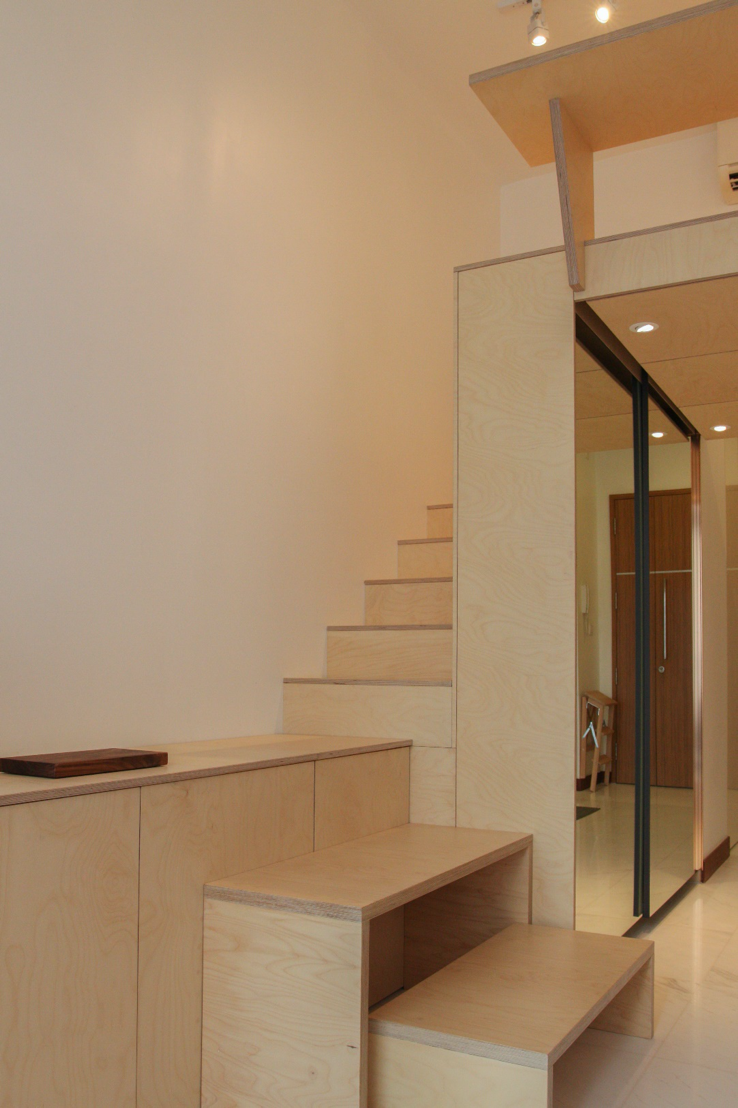 However, there is one minor downside of this otherwise clever concept of utilising stairs as storage — the lack of volume by the lower steps means that there is less room for storage. In this case, the lower steps here are designed to be modular — they are constructed to be benches of different heights, which can alternatively function as a separate coffee table or as extra seating for guests. When it is unused, it can be stored away to give extra floor space in the living room.  We love double duty furniture, and we're in love with this idea!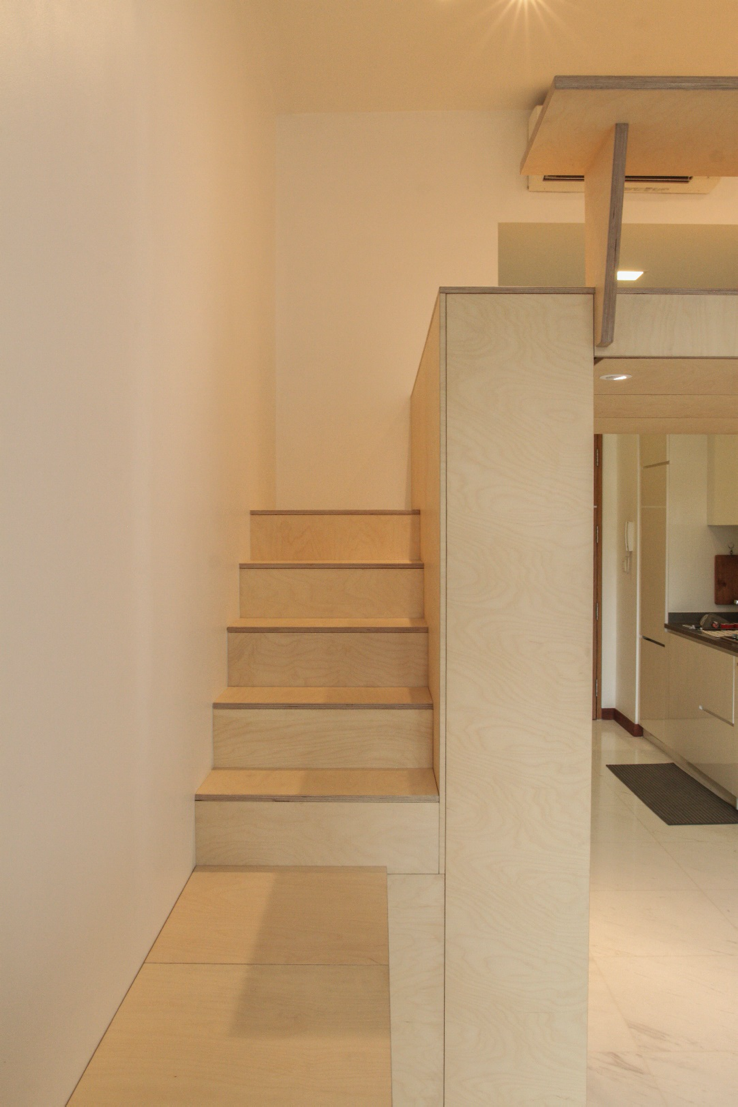 Adapting space for ideal loft living
When you head up the stairs, you'll notice the clean, seamless design of the steps leading up to the loft. We personally love how this continuity and flow makes the space appear larger than it actually is — plus, if you're observant enough, you'll notice that the stairs connecting the upper loft also smoothly transitions into the storage cabinetry. These steps are also rather ergonomic — they are comfortable to climb and designed for the user to stand up fully, no bending required!
Adding the final touches for a warm, balanced home
For decorative touches, the couple opted for a warmer contrast windowsill, which beautifully frames the window to allow for natural sunlight to stream in throughout the entire apartment. This also allows a sense of spacious harmony in the apartment, where the colours and textures are wonderful complements visually.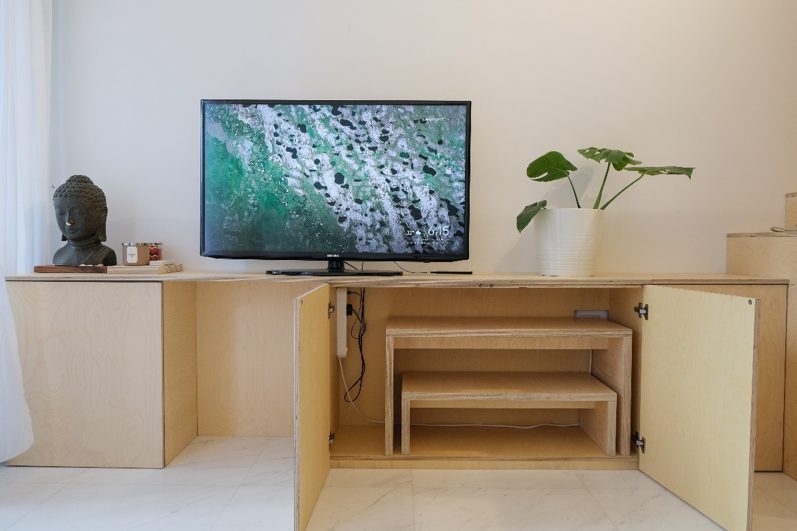 For other storage solutions, the cabinetry is also extended from the stairs, and covers the full length of the apartment. The carefully designed compartments are of different sizes, and gives the couple a lot of flexibility in terms of storage their items and knick knacks! For example, this middle compartment was enlarged so the wooden benches from the stairs can easily fit into it.
One aim the couple had while designing their space was to minimize disruption as far as possible. They wanted to maintain as much of the original apartment as possible, and hence electrical wiring and other technicalities were left untouched.  Instead, bespoke cut-outs were done on the cabinetry to allow continuous access.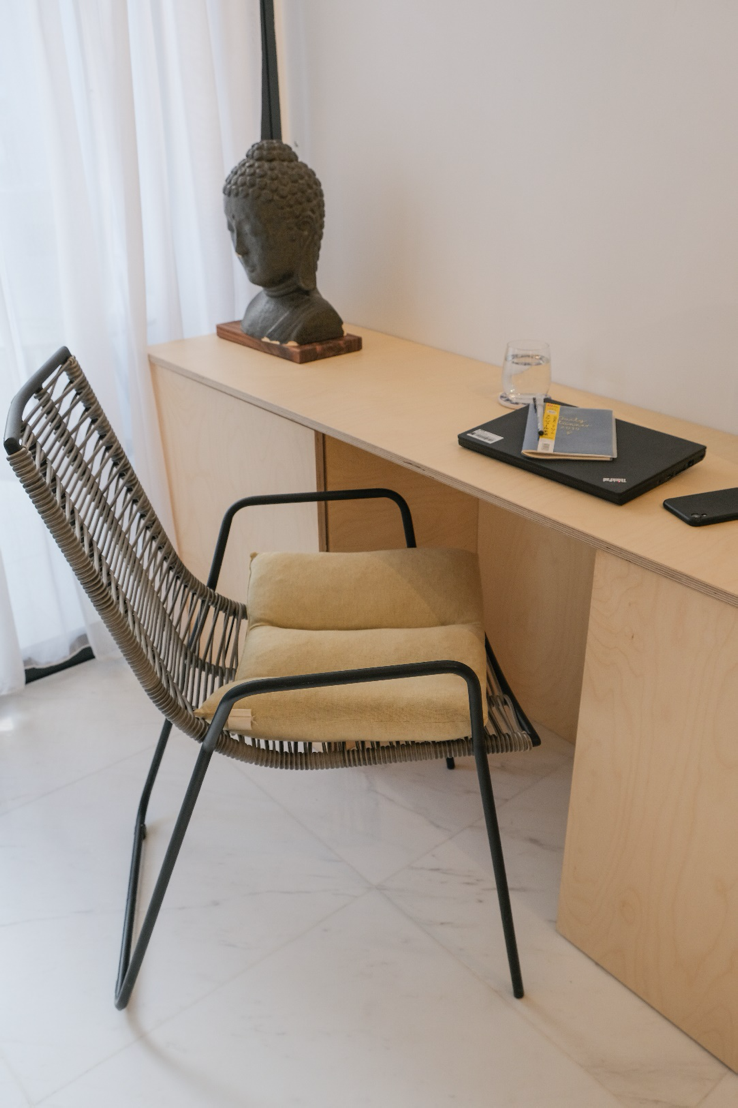 All in all, the intricately designed spacious loft has more than your usual dose of a human touch — especially since it was personally designed and crafted by the couple, who was completely engaged throughout the entire process. The design of this apartment has certainly instigated creative ways of utilising a given space — where you can yield more and make every space work harder for you.
We particularly enjoy the notion of identifying the untapped opportunity of the high-ceilinged space, capitalising on that, and transforming what would otherwise be a limitation into a beautiful home!
Renovating soon? Let Hometrust recommend the best interior designers.
If you are reading this, you are probably wondering how you can create your dream home.
Here's the thing, everyone's needs and requirements for their home renovation is different. A designer that may work for someone else, may not quite work for you.
At Hometrust, we're here to help match top rated designers, recommended by past homeowners to you through our data-driven and matching algorithm.
Whether you are looking for partial renovation or a full fledge overhaul, we'll be able to recommend you top designers to match your renovation requirements and lifestyle.
Recommendations and free and you can simply start by helping us understand your needs below!
Get Recommendations
Renovate safe!
The Hometrust Team