Common Kitchen Design Problems (& How To Fix Them)
You know how they say the kitchen is the heart of the home?
A kitchen is rarely just used for cooking, and cooking alone.
People typically gravitate towards a kitchen – you might have a quick snack there, pull out your laptop and sit at your counter to get some work done, or use the space to host your friends for drinks.
Bearing this in mind, your kitchen needs to be well-designed, and functional.
In this article, we'll walk you through some of the common kitchen design problems, and discuss how to fix them.
Ready? Let's jump right in!
1. There's Not Enough Storage
The number one thing that's a challenge in kitchens? Storage space.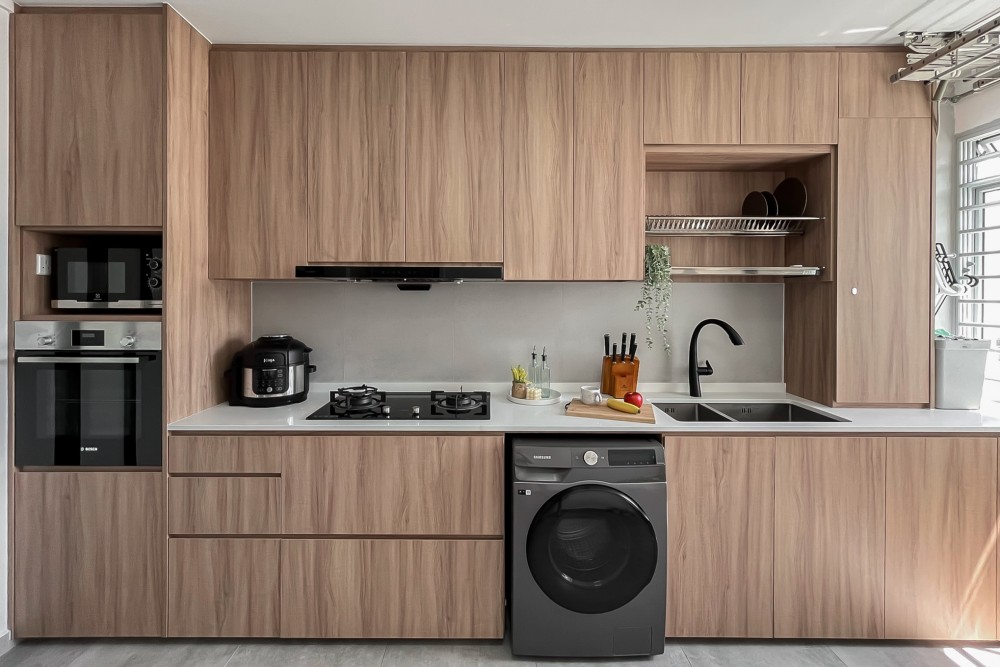 If you're a first-time homeowner, you might find yourself underestimating the amount of storage space you need (this is especially the case if you don't have a storeroom, or a bomb shelter that can double up as a storeroom).
You'll need space for your pots and pans, your pantry essentials, and miscellaneous items such as toilet paper, kitchen towels, cleaning supplies, etc.
With this in mind, you'll want to make sure that you have enough storage so that you can keep everything well organized.
To make the most out of a small space, use built-ins. Place your most accessed items in your lower cabinets, and reserve the higher cabinets for items that you don't use frequently.
If your budget allows for it, we also recommend utilizing drawers instead of cabinets in your kitchen. Drawers are easy to pull out, and allow you to easily reach the items all the way at the back.
If you want to stick to traditional cabinets for some reason, purchase kitchen cabinet organizers from Shopee or Lazada so that you can organize your items and maximize your space.
You can also add a standalone kitchen trolley in your kitchen, or take advantage of your vertical space to increase the amount of storage that you have.
2. There Isn't Enough Counter Space
Not having enough counter space is also a huge gripe for homeowners.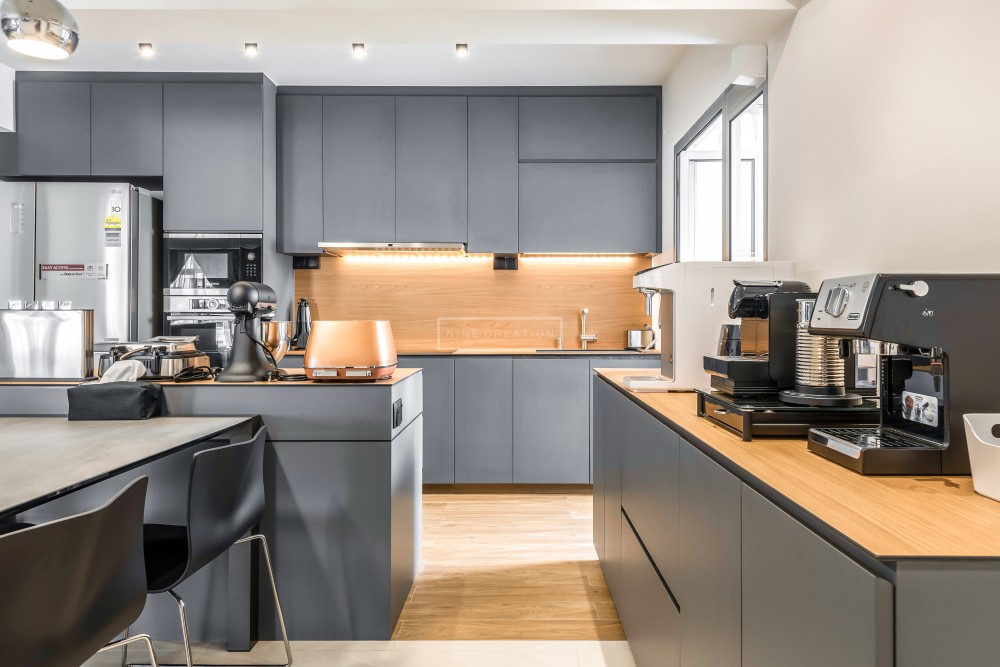 Here's the thing – most folks typically have 3-5 appliances that they keep on their kitchen counters at all times. This could be your toaster, kettle, water dispenser, rice cooker, pressure cooker, air fryer, microwave oven, or stand mixer.
Obviously, these appliances take up valuable real estate, and reduce the amount of counter space that you have to work with. This makes it difficult for you to prep and cook a meal.
To fix this, be more mindful about where you place your appliances, and commit to only leaving out the appliances which you use on a regular basis. All other appliances can go into your cabinets or storeroom.
If you would like to incorporate your appliances into your kitchen without having them take up counter space, another thing you can do is to build a "tall boy" storage unit – this is essentially a tall ceiling-to-floor storage unit that houses your choice of appliances (for example: oven and microwave oven) plus additional cabinets.
3. There's Not Enough Task Lighting
There are four different categories of lighting: Ambient lighting, task lighting, accent lighting, and decorative lighting.
In our experience, homeowners tend to focus on the other three categories, while neglecting task lighting. (This is basically direct lighting used specifically for certain tasks, such as cooking, writing, or sewing).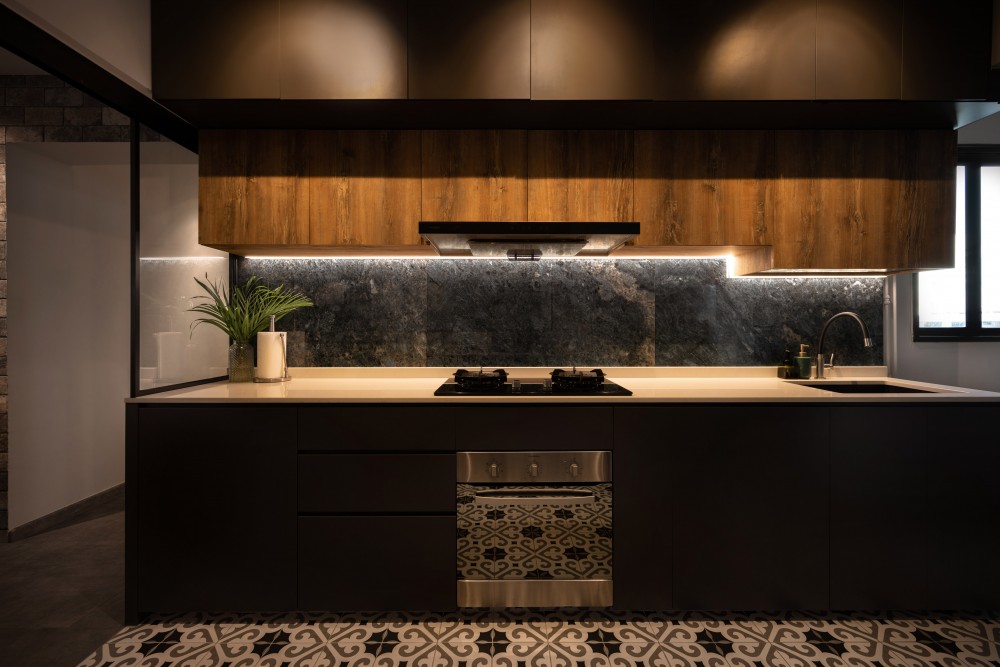 To ensure that you have sufficient lighting to cook efficiently in your kitchen, install some sort of overhead lighting, and supplement this with additional LED lighting under your cabinets.
The good news? Under-cabinet lighting doesn't have to be expensive – you can easily buy affordable LED light strips on Shopee or Lazada and install them under your cabinets yourself.
4. There's Not Enough Power Points
Running in the same vein, you want to make sure you have enough power points in your kitchen, so that you can use your appliances without plugging them in and out everyday.
Generally speaking, you should have at least three power points in your kitchen – but do a quick count of how many "essential" countertop appliances you have, and plan your power points (and their location) accordingly.
If you have a standalone kitchen island, be sure to account for power points on your island as well. This will enable you to easily cook on your island (think: hotpot and BBQ parties), or you can plug in your laptop and work from your kitchen island as well.
If you've got the budget for it, consider installing a power track so you can plug in as many appliances as you need.
5. There Isn't Enough Ventilation
Ventilation is a key factor in any kitchen, and is an important thing to think about.
Unfortunately, it isn't easy to simply hack through your wall and create a new window in order to ventilate your space better. But here is what's within your control:
If you do heavy cooking, enclosed kitchens might be more suitable as compared to open kitchens. This way, your cooking fumes won't spread to the rest of your home.
Consider installing a hood that can help you ventilate your kitchen.
Broadly speaking, there are two types of kitchen hoods – the recycling hood and the ventilating hood. The difference in these two hoods lies in how the air gets filtered out.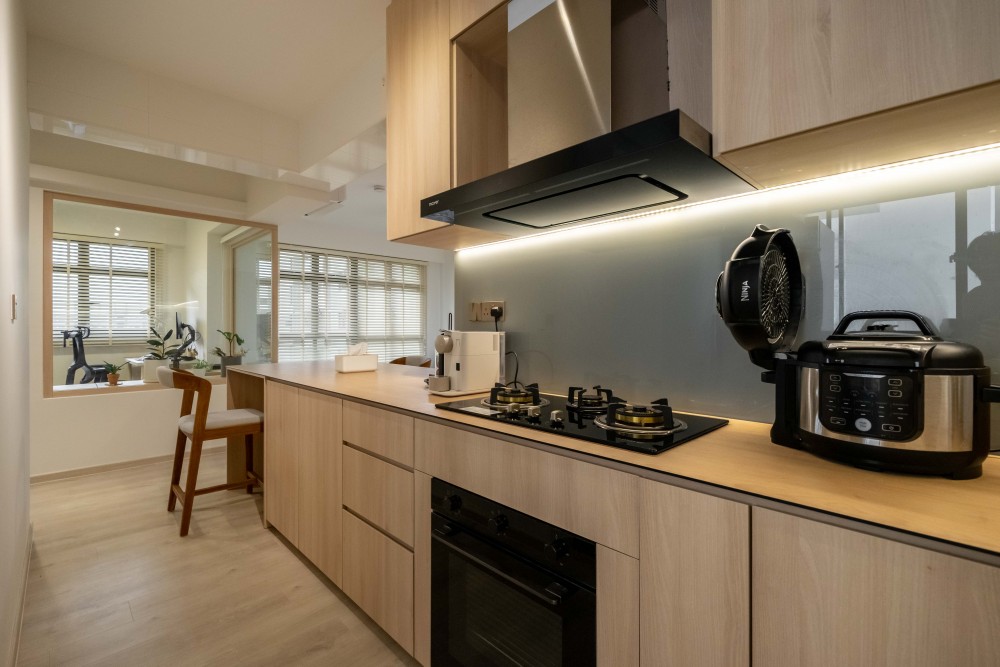 Firstly, the recycling hood filters and recirculates clean air to your kitchen. This is the most common type of hood that homeowners in Singapore install – it's easy to set up, and doesn't require any ducting work.
The ventilating hood, on the other hand, directs smoke and moisture directly out of your house. Compared to recycling hoods, ventilating hood are definitely more effective in keeping your kitchen smelling clean and fresh; however, they're typically feasible to use in landed properties, and might not be a good fit for apartments.
Of course, you can also choose the design of your hood – there are chimney hoods, inclined cooker hoods, cooker hoods that are installed under an existing cabinet, and more. The latest models of kitchen hoods can even be integrated into your kitchen island – you press a button to have them slide out and turn on, and you can stow them away when you're done cooking.
6. Your Cabinets And Appliances Aren't Spaced Out Properly
If you realise that you're constantly bumping into your partner when you're in the kitchen, this could be due to a kitchen ergonomics issue; it's possible that your cabinets and appliances aren't spaced out properly.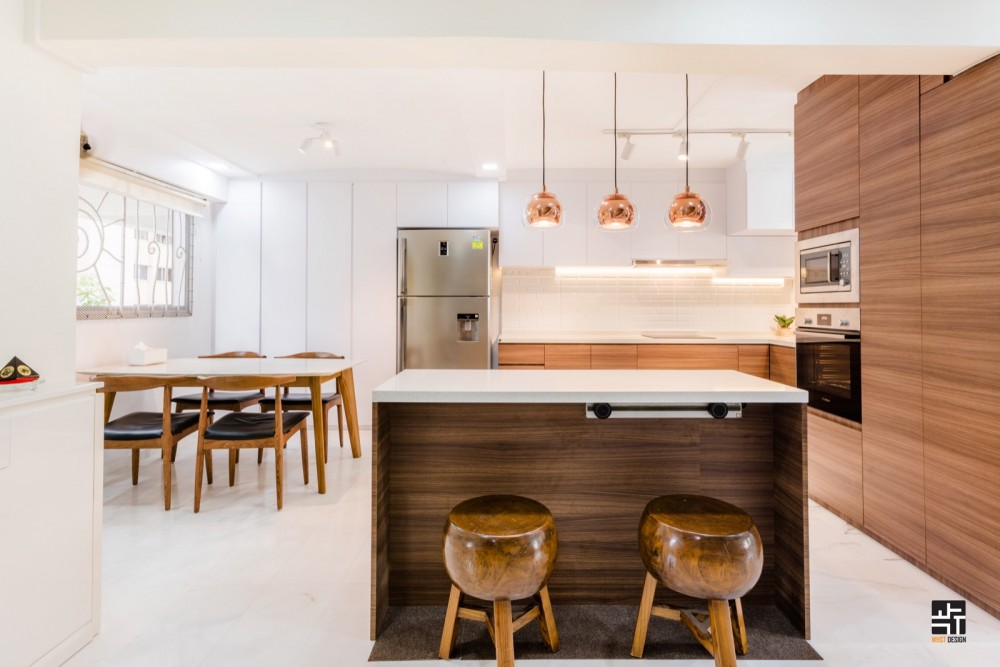 In order to avoid this, make sure you plan properly from the get-go, and accommodate for enough space.
As a rule of thumb, you'll want to cater for at least 42 inches between your kitchen island and counter, and 36 inches of walkway space between a counter and the nearest wall.
If you're intending to have bar seats at your kitchen island, also allow for at least 44 inches of space between those seats and the nearest wall or any other furniture.
Remember: Just like how you design your study or home office so that you can work effectively, you'll need to design your kitchen so that you can cook productively as well.
7. Your Workflow Doesn't Make Sense
We've left the most crucial design problem for the last… your workflow!
In essence, your workflow basically refers to the flow you take when moving from task to task.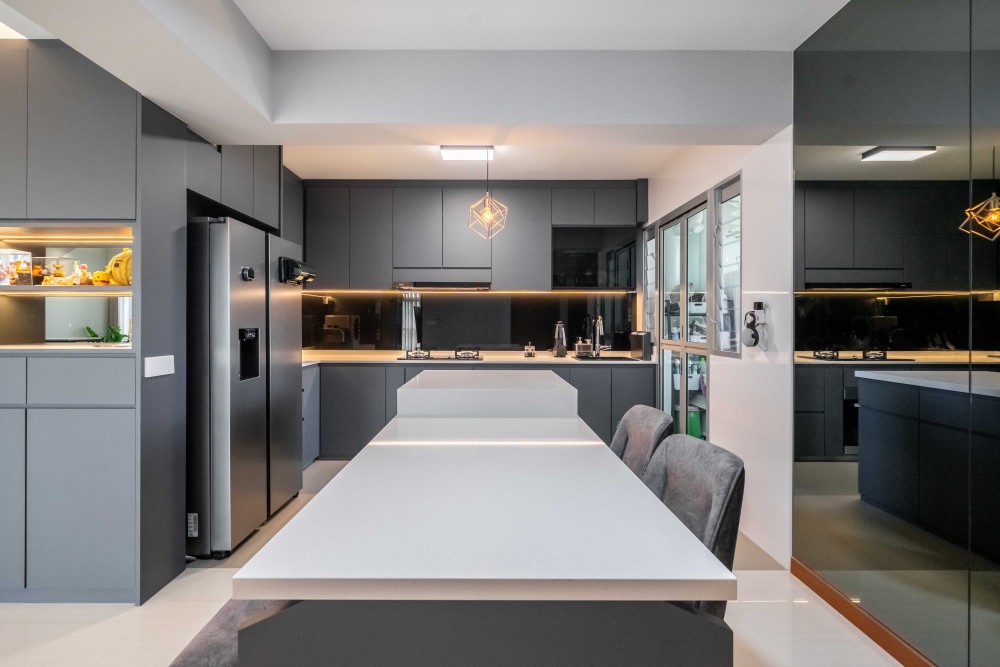 Think about how you start, continue, and finish continuing a meal. You'll probably…
Start off at the fridge, where you gather your ingredients
Move to your sink, where you wash your ingredients
Move to your countertop, where you do your prep
Move to the stove or oven, where you cook your meal
Of course, there might be some back-and-forth in between, such as when you prep food at your counter, then go back to your fridge to remove another ingredient that's temperature-sensitive, and can't be left out for too long.
Now, the goal is to streamline and optimize your workflow, which in turn allows you to move quickly and easily throughout these steps.
And a crucial concept in allowing you to streamline your workflow is the kitchen work triangle.
What is a work triangle? It's the (invisible) lines that connect the three most commonly accessed spots in your kitchen: the stove, the sink, and the refrigerator.
The idea is that you're constantly moving back and forth between these three spots when you're cooking, and you'll want to position the areas so that they form a triangle, with each spot being within easy reach of the other.
The more well-balanced your triangle is, the better. In an ideal situation, your stove, sink, and refrigerator would be equidistant from each other.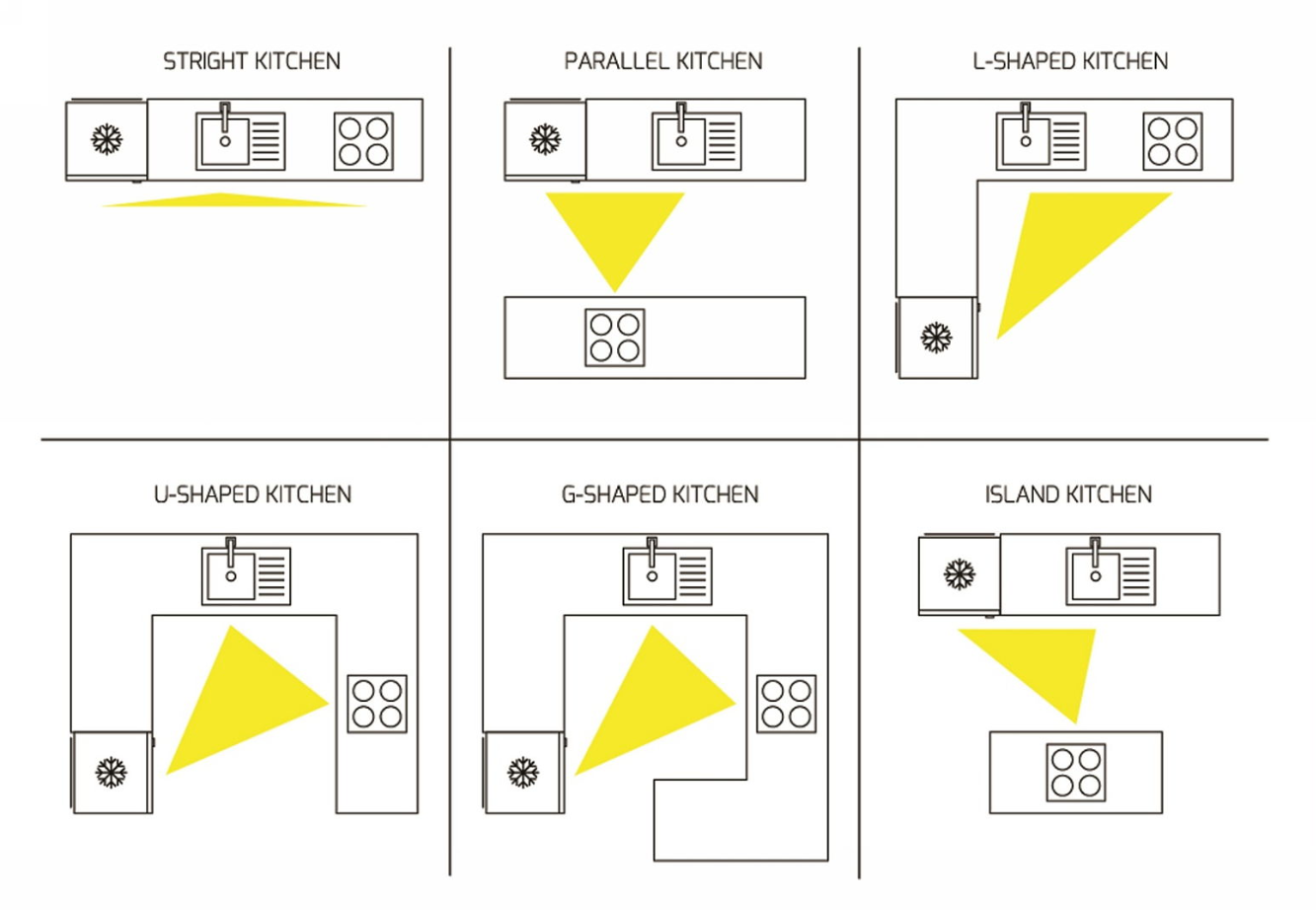 Of course, this might not be possible in real life, but do try and locate your work zones proportionally. For example, if your fridge and sink are near each other, but your stove is far away and out of reach, this throws your workflow off and makes it less ergonomic when you're cooking.
A Final Word On Designing Your Dream Kitchen
When you're browsing kitchen pictures on Pinterest (or Hometrust!), you'll probably find yourself getting excited about the aesthetics of it all. Who doesn't love a beautifully glossy marble island, or gorgeous Shaker-style cabinets?
That said, it's important to take a step back and think about functionality as well.
At the end of the day, you want your kitchen to look good, but be practical as well!
Want to check out home renovation projects for more inspiration? Browse kitchen design ideas on Hometrust, or click the button below to get connected with expert designers.